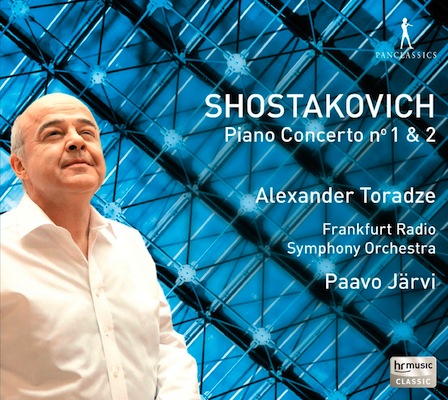 Alexander Toradze: Shostakovich Piano Concertos 1 & 2
Recorded June 2010 and August 2011, hr-Sendesaal, Frankfurt, Germany
CD Pan Classics PC 10261
(No high-resolution download available, apparently.)
Alexander Toradze, piano; Jürgen Ellensohn, trumpet in Piano Concerto No. 1; George Vatchnadze, piano in Concertino Op. 94; Frankfurt Radio Symphony Orchestra, Paavo Järvi, conductor.
In writing about Yevgeny Sudbin's recent Scarlatti recording, I mentioned the Jungian Synchronicity that a few weeks before I downloaded the review copy of Sudbin's recording, I had been engaged as a substitute to review for the Providence Journal a Rhode Island Philharmonic concert featuring Alexander Toradze playing Rachmaninoff's Third Piano Concerto. Further, that for his encore, Maestro Toradze played the same Scarlatti "Aria" sonata that brings down the curtain on Sudbin's program.