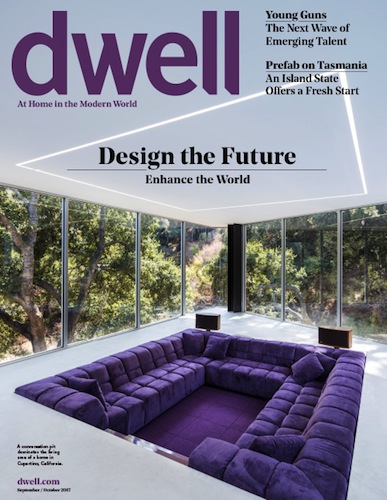 It took me a moment to realize that the loudspeakers behind the conversation pit of the 21st-century California home that is the subject of the cover story of the September/October issue of Dwell magazine were venerable Bose 901s.
I not only bought the issue; I took out a subscription.
Dwell's cover-story house (Craig Steely, architect) will not appear on the cover of This Old House, at least any time soon. (Give it 100 years.) Very cutting-edge in its details, such as the curved corners of the glass walls and the LED ceiling strip lights that set off different areas, the house nonetheless adheres firmly to the Mid-Century-Modern precept of siting the home within nature, rather than in opposition to it. The first similar design was Mies van der Rohe's see-though glass-walled Farnsworth House, built for Dr. Edith Farnsworth.
OK… But–how did the 901s get into a 21st-century house?
For that, some background on the 901, and my thoughts about the architectural-acoustical aspects of the design, please click the jump link. Continue Reading →