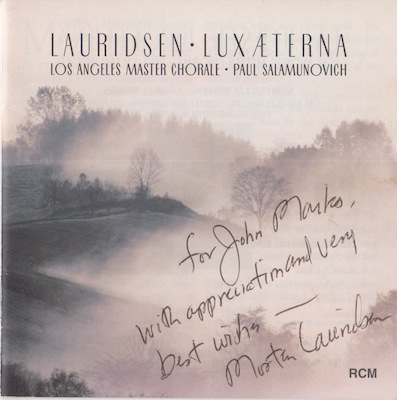 Morten Lauridsen: Lux Æterna and other works
Los Angeles Master Chorale and Sinfonia, Paul Salamunovich, conductor
CD Rubedo Canis Musica RCM 19705
Recorded June 1997 to January 1998, Sacred Heart Chapel, Loyola Marymount University, Los Angeles; Peter Rutenberg, producer; Fred Vogler, engineer.
This recording of Morten Lauridsen's Lux Æterna was nominated for the Grammy award in its category in 1999. A quick listen to the beginning will tell you why. (A Robert Shaw CD won the award, understandably as it was the year of his death.) Lux Æterna starts with a stroke of genius, and then goes on from strength to strength. The first thing you hear is one of the tallest yet emptiest chords in concert music—the string basses lay down a granite foundation while the high strings harmonize from, it seems, light-years away. And there is nothing in between.
That inspired gesture announces the work as hugely ambitious, while being completely self-assured. Lauridsen is making his personal statement about the meaning of human existence, and nothing less than that. Lux Æterna is one of the masterpieces of the 20th century, and you are really missing out if you have not heard it.
Generous sound samples and more, after the jump. Continue Reading →