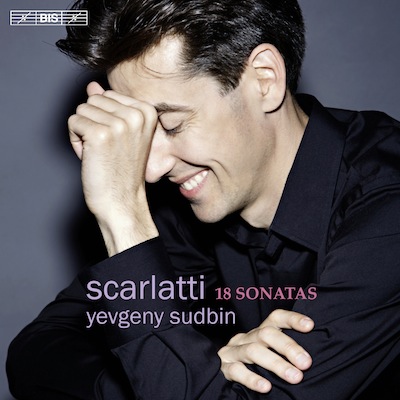 Yevgeny Sudbin: 18 Sonatas by Domenico Scarlatti (1685–1757)
Sonatas K 417 in D minor; K 208 in A major; K 159 in C major; K 56 in C minor; K 213 in D minor; K 125 in G major; K 373 in G minor; K 119 in D major; K 69 in F minor; K 425 in G major; K 29 in D major; K 99 in C minor; K 12 in G minor; K 479 in D major; K 9 in D minor; K 318 in F sharp major; K 141 in D minor; and K 32 in D minor.
AUTOGRAPHED Compatible stereo + MCH SACD/CD BIS 2138; CDQ or 24/96 download, Classics Online.
Domenico Scarlatti wrote these sonatas for his patroness Maria Magdalena Barbara, the Infanta of Portugal.
Mitzi "married up," later becoming the Queen of Spain. (No, her nickname was not "Mitzi;" so, don't bother writing in. But please, do find a different reason to write in!) Maria Magdalena Barbara had a nearly-insatiable appetite for… keyboard sonatas. Scarlatti wrote more than 500 of them. Furthermore, Scarlatti wrote almost all of those sonatas for the harpsichord.
Therefore, it is an historical irony, one reflected upon by Yevgeny Sudbin in his truly excellent liner notes, that today, these works are most often associated with Russian pianists; Vladimir Horowitz being the prime example. Sudbin claims that Russian musical education uses Scarlatti's keyboard music more than does any other country's pedagogy; and, that well may be true. Ten years ago, Sudbin made his début (all-Scarlatti), recording for Sweden's label BIS; it received rapturous reviews. Volume Two, so to speak, is his tenth-anniversary celebration.
The bottom line is, this recording is an absolute "must-buy" for piano lovers. (Historically-Informed Performance people, perhaps not so much.) Sound samples and more, after the jump. Continue Reading →