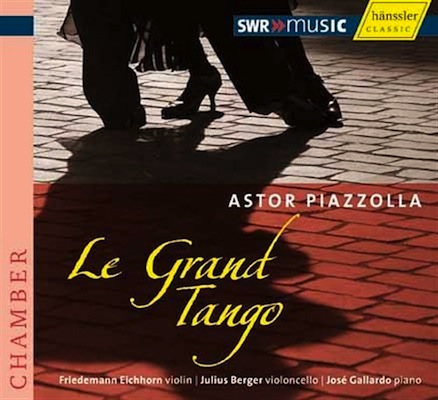 Le Grand Tango: Music of Astor Piazzolla
Recorded March 2005, SWR Funkhaus Mainz
CD SWR KLASSIK 93205 
Download (CD Quality Only)

José Gallardo, piano; Friedemann Eichhorn, violin; Julius Berger, cello; José Bragato and Osvaldo Calo, arrangers; Peter Steiber and Sabine Fallerstein, producers; Angela Öztanil, engineer.
Astor Piazzolla (1921-1992) was best known as a performer of his own modernized tango music. His instrument was an unusual concertina (button accordion) called the Bandoneón. The Bandoneón was originally designed (in Germany) as an inexpensive substitute for a church organ, providing chordal accompaniment to congregational hymn singing. That intended use dictated the inner logic of its workings. So the Bandoneon plays different notes from the same fingering, depending whether the bellows was being pushed together or pulled apart. That quirk makes Piazzolla's brilliant solo work even more impressive… .
But Piazzolla was more than an electrifying live performer; he was a serious composer. The Hungarian classical pianist Bela Wilda, who introduced Piazzolla to Bach, himself had been a student of Rachmaninoff's. Piazzolla briefly was a student of Nadia Boulanger's (she sent him on his way, though, urging him to find his own path).  Piazzolla spent five years studying orchestration with Alberto Ginistera. Piazzolla put that training to use over the rest of his life, eventually writing more than 60 film scores. That sensibility is what makes this very well recorded, infectiously listenable album a "must-buy."  Just buy it! Continue Reading →