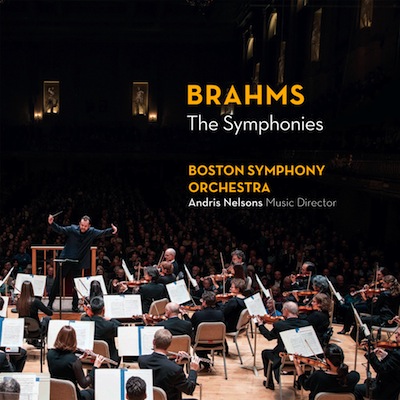 Brahms: The Four Symphonies
Boston Symphony Orchestra, Andris Nelsons
3-CD set and Downloads from BSO Classics
(Downloads are: 320 Kbs mp3; 24/96 AIFF; and 24/96 and 24/192 FLAC.)
Shawn Murphy, Producer and Engineer; Nick Squire, Recording Engineer; Robert Wolff, Editing Engineer; Tim Martyn, Editing Engineer and Mastering Engineer; Joel Watts and John Morin, Assistant Engineers; Brian Losch and Silas Brown, Production Assistants.
This review will be brief—but imperative. The official (so to speak) start of Andris Nelsons' tenure as Music Director of the Boston Symphony Orchestra was a performance of the Overture to Richard Wagner's Tannhäuser. The first CD I reviewed on this blog included that live recording, made the evening of September 27, 2014. (The other work on that CD is Sibelius' second symphony, recorded later in Nelsons' first season.) Furthermore, I named my blog after a Tannhäuser reference in the movie Blade Runner. So, all the breadcrumbs have been in plain sight; you should not be surprised that I am predisposed to be well-disposed to any and all new recordings from Andris Nelsons.
And it is not just this particular Humble Ink-Stained Wretch of the Fourth Estate who thinks the world of young Maestro Nelsons, either. Two CDs from Nelsons' and the BSO's ongoing Shostakovich series have won back-to-back Grammy awards in the category of Best Orchestral Performance. The BSO's new 3-CD Brahms set is of that caliber.
By all means, you should click on the jump link for more detail, sound bytes, and some measure of justification. But the bottom line is: If the symphonies of Brahms are important to you, you should buy these CDs (or downloads), immediately. Taking into account interpretation, playing, and recorded sound, this set shoots right up into the top tier of recommendations in this music. Continue Reading →