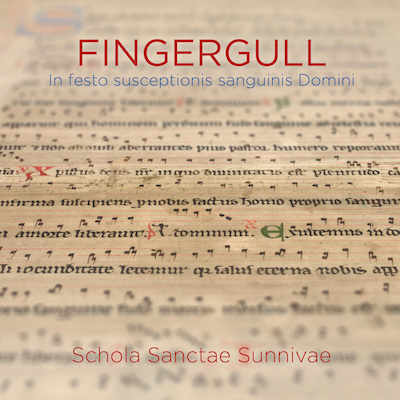 Schola Sanctæ Sunnivæ:
FINGERGULL – In festo susceptionis sanguinis Domini
SACD/CD 2L-114-SACD
Downloads (MP3 stereo; CDQ FLAC stereo; high-resolution stereo including
MQA, DXD PCM, and DSD; and 5.1 surround-sound) available from www.2L.no
Streaming available from Tidal and Spotify.
Recorded at Ringsaker Church, Norway, May 2014. Prof. Eugeen Liven d'Abelardo, producer and musical advisor; Beatrice Johannessen, recording engineer; Morten Lindberg, mastering engineer.
Christianity was the original "New Age" movement. Because of that, perhaps the easiest way for most listeners to take in this extraordinary recording of an a-cappella female vocal ensemble chanting music from a 13th-century parchment manuscript might be to think of it as "New Age Music," and then just leave it at that.
I hereby give you permission to ignore the specific historical context of this music, and to concentrate on letting the enveloping and consoling, nearly weightless clarity of the unison female voices wash over you.
I would expect that within minutes, you might begin to feel yourself transported—if not to a higher realm, then at least to a safe and quiet place… perhaps to a medieval church rather like the one where this remarkable recording was made.
For many years, I would say about such a recording, "Just buy it." And for many listeners, that still makes the most sense, in that this release is a compatible hybrid multichannel SACD, and furthermore, there are high-resolution downloads available for purchase. But I recognize that many music lovers now rely upon a streaming service as their major source of new music, so I am glad to report that this recording can be heard via on-demand streaming from Tidal and also Spotify.
Session photo, sound samples, and more, after the jump link. Continue Reading →