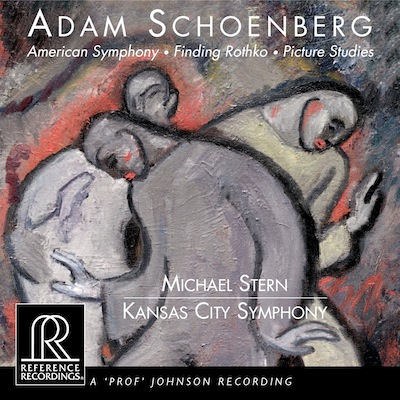 Adam Schoenberg: Finding Rothko, American Symphony, and Picture Studies.
Kansas City Symphony, Michael Stern, conductor.
Reference Recordings RR-139 Hybrid+MCH SACD and Downloads
David Frost, producer; Keith O. Johnson, engineer and mastering engineer.
My recent entry on the Morton Feldman musical work inspired by Houston's Rothko Chapel noted that Rothko's huge canvasses displayed there had also inspired Peter Gabriel's song "Fourteen Paintings." Four different Mark Rothko paintings that span the years 1949 to 1959 more recently inspired American composer Adam Schoenberg (b.1980) to write Finding Rothko, an orchestral work in four movements identified by the colors Orange, Yellow, Red, and Wine. Finding Rothko is concise, tonal, melodic, and accessible, with brilliant orchestration.
The obvious parallel is to Arthur Bliss' A Colour Symphony of 1922 (which perhaps was an un-acknowledged inspiration). A Colour Symphony's movements are also named after colors; in Bliss' case, the heraldic colors Purple, Red, Blue, and Green.
More ponderings and generous sound samples after the jump. Continue Reading →