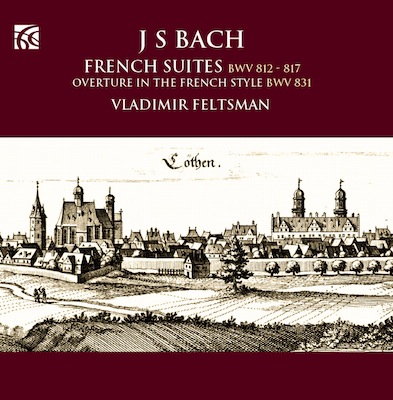 Vladimir Feltsman: J. S. Bach, The French Suites BWV 812-817; Overture in the French Style BWV 831.
Nimbus 2-CD set NI 6314
(No high-resolution download available, apparently.)
This wonderful 2-CD set will make a great gift for a friend who does not listen to a lot of classical music. That's largely because the music is as accessible as it is beautiful. And while these recordings could serve as background music for other activities, they will also reward close attention during repeated hearings.
Vladimir Feltsman was born in the Soviet Union in 1952. He made his début with the Moscow Philharmonic at age 11. (Interestingly enough, his father Oscar was a composer of popular songs and musical comedies.) Unhappy with political interference in the arts, in 1979 Feltsman applied for an exit visa, the result being eight years of virtual artistic non-person-hood.
Arriving in the US in 1987, he was widely feted, starting at the White House. Today, Feltsman might be verging perilously close to "Elder Statesman" status, except that his playing exhibits youthful vitality and genuine enthusiasm, all without a trace of self-importance. Continue Reading →