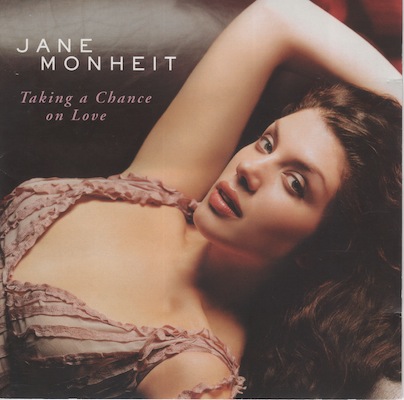 Jane Monheit: Taking a Chance on Love
Recorded at Avatar Studios, NYC, March-May 2004; released on CD September 2004.
CD Sony Classical SK 92495
(No high-resolution download found.)
Jane Monheit, vocals; Michael Kanan, piano; Orlando Le Fleming, bass; Rick Montalbano, drums; Miles Okazaki, guitar; various guests; Alan Broadbent, arranger and conductor; Peter Asher and Al Schmitt, producers; Al Schmitt, engineer.
"Great American Songbook" singer Jane Monheit's début studio album for Sony Classical Taking a Chance on Love is in many ways the opposite bookend to Harry Connick, Jr.'s We Are In Love, which I wrote about here. After all, both titles use the "L" word… .
However, the important difference is that Harry Connick's voice is of the "boy next door" variety, whereas Jane Monheit's voice is of the "girl next door" variety, but only if you live next door to the Manhattan School of Music. Monheit's own website is here; her Wiki is here.
Sound bytes, a YouTube, and more, on the continuation page. Continue Reading →