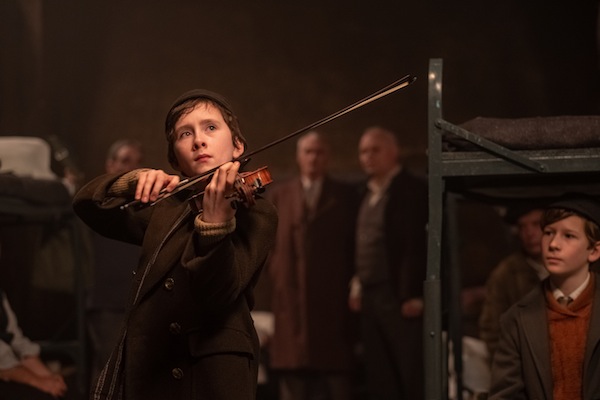 Center: Dovidl (played by Luke Doyle)
© Sabrina Lantos. Courtesy Sony Pictures Classics.
Classical-music fans, especially fans of the violin and its literature, will want to know about the upcoming (opening in selected cities December 25, 2019; nationwide in January) big-screen theatrical release of the film The Song of Names, based on Norman Lebrecht's prize-winning novel of the same name. The director is François Girard (The Red Violin, Thirty Two Short Films About Glenn Gould); for that reason we can have a high degree of confidence that great care has been taken in getting the musical details right. But all that is not to say that people whose primary musical orientation is other than classical will not also appreciate the film. The plot is compelling, the characters are intriguing, the cinematography is atmospheric, and the film score is by Howard Shore, of Lord of the Rings fame.
Here's what the film's US distributor Sony Pictures Classics says about the setup of the film's action, much of which is told in flashbacks:
Martin Simmonds (Tim Roth) has been haunted throughout his life by the mysterious disappearance of his "brother" and extraordinary best friend, a Polish Jewish virtuoso violinist, Dovidl Rapaport, who vanished shortly before the 1951 London debut concert that would have launched his brilliant career. Thirty-five years later, Martin discovers that Dovidl (Clive Owen) may still be alive, and sets out on an obsessive intercontinental search to find him and learn why he left.
What interests me most, of course, is how successful the production crew has been at allowing the audience to suspend disbelief and accept that the actors on screen are actually playing the violin. Based on what I have seen, I think they have done a very impressive job. Further explanation, the trailer, and a mini-feature on the teenage actor who is also a genuine violin virtuoso, after the jump.