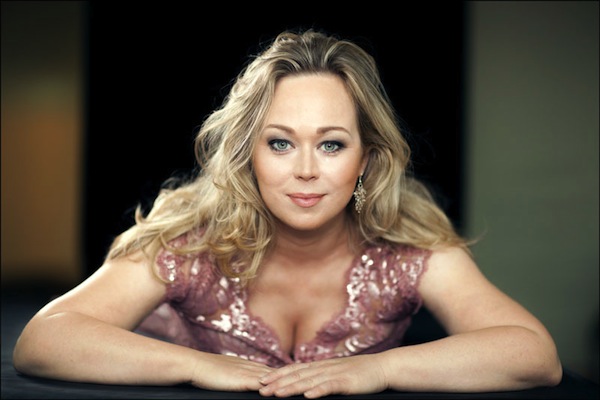 (Courtesy www.maritasolberg.com; photo credit Felix Broede.)
Marita Sølberg: Opera Arias
Opera arias by Catalani, Mozart, Gounod, Bizet, Leoncavallo, Puccini, Bellini, Rachmaninoff, Dvořák, Verdi, and R. Strauss.
Norwegian National Opera Orchestra
John Fiore, conductor
CD Simax Classics PSC1336
Say "Hello" to Marita Sølberg!
Marita Sølberg's name was unknown to me when I stumbled upon her upcoming new release (which came out last Friday) on Naxos' (Simax' US distributor's) ultra-top-secret, password-protected publicity website, which is, I am told, hosted on a server in the kitchen of an excellent barbecue place down near Chattanooga. The track list contained both old favorites and a couple of unknown arias, so I dutifully hit "Download."
The program starts with a very well-played (Norwegian National Opera Orchestra; John Fiore, conductor), well-recorded orchestral introduction to the famous Puccini-esque aria "Ebben; Ne andro lontana" from Catalani's obscure-except-for-one-aria opera La Wally. So far, so good.
Then, Miss Sølberg started to sing, pensively and almost languidly. Oh dear me. This one does not go into the "Discard" pile… . (More than half of the new recordings I listen to, I pass over in silence.)
Generous sound clips and more, after the jump. Clickez!