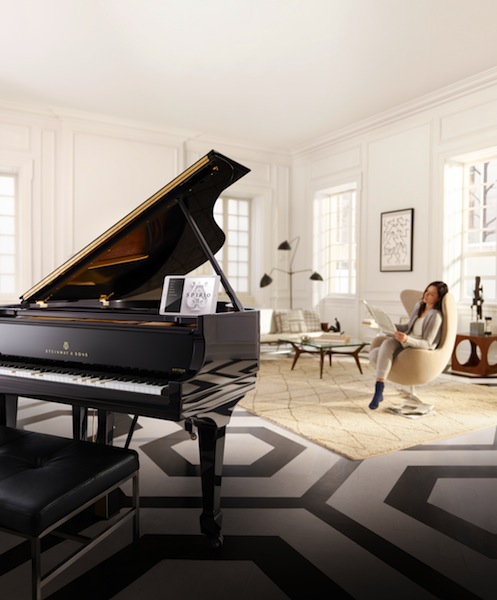 Steinway & Sons' Spirio Playback Piano.
Image courtesy of Steinway.
I felt a rueful twinge when legendary piano builder Steinway & Sons took itself private and as a result was de-listed from the New York Stock Exchange. My nostalgic or sentimental reason was that Steinway & Sons' NYSE stock-ticker symbol long had been LVB, an homage to Ludwig van Beethoven. Beethoven's piano sonatas are generally regarded as the distilled essence of greatness in piano music.
Apart from that, as far as I can tell, jumping out of the goldfish bowl that is the NYSE has done wonders for Steinway. In 2014, Steinway came out with the Spirio, a piano (available in two sizes) that includes the most sophisticated piano-playback technology (a non-MIDI system) ever to reach commercial critical mass. More recently, Steinway has begun offering a record-and-playback version of the Spirio. Steinway's biggest challenge at the moment is building enough Spirio pianos to meet the demand. Good for them.
Under New Management, Steinway also launched their own CD label (they have also released a few SACDs). They embarked upon an ambitious recording agenda, for which they built a new, state-of-the-art performance-and-recording hall. So that you can hear the complete recordings before you buy the CDs or download the audio files, Steinway has created a dedicated streaming site that offers commercial-free play of complete albums from Steinway & Sons Recordings. There are also informative reviews posted for many of the albums. Steinway & Sons CDs are available from Amazon; hi-res files, from 24/44.1 to 24/192 (varying by title) are available from HDTracks.
I asked Eric Feidner, Steinway's VP for Music, Media, and Technology, to tell me about what "getting into the record business" has meant for the 166-year old firm.
At Steinway, our very long history with performing artists goes back to the 1800s, with legendary pianists such as Anton Rubinstein and Ignace Paderewski. In recent decades, the "Steinway Artist" program has been a central part of the company. We started the record label about 10 years ago as a natural outgrowth of our relationships with Steinway Artists.

As we moved into the development of the Steinway Spirio, we faced a critical need to create a catalog of "high resolution" music to embed in the world's finest player piano—we send our Spirio owners new playlists every month. Because there was no such content available elsewhere, we had to build our own. There are now close to 4,000 works in the Spirio catalog.

The Spirio piano's development and the Spirio catalog's development processes inevitably became symbiotic with the record label, as through these, we developed techniques to produce commercial audio recordings with far greater efficiency and with remarkably consistent levels of technical and sonic quality. Making recordings and building pianos are now very closely intertwined at Steinway & Sons.
After the jump, recommendations for a baker's dozen (13) great CDs that you can hear in their entirety at no cost! Continue Reading →