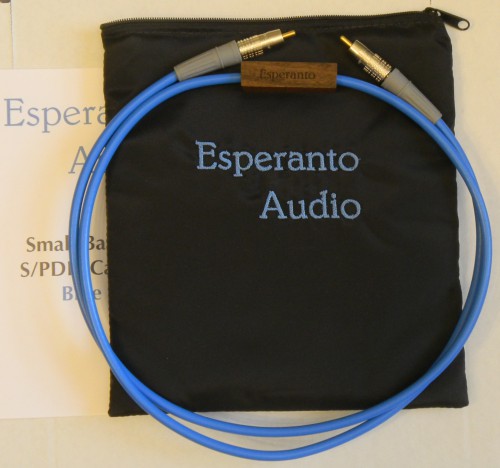 The primary reason for the slow roll-out of The Tannhäuser Gate has been that I have been slaving away at my new enterprise, Esperanto Audio.
Esperanto Audio has launched its first product, the Esperanto Audio "Small Batch" S/PDIF digital-audio cable "Blue." The Blue cable is available with RCA terminations, BNC terminations, or BNC terminations with RCA adapters, if you wish. The Blue cable comes in a re-usable zip-up padded nylon stuff sack made for me by Porta-Brace in Vermont.
The principal engineering goals for the Small-Batch S/PDIF cable "Blue" were: Minimizing signal degradation by careful attention to the limitation of internal electrical reflections; optimization of mechanical resonances; and, neutralizing the mechanical stresses that are the unavoidable by-products of any cable-fabrication process.
The Blue S/PDIF is on offer at an introductory price of $500, with a 30-day money-back guarantee and free shipping. When the first batch has sold out, that price may go up to $600, depending on how the costs have added up. There is an AES/EBU cable in the works. However, it will be more expensive.
# # #