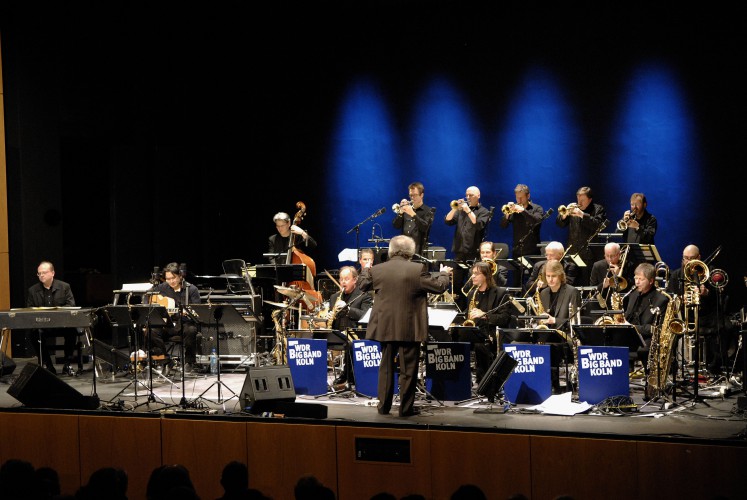 (Note: The photo above is not from the music video.)
WDR Big Band: "Just Friends"
Here's an exuberant big-band video (from the year 2000) showcasing the WDR Big Band in Bill Holman's unique arrangement of the "Great American Songbook" number "Just Friends."
Written by Klenner and Lewis in 1931, "Just Friends" is a pensive, poignant ballad about lovers who have drifted apart. They are now "Just Friends." (Two friends… but one broken heart.)
"Just Friends" is doubtless most often remembered as the blistering opener to Charlie Parker With Strings. Parker's astonishing introduction nests details within details—music as Mandelbrotian fractal. Famous vocal versions include those by Ella Fitzgerald, Chet Baker, and Tony Bennett.
The vocal versions are at the original ballad tempo, whereas every jazz instrumental version I have heard moves along more smartly, to say the least. I think the difference can be explained by the fact that the melodic and harmonic language of the ballad moves rather slowly.
In other words, the word "friends" is set on one tone, but is held for more than one beat. Chord changes usually happen only every other measure, not every measure or more than one chord change per measure. "Just Friends" is nominally in G major, but often deceptively resolves to the relative minor. All that fits the resigned tone of the lyrics, but appears not to provide enough material for jazz improvisation. Therefore, the usual jazz arrangement steps up the pace and adds embellishing chords.
The clever twist of Holman's big-band arrangement is that between Frank Chastenier's piano introduction and James Moody's sax solo (a running time of more than three minutes), Holman treats the big band as though it were a large pipe organ playing a melody in unison. There is almost no dividing and almost no counterpoint. Only briefly, starting at 3 minutes 38 seconds and also right before Moody's sax solo, does the band divide or play a gesture contrapuntally. But after the sax solo, having made his point, Holman really breaks out the counterpoint and the counter-melodies.
I can't help but think that there must be an alternate universe in which Adolf Hitler was accepted into art school, and also in which Hugh Hefner did not feel stifled in his first marriage. With the result (obviously) that jazz did not catch on in Europe as it did after World War II (because there had been no World War II), and jazz in the US did not survive the deathblow administered by rock and roll.
(I know—counterfactual history is the lowest form of comedy.)
In truth, the broadcaster WDR (Westdeutscher Rundfunk Köln), whose big band plays on this YouTube, descends directly from Nordwestdeutscher Rundfunk (NWDR), the Allied Occupation broadcasting organization of West Germany's British Zone.
NWDR went on-air in September 1945, under the management of an executive borrowed from the BBC. (Quick, name a US public-broadcasting operation with its own in-house big band… .)
I believe that Hugh Hefner was the best friend jazz had from the 1950s through the 1980s. Playboy magazine's jazz surveys and awards, musician interviews, jazz festivals, and more recently, jazz cruises have served to keep jazz in front of a wider public.
Hefner was, at heart, a child of the 1940s who metaphorically never took off his argyle sweater-vest. Big-band music was the music he grew up with. Hefner never really "got" rock music. Furthermore, the aura of anti-consumerism in some parts of rock culture doubtless baffled him, and perhaps even threatened him.
Hefner was for the most part the female-nudity-loving wing of the 1950s Establishment. Hefner expected his male readers to go to college, do well, and to get a respectable job. That was so they could afford to buy the hi-fi gear, clothes, and cars that were advertised in Playboy. Hefner did not want to live in a hippie commune on a farm, eating tofu and drinking green tea. Hef didn't even want to go hunting, or fly fishing. If he wasn't wearing black tie, he was in a bathrobe… .
Back to the WDR Big Band: Bill Holman is one of those behind-the-scenes people who have had amazing careers. In the 1950s, Holman was Stan Kenton's chief arranger. Holman also worked with Count Basie, Harry James, Woody Herman, Doc Severinsen, Buddy Rich, and Gerry Mulligan. Holman also wrote the charts for Natalie Cole's best-selling Unforgettable album (1991).
This particular chart just knocks me out, and the verve of the playing always brings a smile.
Bill Holman's own LA-based big band made a couple of JVC XRCDs (original, not remastered, recordings) that are worth seeking out. WDR Big Band CDs show up regularly on eBay.
# # #