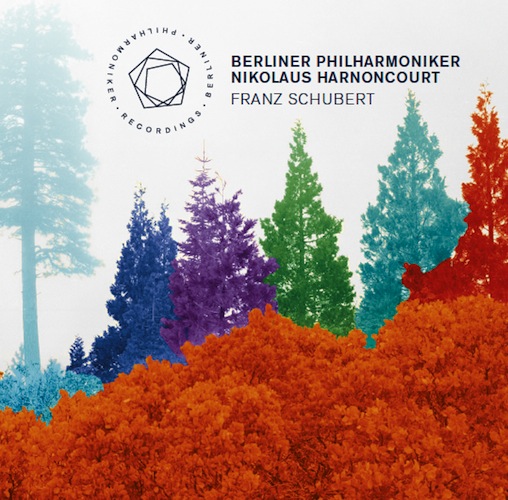 Franz Schubert: Symphony in C major (D 944),
Nikolaus Harnoncourt, Berlin Philharmonic Orchestra
Recorded March 22-24, 2006; released 2015
HD Tracks download HD4260306189120
Gloriosky, what a magnificent performance!
Just download it, today. Every now and then, a new recording comes along that blows the dust off thrice-familiar music, while at the same time blowing the competition into the weeds. For interpretation, playing, and recorded sound, this download sets a new standard in Schubert's "Great" C-major symphony.
But up front, please let me explain that, when I say, "blows the dust off" a masterwork, I do not mean a superficial jazzing-up, or any disrespect to tradition. What I refer to is the fruits of a scholarly and humble investigation into the best sources, leading to a needful correction of tradition, when tradition can be shown to be faulty.
(During the time this review was in preparation, news was received of Nikolaus Harnoncourt's death, on March 5, at age 86. A life well lived; and one that will be long remembered. Requiescat in pace.)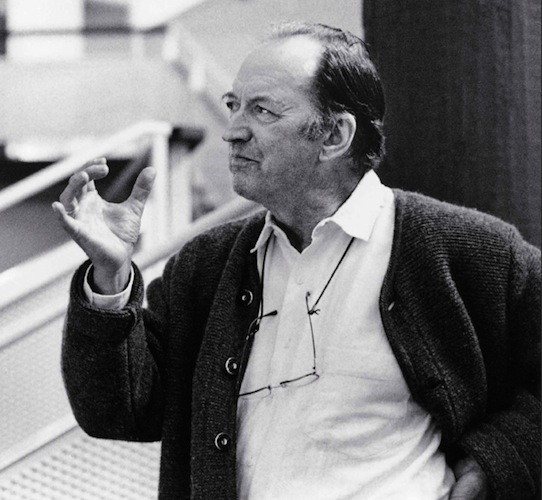 Although Harnoncourt, himself an Austrian, was mostly identified in the mind of the public with historically-informed recordings of Early and Baroque music, in an interview in 1997, he said that Schubert (1797-1828), who built the bridge between the Classical and Romantic eras, was the composer he felt closest to.
Schubert is the composer who is closest to my heart. When we talk about great music, we always talk first about Mozart and Bach. But when it comes to the last heartbeats and something specifically Viennese—although I must emphasize that I am not Viennese myself!—then it is definitely Schubert who is closest to me. This sadness, this nearness of death; it is really there with Schubert. To say nothing of the melody and harmony, which are unique in Schubert's music. There is perhaps no other composer who has such a personal language.
Despite that quote's focus on tragedy and death, the work under discussion here (which is known in the US and UK as Schubert's Ninth Symphony; but in Germany, it is numbered eighth), stays true to its sunny home key of C major. It is, throughout, confident, assertive, and joyful. And that can also be said for the Berlin Philharmonic's playing under Maestro Harnoncourt, captured in pristine modern sound.
The "Unique Selling Proposition" of Harnoncourt's interpretation is that while most recordings of Schubert's symphonies use anachronistic performing editions prepared by Johannes Brahms, Harnoncourt went back to the earliest sources, knowing full well that most of them were marked up or amended after Schubert's death at age 31. Here is an example: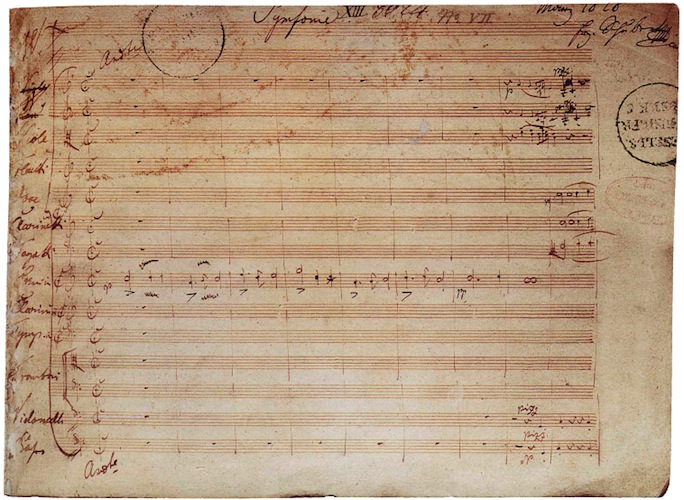 Harnoncourt therefore had to, among other things, study Schubertian cross-out markings of greater presumptive originality, in order to determine whether a questionable crossing-out was by Schubert, or by a later hand. Period performance practices also were an important inquiry. To quote from the liner notes:
In all his symphonies, operas and choral works Schubert writes both "decrescendo" and "diminuendo". The use of both terms together is neither an accident nor carelessness. Decrescendo always means to become softer, whereas diminuendo always means to become softer and slower. With this important distinction Schubert closely follows what was codified in method books and music reference works of his day. Nikolaus Harnoncourt often points out that he knows of no other composer with this important, by no means subjective notational idiosyncrasy, which nevertheless conformed to the norms of that time.

Otto Biba (Director of Archives, Library and Collections, Gesellschaft der Musikfreunde, Vienna)
Not to pick a "Bum of the Month"… . But, here's an excerpt from the passage where the slow movement of the C-major symphony transforms from an earlier climax to serenity, chosen at random from my CD shelves. It's a perfectly adequate and workmanlike interpretation, by an unquestionably professional orchestra.
But then, here is the Berlin Philharmonic, with its glorious, burnished string tone and organ-like sonorities, putting into practice the lesson that, in Schubert, diminuendo always means to become softer and slower.
The time difference between those two excerpts is about 12 seconds, which, for that short passage, is non-trivial. However, the difference in the timing between the complete movements is less-than-proportional to those excerpts' timings. In other words, Harnoncourt has a greater variability in pace than does the perfectly good (but not really inspired) performance.
The whole-movement timing difference is that Harnoncourt is about a minute and a half longer (15 min 15 sec), over the course of a movement that usually runs 13 to 15 minutes. Klaus Tennstedt, also conducting the Berlin Philharmonic, clocks in at 15 min 12 sec. A live Celibidache Munich performance runs out to 16 min 32 sec. But Celibidache was the champion taffy-puller, anyway.
So, just buy the download. If you already have a favorite Schubert Ninth, you are in for a treat; and if the work is new to you, you are in for a discovery. If a listener new to classical music is ready to move on from The Planets or Scheherazade, Schubert's Ninth is a wonderful step up.
FYI, there is no single-CD version of this performance (only a boxed set, noted below); and, in any event the 24-bit download sounds far better than when it is boiled down to CD quality. The download has a greater sense of space and inner detail, with inner voices, such as string pizzicati, more clearly heard. Dynamics have more contrast.
There is a boxed set of CDs (including this performance), of Harnoncourt conducting the Berlin Philharmonic in all Schubert's symphonies, two Masses, and the obscure opera Alfonso und Estrella. That E-flat Mass recording is notable as an early recording of Jonas Kaufman's, there joined by Bernarda Fink, who is a superb singer as well.
That boxed set contains 8 CDs, plus an audio-only Blu-Ray disc with the 48/24 high-res audio of all the music, ready to put into your music server. Both the single-work download and the boxed set have extensive notes; a .pdf for the former, and a casebound book for the latter. The boxed set, which includes the hi-res tracks, has a list price of $138.99; but it is available here and there for less money.
Click here for the Berlin Philharmonic's website.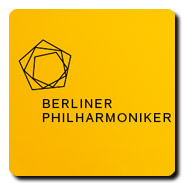 # # #