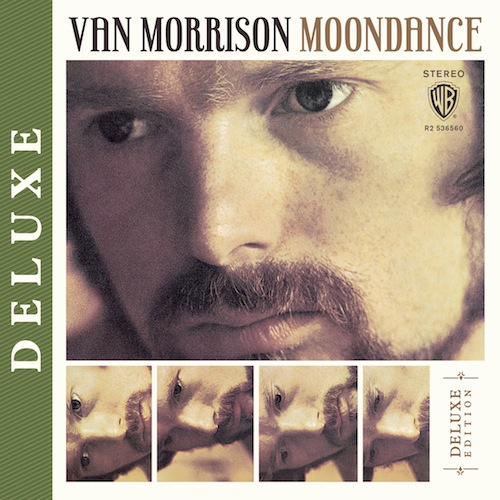 Van Morrison: Moondance Deluxe Edition
Recorded August to December 1969, released January 1970; remastered 2013.
HD Tracks download HX603497907663
8-CD/1 Blu-ray boxed set, Warner Bros. Records R2 53656
Van Morrison, vocals, guitar, rhythm guitar, tambourine, harmonica, producer; John Klingberg, bass; Gary Mallaber, drums, vibraphone; Guy Masson, conga; John Platania, guitar, rhythm guitar; Jef Labes, organ, piano, clavinet; Jack Schroer, alto and soprano saxophones; Collin Tilton, flute, tenor saxophone; Judy Clay, Emily Houston, Jackie Verdell, backing vocals (tracks 3 and 8).
Moondance was George Ivan "Van" Morrison's third studio album. His previous ones having been the somewhat inscrutable Astral Weeks and the earlier, somewhat slapdash Blowin' Your Mind. The latter was assembled without Morrison's cooperation (or knowledge) from takes originally intended to be released as 45-rpm singles.
Blowin' Your Mind was an effort to capitalize upon the success of Morrison's Irish rock band "Them." Them's memorable one hit of wonder was "Gloria." An indication of Them's brief but major eminence was that when them had a residency at Los Angeles' Whisky a Go Go in 1966, their opening act was: The Doors. (Sorry, I could not resist.)
Morrison Jim was hugely impressed by Morrison Van's poetry and by his stage presence. On the last night of the gig, the two bands jammed on "Gloria." Not shabby.
Perhaps the hit-single driven Blowin' Your Mind LP and the meandering (and somewhat depressive) Astral Weeks were the necessary "conditions precedent" to Moondance's winning combination of personal (but for the most part, upbeat) songs in arrangements that breezily blended elements of folk music and jazz music. Whereas Morrison's approach to electric rock had been as a blues shouter, Moondance's largely acoustic arrangements found him in the role of a toned-down "blue-eyed soul" singer.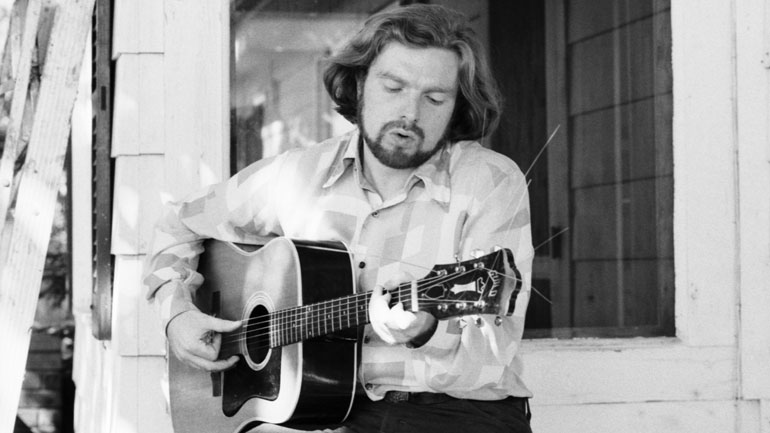 For an album that spawned no hit singles and which was never a hit as an album (reaching only number 29 on the US album charts), Moondance has done very well for itself, winning US triple-platinum certification in 1996.
Moondance has placed on just about every "Best-of" list it has been eligible for. In 1978, it was voted the 22nd-best album of all time in a poll of 50 prominent American and English rock critics. In 1979, Robert Christgau named it the 7th-best album of the 1970s, in The Village Voice.
I think that much of Moondance's success owes to its memorably catchy melodies, as well to its feeling-tone, which is poetic but also often lighthearted, or even innocently nostalgic. Most of all, just like Kind of Blue, Moondance is an artistically consistent creation that works as a whole. You just want to listen to the whole thing.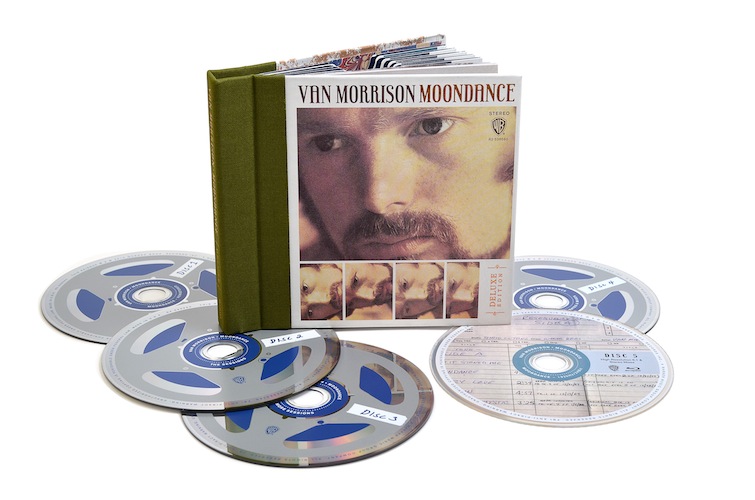 The 2013 remastering created a new 192kHz PCM transfer of the original album analog master tape, as well as three CDs' worth of CD-quality alternate takes and non-included songs. (Eh… Curiosity/voyeurism value only. Hi-res not really needed.)
I have been listening to the new 192kHz PCM transfer of the original album's analog master tape. It's quietly stupendous. If Moondance ever meant anything to you, you owe it to yourself to get the new remastering.
Whether to get the downloads or the boxed set depends upon your personal circumstances. If you have a wonderful streaming system already set up (but not half an inch of shelf space to spare): Go for the downloads.
If you are still mostly spinning CDs, the boxed set is definitionally future-proof. In the middle? The choice is yours.
Here are some brief M4a clips (ultimately derived, by me, from the 192kHz remastering—even the compressed files sound great), posted in the spirit of Fair Use:
1 "And It Stoned Me"
2 "Moondance"
3 "Crazy Love"
5 "Into the Mystic"
On the Queen's Birthday in 2015, Morrison was knighted. Therefore, he is now Sir George Ivan Morrison OBE. Well done. The Queen! She's a good Sheila, and not stuck up!
# # #