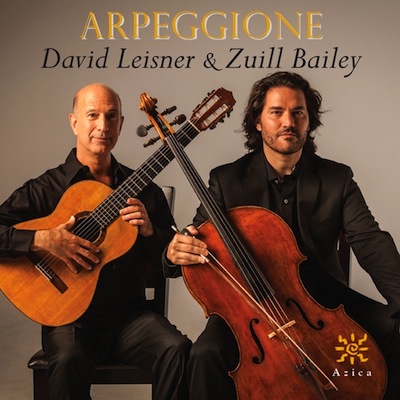 David Leisner & Zuill Bailey: Arpeggione
Music for classical guitar and cello
CD Azica ACD-71306
24/96 Download from Pro Studio Masters
This CD is not just for classical listeners—anyone who loves beauty and wants more of it in his or her life should buy this recording. This cleverly-constructed disc is arranged like an old-fashioned recital program.
Serious music at the start (if you want to call Schubert's contagiously lighthearted Arpeggione sonata "serious,"); followed by a guitar/cello treatment of Falla's Spanish Popular Songs; then a wee homeopathic dose of accessible new music; and then all four shoes drop in a succession of surefire crowd-pleasers: "Dance of the Blessed Spirits," "The Swan," Bachianas Brasileiras No. 5 ("Aria"), and finally Paganini's Moses variations.
The recorded sound is absolutely stunning, completely worthy of the best systems at the next audio expo. Hint, hint. (Recorded by Bruce Egre at Cleveland State University's Waetjen Auditorium.)
Words about the performers, followed by some generous sound bites, await you after the jump. Clickez-vous, s-v-p!
Zuill Bailey's cello playing really speaks for itself. The only thing I will say is that his playing makes me think of Nathaniel Rosen's, and that's very high praise from me. That Mr. Bailey is a very handsome dude is also self-evident, which leads to the fascinating factoid that he has worked as an actor, including a role in an episode of NBC's crime drama Homicide.
Here's a video interview with Mr. Bailey about his life and his music:
About David Leisner: His biography states (in part):
David Leisner is the co-chair of the guitar department at the Manhattan School of Music. Primarily self-taught as both guitarist and composer, he briefly studied guitar with John Duarte, David Starobin and Angelo Gilardino and composition with Richard Winslow, Virgil Thomson, Charles Turner and David Del Tredici.
David Leisner first came to my attention as a composer, back when I (among other things) wrote the liner notes for Arturo Delmoni's legendary (and therefore, out of print) violin/guitar recital CD that was Stereophile magazine's Recording of the Month for November 1993. That CD included the première recording of Leisner's Sonata for violin and guitar, for me one of those rare modern works that are, so to speak, comfortable in their own skins. Nothing is for mere effect; the music is coherent, idiomatic, self-revelatory, passionate, and ultimately persuasive on its own terms—as all truly-great music is. Praise and honor to Stereophile's editor and staff for "getting it," back in 1993!
Leisner most recently came to my attention as a performer, garnering for his Azica CD Favorites one of my last pair of Stereophile "Records to Die For" nods (2015). Seeing as you are buying Arpeggione anyway, do put Favorites in the shopping cart too. Here's that R2D4:
I fear that the title Favorites fails to do justice to the gravitas of this rather astonishing solo-guitar recital. However, that might be because I've seen too many albums of violin encores whose titles include "Favorites." In that context, the word is almost certain to guarantee "thoroughly innocuous Kreislerian exercises in charm-laden circularity."

The two granitic foundation stones of this CD are Britten's dark, mysterious Nocturnal and, in Leisner's own guitaristic and respectful transcription, the somber and multifaceted Ciaccone of J.S. Bach's [D-minor Partita] for Unaccompanied Violin. Piped-in classical-guitar music at your local brass-rail-and-fern bar these are not. A weighty and entirely musical CD. Miss it at your peril.
Now, here are sound clips of my favorite tracks from Arpeggione:
1 Schubert: Arpeggione Sonata in A Minor, D 821
1. Allegro Moderato
2 Schubert: Arpeggione Sonata in A Minor, D 821
2. Adagio
16 Gluck: Orfeo ed Euridice, Wq 30: "Dance Of The Blessed Spirits"
18 Villa-Lobos: Bachianas Brasileiras No. 5 (Aria)
19 Paganini: Introduction & Variations on "Dal Tuo Stellato Soglio"
from Rossini's Mose in Egitto, ("Mose-Fantasia")
Arpeggione will make a great gift for young people, older people, or even anyone who is just feeling a little down. (Note to the Federal Trade Commission: The immediately-previous statement is not a claim that this recording is a cure for any specific medical or psychiatric condition.)
# # #