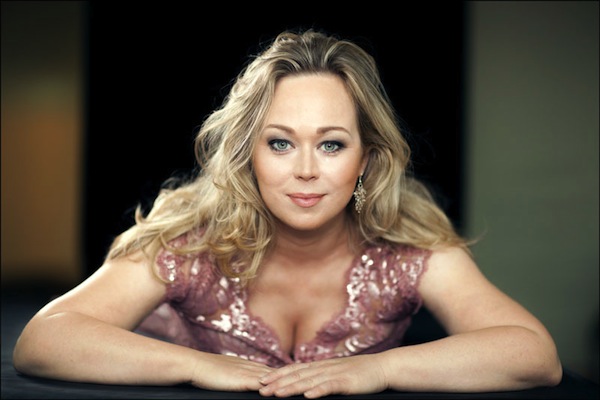 (Courtesy www.maritasolberg.com; photo credit Felix Broede.)
Marita Sølberg: Opera Arias
Opera arias by Catalani, Mozart, Gounod, Bizet, Leoncavallo, Puccini, Bellini, Rachmaninoff, Dvořák, Verdi, and R. Strauss.
Norwegian National Opera Orchestra
John Fiore, conductor
CD Simax Classics PSC1336
Say "Hello" to Marita Sølberg!
Marita Sølberg's name was unknown to me when I stumbled upon her upcoming new release (which came out last Friday) on Naxos' (Simax' US distributor's) ultra-top-secret, password-protected publicity website, which is, I am told, hosted on a server in the kitchen of an excellent barbecue place down near Chattanooga. The track list contained both old favorites and a couple of unknown arias, so I dutifully hit "Download."
The program starts with a very well-played (Norwegian National Opera Orchestra; John Fiore, conductor), well-recorded orchestral introduction to the famous Puccini-esque aria "Ebben; Ne andro lontana" from Catalani's obscure-except-for-one-aria opera La Wally. So far, so good.
Then, Miss Sølberg started to sing, pensively and almost languidly. Oh dear me. This one does not go into the "Discard" pile… . (More than half of the new recordings I listen to, I pass over in silence.)
Generous sound clips and more, after the jump. Clickez!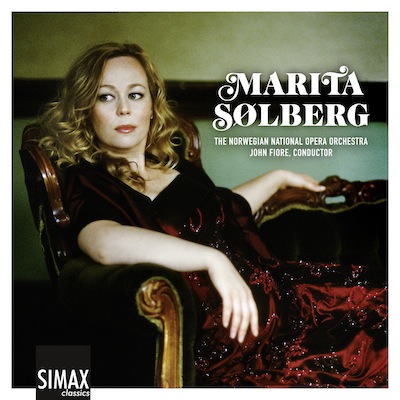 Without question, the La Wally aria is what draws you in.
Not to suggest that I listen to music loudly, but, a neighbor asked if I'd been listening to Maria Callas… . But even moreso than the Catalani aria, the Mozart arias that follow let you know in no uncertain terms that Miss Sølberg is a major vocal talent. Her Mozart reminded me of Kiri te Kanawa's early Philips LPs and CDs, and that is not bad at all!
I helped violinist Arturo Delmoni put together the program for his début recital recording (with Meg Bachman Vas) Songs My Mother Taught Me, so I am aware of the challenges involved. Trying to cover the complete range of musical eras and compositional styles runs the risk that the program might end up sounding more like an audition tape than a début recital. But sticking to only one composer or style may not really serve the "calling card" function of a first solo CD.
I think that Miss Sølberg (and/or her producers or colleagues) did a very good job of balancing the program. In particular I thought it was graciously collegial that the Richard Strauss rarity, an aria from Die Liebe der Danae, comes after a rather Mahlerian orchestral Interlude from that same opera. Neat! Great orchestral playing!
I am John Marks, and I approve of that kind of thing! And a lovely close to the program the Strauss aria provides.
Other highlights include the "Song to the Moon" from Dvořák's Rusalka; an aria from Rachmaninoff's Francesca da Rimini (after Dante); and an aria from Bizet's The Pearl Fishers.
So, here are your marching orders: Mother's Day is coming up. I want you to buy four copies of this CD. One is for you; one is a Mother's Day's gift for someone; and two to give to people you know who could use some beauty in their lives–whether a young person whose usual listening diet contains empty calories, or an audiophile chum who spends too much time listening to the canonically approved female-vocal audio-show tracks… .
Sound samples!
La Wally, Act I; "Ebben; Ne andro lontana"
Le nozze di Figaro, K. 492; Act II; Cavatina; "Porgi amor"
Les pecheurs de perles (The Pearl Fishers), Act II; "Me voila seule dans la nuit – Comme autrefois dans la nuit sombre"–final 60 seconds
Rusalka, Op. 114, B. 203, 1. Akt; "Lied an den Mond;" Mesicku na nebi hlubokem
Die Liebe der Danae, Op. 83, TrV 278; in Syriens Glut; Interlude
Die Liebe der Danae, Op. 83, TrV 278; in Syriens Glut; "Wie ungibst du mich mit frieden"
# # #