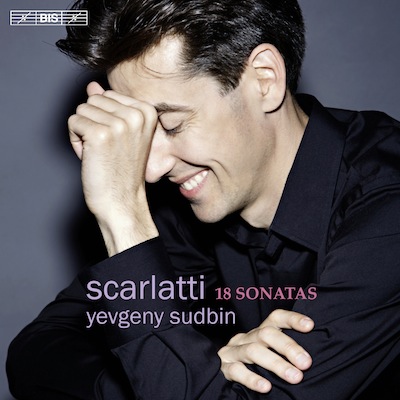 Yevgeny Sudbin: 18 Sonatas by Domenico Scarlatti (1685–1757)
Sonatas K 417 in D minor; K 208 in A major; K 159 in C major; K 56 in C minor; K 213 in D minor; K 125 in G major; K 373 in G minor; K 119 in D major; K 69 in F minor; K 425 in G major; K 29 in D major; K 99 in C minor; K 12 in G minor; K 479 in D major; K 9 in D minor; K 318 in F sharp major; K 141 in D minor; and K 32 in D minor.
AUTOGRAPHED Compatible stereo + MCH SACD/CD BIS 2138; CDQ or 24/96 download, Classics Online.
Domenico Scarlatti wrote these sonatas for his patroness Maria Magdalena Barbara, the Infanta of Portugal.
Mitzi "married up," later becoming the Queen of Spain. (No, her nickname was not "Mitzi;" so, don't bother writing in. But please, do find a different reason to write in!) Maria Magdalena Barbara had a nearly-insatiable appetite for… keyboard sonatas. Scarlatti wrote more than 500 of them. Furthermore, Scarlatti wrote almost all of those sonatas for the harpsichord.
Therefore, it is an historical irony, one reflected upon by Yevgeny Sudbin in his truly excellent liner notes, that today, these works are most often associated with Russian pianists; Vladimir Horowitz being the prime example. Sudbin claims that Russian musical education uses Scarlatti's keyboard music more than does any other country's pedagogy; and, that well may be true. Ten years ago, Sudbin made his début (all-Scarlatti), recording for Sweden's label BIS; it received rapturous reviews. Volume Two, so to speak, is his tenth-anniversary celebration.
The bottom line is, this recording is an absolute "must-buy" for piano lovers. (Historically-Informed Performance people, perhaps not so much.) Sound samples and more, after the jump.
Upon listening to this recording, it immediately becomes apparent that Mr. Sudbin can call upon near-superhuman forces when it comes to clarity of articulation. I can't recall Scarlatti on the grand piano ever being played with such transparency (obviously, I missed his début recording when it came out). In particular, inner voices are played with non-metronomic freedom. As impressive, is Mr. Sudbin's dynamic range and dynamic control; especially in quieter passages. All praise and honor then to Steinway and Sons for the tremendous instrument; to piano technicians Chris Farthing and Gary Whiteland; and to BIS' producer and sound engineer Marion Schwebel. And, oh yeah, to Mr. Sudbin!
But don't take my word for it; here is the "making-of" YouTube:
NB: The recording venue "St. George's Bristol" has not been a Church since 1976; it is a "cultural center." Hence the non-ecclesiastical interior.
As Jungian Synchronicity would have it, a few weeks before I downloaded the review copy of this recording, I was engaged as a substitute to review for the Providence Journal a Rhode Island Philharmonic concert featuring Alexander Toradze playing Rachmaninoff's Third Piano Concerto.
Prefacing his "you could have heard a pin drop" encore, Mr. Toradze made his case that consciously or not, Rachmaninoff fashioned the opening theme of his Third Concerto with memories of Scarlatti's Sonata in D minor "Aria" (K 32) in mind. Mr. Toradze played the opening of Rachmaninoff's concerto, then he played it more slowly, and then he played the opening of the Scarlatti sonata.
At that point, I think that half the audience wanted to arise en masse and revise the Constitution so that Toradze could be elected President. Rilly–how bad could he be? I'm game. (Yes, there is a Torazde CD review in preparation.) He then played the entire sonata (after asserting that anyone could play it), and, proverbially, you could have heard a pin drop.
That of course is an arguable interpretation; there was also a scholarly paper published in 1964 asserting that Orthodox chant was the basis of Rachmaninoff's theme. It matters not. Beauty is its own justification, and Mr. Toradze's interpretation was long on pensive beauty and short on empty calories.
Let drop the other shoe: So, what is the curtain-ringer-downer on Mr. Sudbin's anniversary celebration? The exact same "Aria" sonata Mr. Toradze singled out. Obviously, Mr. Sudbin's approach is "interventionist." He revels in the possibilities of the modern grand piano, while seemingly unconcerned with the occasional genuine difficulties of playing works written for a two-keyboard harpsichord on the one keyboard of a modern grand piano. E.g., finger interlacings, as shown on the above video.
In his excellent liner notes, Mr. Sudbin suggests that the sonata is based upon a Gypsy lament. It may be. But, it certainly brought a smile to me that he plays the second section twice and then some, adding and extending as he goes. The harmonic framework of the Aria is D minor with an accidental C-sharp gracing tone–especially on downward motion, called an "échappé" (a downward leap to a dissonance; in this case, from a higher B-flat to a lower C-sharp). (The same tension between B-flat and C-sharp exists throughout Bach's iconic D-minor solo-violin Partita, but in that case from C-sharp descending a wide interval to the adjacent B-flat.)
Yes, Scarlatti's Aria might be based on a Gypsy lament. (People have asked whether I have Romany blood, and, as far as I know, the answer is no; but, I also know why they ask.) But there is little doubt in my mind that Mr. Sudbin complements the quasi-"Picardy Third" at the end of the score with his own final, "church-y" "Roman Cadence." He is an artist.
Yevgeny Sudbin: Domenico Scarlatti, Keyboard Sonata in D Minor, K 32, final 60 seconds
And here are the bare bones: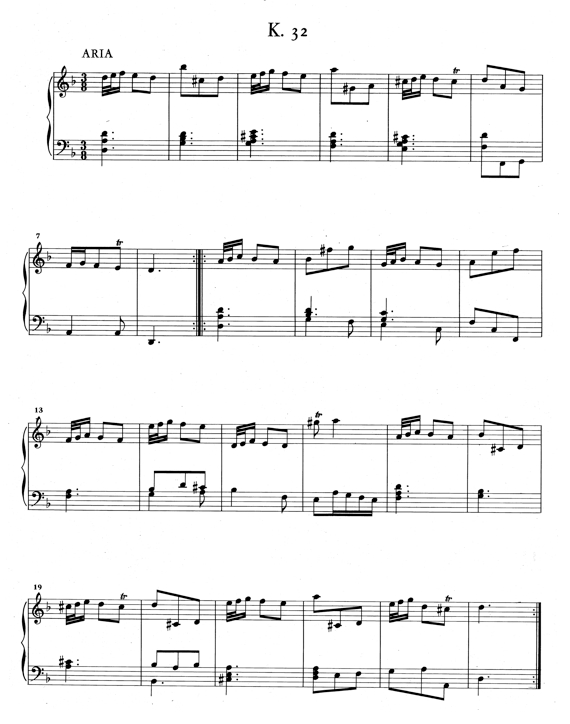 Just do the right thing and order the autographed SACD directly from the artist. You will be glad that you did.
# # #