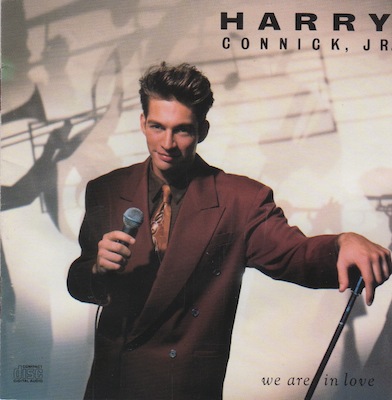 Harry Connick, Jr: We Are In Love
Recorded at Evergreen Radford Studio, North Hollywood, California in March, 1990 and RCA Studio B, New York, in April and May, 1990; released on CD and analog cassette 1990, on MiniDisc circa 1992, and on non-compatible single-layer stereo SACD (apparently from 44.1kHz PCM sources) 2000.
CD Columbia CK 46146
Harry Connick Jr., piano, vocals; Branford Marsalis, tenor and soprano saxophones; Russell Malone, guitar; Benjamin Jonah Wolfe, bass; Shannon Powell, drums; Harry Connick Jr., Marc Shaiman, George Butler, Bobby Colomby, producers; recorded and mixed by Joel Moss.
Talk about an unlikely success. In 1990, American actor, singer, pianist, and composer Harry Connick, Jr. released as anachronistic an album as anyone could imagine—male vocals, most tracks with big-band-style orchestral accompaniment. Connick wrote most of the songs, but there were also standards including "A Nightingale Sang in Berkeley Square" and Cole Porter's "It's Alright With Me." We Are In Love sold two million copies in its first year, and Connick picked up the Grammy for Best Jazz Vocal Performance—Male.
Connick's voice is of the "Boy Next Door" variety, but he makes the most of it; and the recording job is stunningly good. Thanks to the advocacy of MSB Digital's Vince Galbo, Connick's "A Nightingale Sang in Berkeley Square" (with excellent contributions from Branford Marsalis on tenor saxophone and Benjamin Jonah Wolfe on bass, who are the only musicians on the track) has become a favorite hi-fi-show demo track.
A glance at the top singles and noteworthy album releases for 1990 provides context for Connick's success with We Are In Love. Singles: Sinéad O'Connor, "Nothing Compares 2 U;" Madonna, "Vogue;" Vanilla Ice, "Ice Ice Baby;" MC Hammer, "U Can't Touch This;" Roxette, "It Must Have Been Love." Albums: Depeche Mode's Violator; the Pixies' Bossanova; Megadeth's Rust in Peace; Jane's Addiction's Ritual de lo Habitual; the Cocteau Twins' Heaven or Las Vegas; Ride's Nowhere; Public Enemy's Fear of a Black Planet; Happy Monday's Pills 'n' Thrills and Bellyaches; Sonic Youth's Goo; and the self-titled album by the Liverpool rock band The La's. "La" being Liverpool slang for "Lad."
We Are In Love holds up very well as an entire album. One or two tracks might be a bit um, precious; or, if you prefer, dopey. Or you might be fine with them. I think that the strongest track is neither a standard nor a Connick original; it's Marc Shaiman's bittersweet "Drifting."
It's an irony (and perhaps even a synecdoche) of the ongoing creative (or so we should hope) destruction of the business model of delivering music via physical product, that Amazon is selling new CDs of We Are In Love for $5.99 (with the possibility of free shipping), which is four dollars less than they charge for the MP3 download.
Oh! Did I mention that when you buy the CD from Amazon, you also get an MP3 download of the album for free? (That's if you are signed up for their "AutoRip" program.) Right. I hope this ends up as a Harvard Business School case study.
So, don't be a chump. Buy the CD from Amazon, and get the MP3 for free.
Sound samples:
"Drifting"
"A Nightingale Sang in Berkeley Square"
"I'll Dream of You Again"
# # #