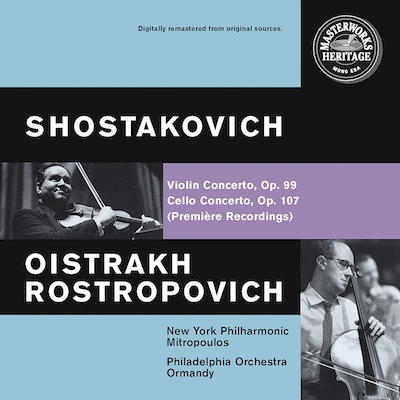 David Oistrakh: Shostakovich Violin Concerto No. 1 (1956)
Recorded January 2, 1956, Carnegie Hall, New York City
(with Cello Concerto No. 1)
CD Sony Classical
Masterworks Heritage "Mono Era" Catalog No. 63327 (1998)
(No high-resolution download available, apparently.)
David Oistrakh, violin; the New York Philharmonic, Dimitri Mitropoulos, conductor.
Mstislav Rostropovich, cello; the Philadelphia Orchestra, Eugene Ormandy, conductor.

Dmitri Shostakovich is something of a polarizing figure. The greatness of his music is not universally acknowledged. The nay-sayers suggest that the difficult circumstances of his life under Stalin (who fancied himself a music critic, and who published concert reviews under a pseudonym) cause people to disregard the disjointed weirdness of much of Shostakovich's output.
Liner-note writer David Fanning, writing about the late string quartets, characterized one of Dmitri Shostakovich's characteristic modes of expression as "anxious circling and a kind of crippled polka . . . ." But that is only one of Shostakovich's modes of expression. There also can be found a kind of selfless monumentality; a humane nobility; and a reverence for the history of musical expression from Orthodox Chant to Mozart.
Those other, non-weird, features of Shostakovich's art I think were best expressed in his First Violin Concerto and in its première commercial recording in New York in 1956 by David Oistrakh, who was touring America during a brief warming in the Cold War.
Autodidact culture-vulture Marilyn Monroe was in the audience for Oistrakh's Carnegie Hall recital début in late 1955. Shortly thereafter, Oistrakh played the US première of Shostakovich's violin concerto with the New York Philharmonic, and within days, they recorded it. I think that recording, in very acceptable monophonic sound, is one of the most important recordings of the 20th century.
More, the sound bytes, and a YouTube after the jump. Continue Reading →