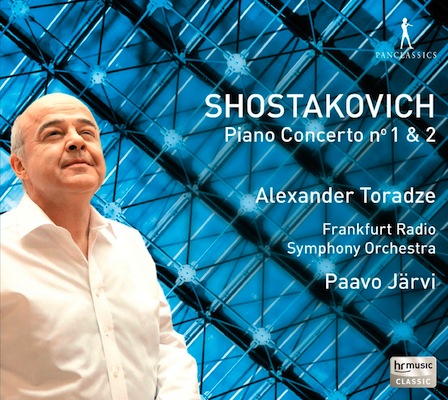 Alexander Toradze: Shostakovich Piano Concertos 1 & 2
Recorded June 2010 and August 2011, hr-Sendesaal, Frankfurt, Germany
CD Pan Classics PC 10261
(No high-resolution download available, apparently.)
Alexander Toradze, piano; Jürgen Ellensohn, trumpet in Piano Concerto No. 1; George Vatchnadze, piano in Concertino Op. 94; Frankfurt Radio Symphony Orchestra, Paavo Järvi, conductor.
In writing about Yevgeny Sudbin's recent Scarlatti recording, I mentioned the Jungian Synchronicity that a few weeks before I downloaded the review copy of Sudbin's recording, I had been engaged as a substitute to review for the Providence Journal a Rhode Island Philharmonic concert featuring Alexander Toradze playing Rachmaninoff's Third Piano Concerto. Further, that for his encore, Maestro Toradze played the same Scarlatti "Aria" sonata that brings down the curtain on Sudbin's program.
I was so impressed by Toradze's open-hearted musicianship and especially his fearless (what I call) "taffy pulling" (giving a melody so much time and space that the sensitive listener wants to hold his breath, lest the taffy break apart in mid-air) that I checked Steinway Streaming (you really should subscribe, you know) to find out what commercial recordings were available. I was delighted to find on Steinway Streaming's list the recording under discussion now—both Shostakovich piano concertos, as well as the little-known two-piano Concertino Shostakovich wrote for his son Maxim when his son was a student.
For me, Shostakovich's second piano concerto's slow movement is one of his most Mozartean utterances. And, woober joobers, wowsers, and Gloriosky! does our friend Lexo really pull that taffy! Toradze's instantly became my reference recording of Shostakovich's second piano concerto, and I think it should be yours too.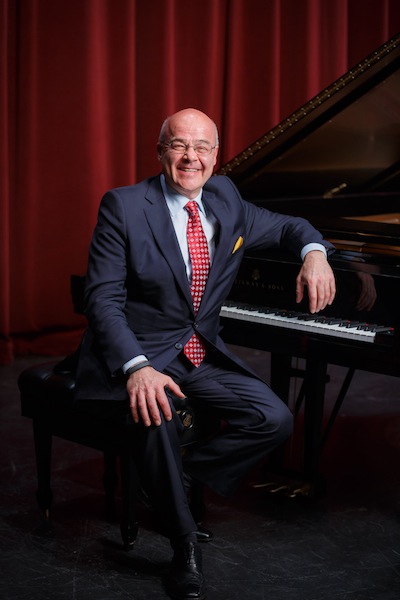 Photo: Peter Ringenberg
Shostakovich's four-movement (two slow movements) first piano concerto dates from 1933. It is intriguingly scored for piano, trumpet, and strings, thereby marking a clean break from the tradition of battleship-sized 19th-century virtuoso piano concertos that were, when you get down to it, symphonies for piano and orchestra—Brahms's being prime examples of that.
In stark contrast, Shostakovich's first piano concerto is "lightweight" and galant, but in place of the galant style's elegance of expression, there is irony and even a bit of "theatrical" camp. By then, the trumpet had already seen use as one of Shostakovich's favorite signifiers of irony—according to the release's excellent liner notes, with which I have only one disagreement.
Not incidentally, when Shostakovich was a student, he played piano for silent-movie screenings (it put the beets in his borscht), which I think must have not only provided lots of practice time, but also cultivated his pre-existing taste for ironical overstatement. The Perils of Pauline, indeed!

Shostakovich Piano Concerto 1, opening of first movement
Shostakovich wrote his second piano concerto (in F, op. 102) as a graduation-examination piece for his son in 1957, using the classical three-movement form. Despite all that Shostakovich had been through, his second concerto is a thing of uncomplicated beauty. There are no hidden messages saying "Please get me out of here."
The slow movement has always been for me the center of gravity of the second concerto, and I have always taken it at its beautiful face value. That's why I disagree with the liner-note writer, who claims that the slow movement "veers dangerously close to the borderlines of kitsch." I think that if one wants to say that Opus 102's slow movement veers toward kitsch, one must say the same about the slow movement of Mozart's Sinfonia Concertante for violin, viola, and orchestra. Ya can't have it both ways… .
Listen, and decide for yourself:
Shostakovich Piano Concerto 2, excerpt from second movement
The program ends with Shostakovich's good-naturedly virtuosic Concertino for two pianos alone. (Written for his son, but as an audition piece to gain Conservatory admission.) Toradze's very capable partner is George Vachnadze. Their playing is so similar that I really could not tell who was playing which part.
The name George Vachnadze rang a bell, so I was tickled to find out that it was the very same George Vachnadze who operates a high-end audio salon in the Chicago area, Kyomi Audio.  Vivid Audio loudspeakers and Luxman electronics, what's not to love?
Here's a snippet from the Concertino:
Shostakovich two-piano Concertino, excerpt
To sum up: in the concertos, the orchestral playing is world-class, and the recorded sound is, as well. Alexander Toradze is an individualistic player, but never for the sake of individualism alone. He definitely walks a tightrope here (OK, one more metaphor and I am done), and at the end of the day, if I call him the Sergiu Celibidache of pianists before the public today, that is high praise indeed.
As previously promised, that's enough Shostakovich for now. The next New-Music Monday feature will be something else.
(Disclosures: I purchased the CD under review on eBay. Steinway & Sons has, since the advent of Steinway Streaming, provided me with press-pass access at no charge—as have other such services.)
# # #