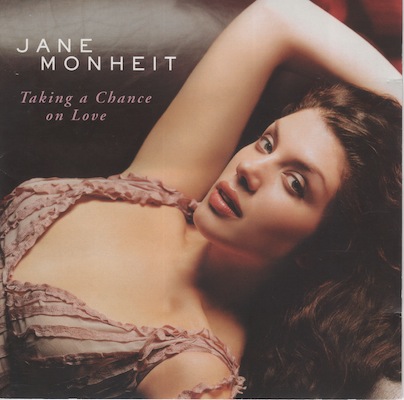 Jane Monheit: Taking a Chance on Love
Recorded at Avatar Studios, NYC, March-May 2004; released on CD September 2004.
CD Sony Classical SK 92495
(No high-resolution download found.)
Jane Monheit, vocals; Michael Kanan, piano; Orlando Le Fleming, bass; Rick Montalbano, drums; Miles Okazaki, guitar; various guests; Alan Broadbent, arranger and conductor; Peter Asher and Al Schmitt, producers; Al Schmitt, engineer.
"Great American Songbook" singer Jane Monheit's début studio album for Sony Classical Taking a Chance on Love is in many ways the opposite bookend to Harry Connick, Jr.'s We Are In Love, which I wrote about here. After all, both titles use the "L" word… .
However, the important difference is that Harry Connick's voice is of the "boy next door" variety, whereas Jane Monheit's voice is of the "girl next door" variety, but only if you live next door to the Manhattan School of Music. Monheit's own website is here; her Wiki is here.
Sound bytes, a YouTube, and more, on the continuation page.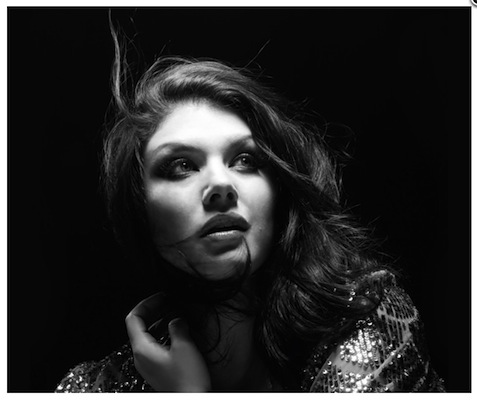 Monheit comes by her career honestly; both her mother and her aunt were singers. Monheit's formal conservatory training (and, without doubt, an enviable work ethic) allow her to interpret American standards by balancing the accessibility of the music's popular origins on the Broadway stage (every last song on this album started out as a number in a musical) with classical discipline and jazz inspiration. In addition to her duet with Michael Bublé, standout collaborators include bassists Ron Carter and Christian McBride, and guitarist Romero Lubambo.
Over and above being her Sony Classical début, Taking a Chance on Love was also Monheit's first collaboration with multi-Grammy-winning producers Peter Asher (of "Peter and Gordon" fame) and Al Schmitt (who also engineered this album; Schmitt also recorded Michael Franks' Sleeping Gypsy, which I wrote about here).
Here are three standout track samples and a video of a live performance (International Brecon Jazz Festival, August of 2004) of the title track.
"Honeysuckle Rose"
"Too Late Now"
"Embraceable You"
Used copies of both the CD and the DVD are available for peanuts on eBay and Amazon. Another case of, for reasons inscrutable, on Amazon it is cheaper to buy the CD and get the MP3 free via Amazon's "Autorip" feature, than it is to buy the MP3 alone. Perhaps Amazon makes enough money on selling and shipping the CD that it offsets the cost of the license for the MP3?
Regardless, this is a great job of singing that really should be in your collection.
# # #