The Rosenberg Trio is made up of its lead guitarist, the charmingly named Stochelo Rosenberg (which for some reason always makes me think of high-school chemistry class) and his cousins the rhythm guitarist Nous'che Rosenberg and upright bassist Nonnie Rosenberg.
Seeing as all three are members of the Dutch Gypsy (or Roma) community, of course they have been hugely influenced by Django Reinhardt. [Note: I am aware that use of the term "Gypsy" is controversial in some quarters. However, the Rosenbergs themselves use that word on their own website; so, they most likely are not offended by it.] If I might brag—just a bit—I am only one handshake away from Django, through Stéphane Grappelli (the violinist who, with Reinhardt, co-founded the Quintette du Hot Club of France in 1934).
More, after the jump.
Ignore the amateurish opening-credit sequence. Once the camera switches to the action onstage at a festival in Vienna, it becomes obvious why this is one of the most often-watched Rosenberg Trio YouTube videos. The sound is excellent and the camera work is professional, with not too many of the often-experienced-elsewhere frustrating moments when the camera chooses the least-interesting instrument to focus on when, off-camera, a blazing solo is unfolding.
And in this video, Stochelo, one of the most technically proficient guitarists of the past 50 years, indeed blazes away, adding Wes-Montgomery-style octave chording to his seemingly superhuman scale runs and arpeggios, all the while demonstrating his characteristically strong, rich, and sweet guitar tone (with remarkably fast but subtle vibrato). Stochelo Rosenberg now plays a old Selmer guitar, Selmer having commercialized and manufactured the design innovations of Italian luthier Mario Maccaferri. Rosenberg's guitar carries serial number 504, the number next after Django's guitar's 503, and how cool is that?
The Rosenberg Trio made its first recording, Seresta, in Holland in 1989. At some point around then I picked that CD up, and for quite some time I used one track, "Bossa Dorado," as equipment-demo music. I played that track years ago for Stereophile's John Atkinson (himself a violinist, bassist, and guitarist). It is fair to say John was gobsmacked.
Courtesy of the Rosenberg Trio's website, here's a nostalgic photo from the beginning of their career, and then their official press photo of today.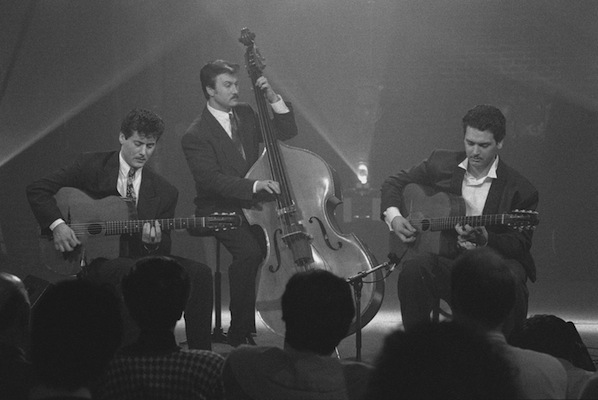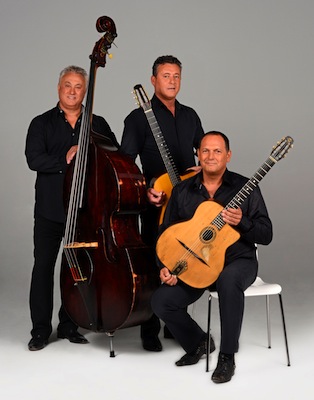 If the featured video is not enough for you, there's a blazing duo-lead version of "For Sephora" with family friend Biréli Lagrène, here.
BTW, Stochelo Rosenberg wrote the tune as a present for his little sister, long ago.
# # #