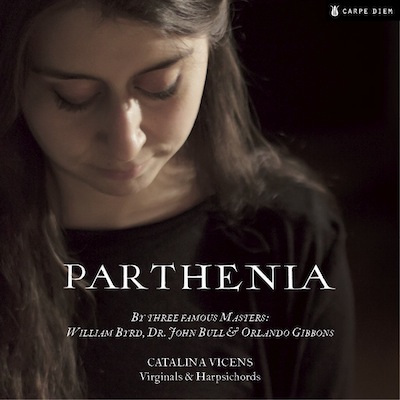 Catalina Vicens: Parthenia
Harpsichord & Virginal Music From 1613
CD Carpe Diem 16298
24/96 + 24/192 FLAC downloads from Carpe Diem
Recorded January 22-26, 2013, Schloss Bad Krozingen, Germany; Jonas Niederstadt, producer.
What a wonderful project and what a wonderful recording! Catalina Vicens is an immensely talented and very hard-working Curtis Institute graduate, originally from Chile. She won an international early-keyboard competition hosted by the Bad Krozingen Castle. As a result, the Cultural Office of the City of Bad Krozingen and the the Fritz Neumeyer Historical Keyboards Collection made possible this, her début recording.
This is one of the most impressive and engaging keyboard recordings I have heard in years. The recorded sound is pristine and very dynamic and satisfyingly reverberant—even better, the recording was made to audiophile standards using DPA 4006 microphones, and there are 24/96 and 24/192 FLAC downloads available. Just go for it!
More, and generous sound bytes, after the jump.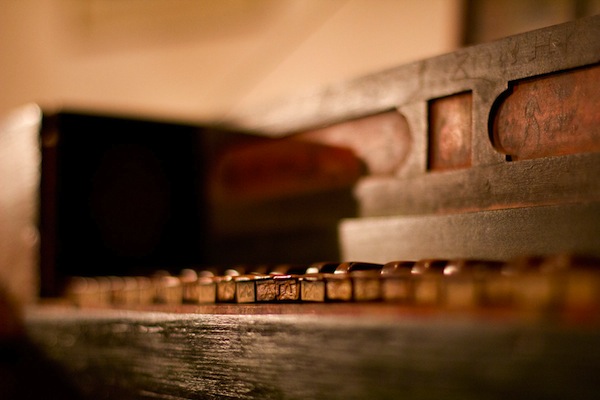 (All photos courtesy Carpe Diem.)
The concept of this project is to present the music that comprised the first collection printed by engraving in England, in 1613. The composers were Byrd, Bull, and Gibbons. The occasion and dedication was the impending marriage of Elizabeth Stuart to Frederick V, Elector Palatine. That the bride must have had remarkable musical talent can be inferred from the challenging nature of the pieces in the collection, and indeed, Elizabeth Stuart had been a student of Dr. Bull's.
In planning this project, Ms. Vicens took advantages of the Neumeyer collection's inventory of original and reproduction keyboard instruments, as well as Bad Krozingen Castle as a recording venue. For the third- and second-from-last pieces, Ms. Vicens is joined by Rebeka Rusò on treble and bass viols (made in 2004 by Sergi Casademunt). The recording showcases three original keyboard instruments and three modern copies, as follows:
Original instruments:
Italian harpsichord, Florentine School. Inscription: Antonio Nobili in Roma fec 1695. Presumed to be from Cristofori workshop, ca. 1726.
Spinettino, unsigned, Napoli, 1st half of the 17th century.
Virginal, unsigned, Switzerland, 17th century.
Modern instruments:
Italian harpsichord, copy by Anderson H. Dupree, Seattle 1978, after anonymous instrument from the Staatlichen Institut für Musikforschung Preußlicher Kulturbesitz Berlin.
Double Virginal "Mother & Child", copy by John Koster, Boston 1974, after instrument by Hans Ruckers, Antwerpen 1591.
Double-manual harpsichord, copy by William Dowd, Paris 1975, after instrument by Andreas Ruckers, Antwerpen 1620.
I must not have been adequately caffeinated, because it took me several readings of the credits before I realized that the maker of the harpsichord played on tracks 1 – 3, 6, and 8 most likely was a high-school classmate, Andy Dupree. Gloriosky! By the way, the excellent credits and liner notes (essay by Anthony Rooley) are supplemented by Ms. Vicens' own "Thoughts," which are available for .pdf download here.
I emailed Ms. Vicens and she told me that because original Made-in-England early keyboard instruments are rather rare, and that the Neumeyer lacked one, she wanted to use an Italian instrument or copy. Not much at all was known about the Dupree instrument in the Neumeyer collection, and it had been rather overlooked and in storage until Ms. Vicens asked to try it out. She was very happy with the sound, calling it "beautiful and interesting." I carefully compared the recorded sound of the Dupree instrument to the (presumed) Cristofori instrument, and any differences I might have heard I would say are the differences between any two instruments, and not because one was an original and one a copy. Well done, Andy.
If this recording manages to Inspire the Desire to Acquire, there just happens to be a Dupree at the Harpsichord Clearing House in Massachusetts, waiting for your $14,000. Which is far less than a lot of pieces of stereo gear or loudspeakers you could buy! A very handsome instrument: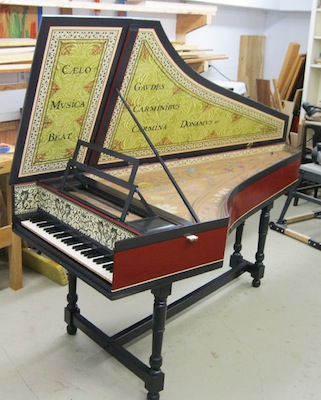 I have not mentioned specifics about the playing, in view of the number of sound samples I have prepared. Suffice it to say that (to mix musical genres), Ms. Vicens has Canned Heat in her fingers. And over and above the thrilling, improvisatory dance movements, there are wonderfully introspective or meditative pavans and preludes. The collection begins and ends with preludes, the first rather expectant, while the final track is full of fireworks.
One thing that adds to the fascination of hearing music from one collection played on six different instruments is that Ms. Vicens has in a very careful and scholarly fashion paid attention to the important issues of tuning and temperament. With the exception of the original Italian harpsichord, which was tuned higher (appx. 465Hz) than modern concert pitch (440Hz), all the instruments were tuned at 415Hz. As importantly, the non-"equal" temperament of 1/4 meantone was only a starting point, with the tempering for each piece determined by its mode. For the non-specialist, what this means is that for each piece, the tuning of the instrument was "sweetened" so that consonances rang more truly and dissonances had more spice to them than is the case with today's one-size-fits-all equal temperament. Brava! Indeed, Brava Zulu. (If anyone gets that, write in!)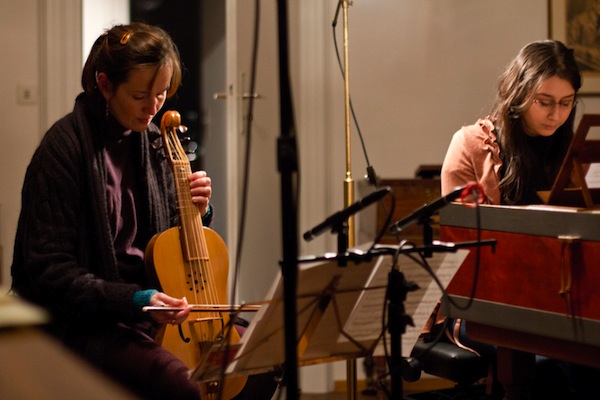 Sound samples:
Track 1 Preludium (Byrd) (Dupree harpsichord 1978)
Track 4 Preludium (Byrd) (Original Italian harpsichord 1726)
Track 6 Pavana The Earle of Salisbury (Byrd) (Dupree harpsichord 1978)
Track 13 Galiardo (Bull) (John Koster double virginal 1974)
Track 14 Galiardo (Bull) (Original spinettino 17th-c.)
Track 19 Galiardo (The Lord of Salisbury) (Gibbons) (Dowd double-manual harpsichord 1975)
And for any engineering nerds out there, check out these dynamics from Track 19: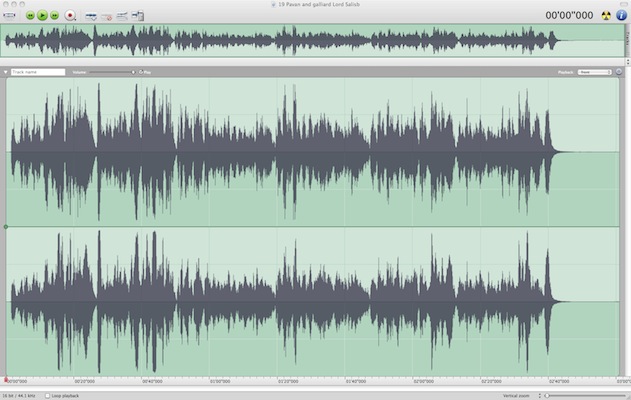 Track 21 Prelude No. 2 in G Major (Gibbons) (Double Virginal) (John Koster double virginal 1974)
Take my advice on this–you do not want to be without this recording!
# # #