Wowzers. Gloriosky. Woober joobers. And any other archaic expressions of juvenile wonderment that in former days I would sprinkle into my Stereophile magazine columns for my own and John Atkinson's amusement. This brief YouTube clip begins with baritone Matthias Goerne, really pulling the taffy of the middle section of one of Des Knaben Wunderhorn's most yearning songs, "Urlicht." There is then a jump cut to a spectacularly energetic excerpt from Mahler's Fifth. The teaser makes me want to acquire the DVD (Accentus 20354), and makes me even more wish that I had been in the audience at Lucerne in summer 2015 to hear Andris Nelsons conduct an all-Mahler program, cleverly arranged to culminate in Mahler's Fifth Symphony. Because Mahler started writing that symphony using themes from a Wunderhorn song, "Der Tamboursg'sell."
DVD boxshot and more musings, after the jump.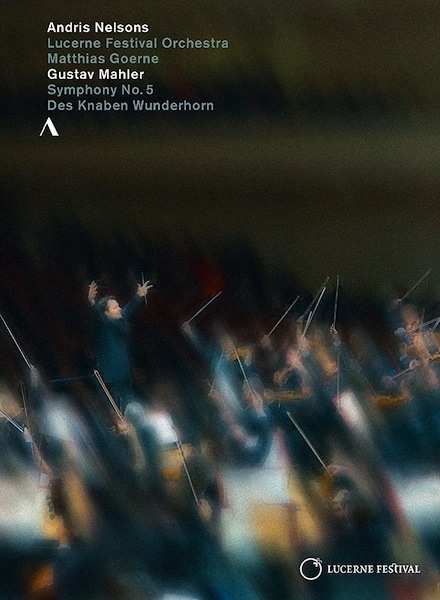 Strangely enough, I was just the other night listening to various Mahler Fifths, planning on writing a Vault Treasure Tuesday entry on one of them. I was musing that were I to be exiled to that legendary Deserted Island under an edict that I could being only one Fifth Symphony (brace yourselves), it would not be Beethoven's—for reasons I have already discussed at some length elsewhere.
To nay-sayers I can only say, "Mahler Is the New Beethoven." Memo on that to be found here. (Highly-recommended reading.)
Indeed, had Mahler not written a Fifth Symphony, I'd probably pack Sibelius' Fifth for that island vacation… . Such is the extent of my had-it-withness with da-da-da DAAH… .
Almost needless to say, my admiration for Andris Nelsons only continues to grow with each new release. For me, one give-away is to see orchestral musicians grinning with delight at what they are immersed in—and please remember that this was Claudio Abbado's orchestra.
I'll try to obtain the DVD, and sooner rather than later I will write up a CD Vault Treasure.
# # #