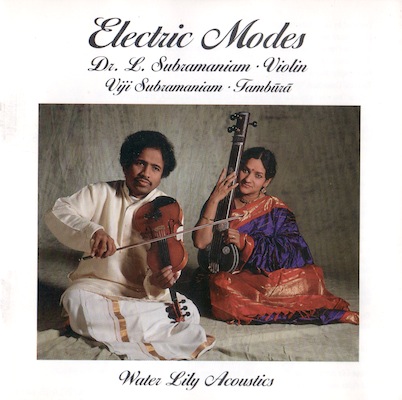 Lakshminarayana Subramaniam: Electric Modes
L. Subramaniam, electric violin; Viji Subramaniam, tambura; uncredited musicians, mridangam and ghatam.
2-CD set Water Lily Acoustics WLA-ES-5&6 (o.o.p.)
Recorded May 1987, Our Lady of Mount Carmel, Santa Barbara; November 1987, Unitarian Church, Santa Barbara; and September 1990, First Presbyterian Church, Santa Barbara. L. Subramaniam and Kavichandran Alexander, producers; Kavichandran Alexander, engineer. (Available via streaming from Tidal; via streaming and MP3 downloads from Amazon; from iTunes; used CDs and LPs are found on eBay and Amazon.)
California's audiophile label Water Lily Acoustics achieved the dream of most independent music producers by winning the Grammy award in 1994 for Ry Cooder and V.M. Bhatt's A Meeting By the River. No question, that is a very worthwhile recording.
However, that said, if I had to pick one recording from the Water Lily catalog that was even more musically substantial, it would be L. Subramaniam's Muddy Waters-inspired Electric Modes. The sound samples over the jump are rather mind-boggling. The original LPs and the CD reissue are long out of print, but through the magic of streaming services, this magnificent music is readily available.
Some background, and the rather stunning sound samples, after the jump.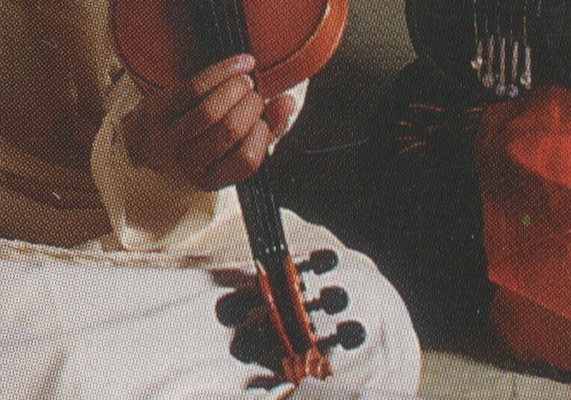 Anyone with a basic knowledge of how a violin works is sure to be gobsmacked by the playing on Electric Modes. Add to that that I am very confident that the recording is entirely organic; that is, live and direct to two-track analog tape, with no overdubbing or post-processing. So, how does he get those amazing sounds?
As shown above, Dr. Subramaniam plays a five-string violin; there are three tuning-peg heads and two peg ends visible on the bass side of the violin's head, before the scroll. Furthermore, although there is no credit for the violin maker, or technical information about the violin, it seems to me that the top string is tuned to D not E, which suggests that the top four strings are tuned G-D-G-D rather than the conventional Western G-D-A-E. This would allow greater freedom to use open strings in chordal playing. In my surmise, therefore, the "extra" string is a new lowest string, which I assume would be C (but I could be mistaken). In any case, Subramaniam's violin may afford more opportunities for expression, but it surely also provides challenges in equal measure. Furthermore, the three recording venues of these two CDs are all houses of worship, with rather grandiose reverberation that the electrified artist exploits to the maximum.
L. Subramaniam has performed or recorded with Western violinists Yehudi Menuhin, Stéphane Grappelli, and Ruggiero Ricci; flautist John-Pierre Rampal; and jazz musicians Herbie Hancock and Joe Sample. Yehudi Menuhin said of Subramaniam: "I find nothing more inspiring than the music making of my very great colleague Subramaniam. Each time I listen to him, I am carried away in wonderment."
Electric Modes was (very loosely) inspired by Muddy Waters' 1968 experimental psychedelic electric album Electric Mud. Although the general view at that time was that Electric Mud was a sell-out, a cash-in, or crass prostitution (obviously, not to be confused with high-class prostitution), it also has to be noted that Jimi Hendrix' valet later claimed that Hendrix would listen to his favorite track from Electric Mud for inspiration before performing, and there are also reports that Electric Mud inspired Led Zeppelin.
Electric Modes' CD 1 presents original compositions by Subramaniam, based on Carnatic "modes, moods and motifs." Whereas CD 2 consists of his solo explorations of five pentatonic ragas (Hamsadhwani, Hindolam, Revati, Hamsanadam, Abhogi), followed by a sixth with uncredited rhythm section. Subramaniam's recording here of the Revati raga is often praised as definitive.
Sound Bytes:
1.1 Dance of Siva
1.5 Tanam
2.3 Revati
2.6 Ragam/Kapi, Talam/Ekatalam (excerpt from middle)
2.6 Ragam/Kapi, Talam/Ekatalam (finale)
# # #