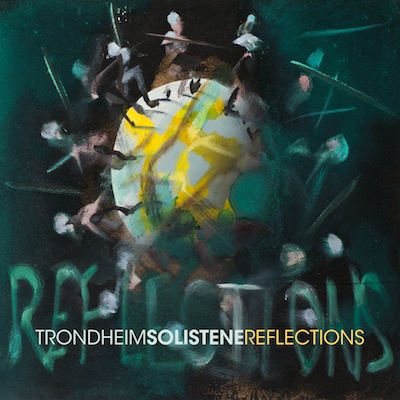 Trondheim Solistene: Reflections
(Music of Britten, Vaughan Williams, and Stravinsky)
SACD/CD +Blu-ray 2-disc set, 2L 125
CDQ; high-resolution stereo including MQA and DSD; and surround-sound downloads available from www.2L.no
Streaming available from various services linked to here.
Recorded June and August 2015, Selbu Church, Norway. Recording producer and balance engineer Morten Lindberg; recording technician Beatrice Johannessen.
Certain pieces of music just catch the ear. Some of those pieces even enter into the collective repository of culture—they become part of the sonic landscape (or the musical memories) of nearly everybody's life.
A prime candidate for the title of "The Most Well-Known Piece of 'Classical' Music That Was Not Composed by Vivaldi, Beethoven, or Gershwin" is Samuel Barber's Adagio, in its string-orchestra version. Barber's Adagio for Strings combines striving with yearning (and grief with resignation) in a completely arresting and inescapably memorable way.
Most music lovers don't realize that the version they know so well is a transcription—that the "Adagio" of movie and pop-culture renown started out life as the slow movement of Barber's Op. 11 string quartet.
The point of this blog entry then, is to tell as many people as possible that if you love Barber's Adagio, you will love Ralph Vaughan Williams' Fantasia on a Theme by Thomas Tallis. The Tallis Fantasia has the same sweeping grandeur and emotional intensity as Barber's Adagio, but I think it is even more rewarding to engage with over repeated hearings.
More background, a making-of video, and sound bytes, after the jump.
Recording the Tallis Fantasia. Photo by Morten Lindberg, courtesy 2L.
(For a larger view: first click on this image, and then click on the image on the new page, and then control-click "View Image" over the image on the new page. If anyone has a WordPress hack, please post a comment and I will see it in the moderation process.)
Ralph Vaughan Williams (1872-1958) wrote his Tallis Fantasia in 1910. A quick look at what had been going on in the world of Western classical music provides some valuable context.
In 1889, Claude Debussy heard a visiting Javanese Gamelan orchestra at the Paris Universal Exposition, the showpiece of which was the Eiffel Tower. Incidentally, the Eiffel Tower was not planned as a permanent structure. The assumption was that it would be torn down after 20 years; but the tower had proved its usefulness in radio communications, and so it was spared being sold for scrap.
Later, carmaker André Citroën's electric-light signs spelling out "Citroën" provided revenue from 1925 to 1934. Made up of 250,000 light bulbs, the three Citroën signs were among the largest commercial displays ever. The Citroën signs were so bright that Charles Lindbergh used them as an aiming point at the end of his transatlantic flight.
Back to Achille-Claude Debussy. Debussy's Gamelan experience revolutionized his harmonic thinking, giving birth to musical Impressionism. Debussy's achievement is that, while writing in the Western idiom for Western instruments, he was able to express the Balinese ideal of a serenely floating encounter with another world; certainly in his piano music, but to the greatest extent in his string quartet and the three orchestral sketches of La Mer, which he completed in 1905.
1910 also saw the première of Igor Stravinsky's ballet score for The Firebird, the first of his three breakthrough scores, the others being Petrushka and The Rite of Spring. Also in 1910: in Austria, Gustav Mahler completed his ninth symphony, and Arnold Schoenberg returned to the task of orchestrating Gurre-Lieder. Mahler's ninth symphony bids a poignant farewell to the concept of tonality, while Gurre-Lieder is pretty much the last gasp of overheated Wagnerism (outside the realm of movie scores, that is).
Among all this artistic ferment and social turmoil (at least, the 1913 premiere of The Rite of Spring was famous for its turmoil), Vaughan Williams stands apart as a conservative innovator with not only an appreciation for music of England's past, but also a degree of personal devotion. Vaughan Williams collected English folksongs from 1903 on. The modal character of the old songs he collected certainly influenced his approach to composing.
"Modal," by the way, refers to a system of tonal organization that dates back to the ancient Greeks, and which served the early Church up to the time of the development (during the Renaissance) of major and minor keys. Modes are the series of notes you get when you confine yourself to the white keys of the piano, but start each series with a different starting note. With the result that the smaller tonal intervals do not occur in the same places in every series.
In the course of putting together the Hymnal for the Church of England (completed 1906), Vaughan Williams encountered Thomas Tallis's (1505-1585) tune on the third mode (from E to E, on the white keys) that Tallis wrote for Archbishop Parker's rendering of selected Psalms into English rhymes. To me, Parker's word choices and rhyme schemes are so trite and dumbed-down that I want to shout out "Burma Shave" when I get to the end; but, that's just me… .
The Psalm that Tallis set using Parker's doggerel and which Vaughan Williams embellished upon is the second Psalm, "Why Do the Heathen Rage."
That's a historical fact; but, I have never met anyone whose emotional response to the Tallis Fantasia was that it was about raging back at the raging heathens–to be specific, heathens whose just desserts is to be broken with a rod of iron. Nope.
By the way, there is an audio-only YouTube of The Tallis Scholars, singing Tallis's original setting here, if you are curious about the original that RVW used as his starting point. The craggy harmonies have something primordially ancient about them. Vaughan Williams' piece preserves that feel; but, there is also in places a flirtation with musical Impressionism. Indeed, one of RVW's teachers or mentors was Maurice Ravel.
Vaughan Williams later said that Ravel had helped him escape from "the heavy contrapuntal Teutonic manner." Contemporaneous evidence of the reception of the first performance of the Tallis Fantasia supports that. Wrote J. Fuller Maitland, "The work is wonderful because it seems to lift one into some unknown region of musical thought and feeling. Throughout its course one is never sure whether one is listening to something very old or very new." (Emphasis added.)
As far as I can tell, far from rage, the usual reaction is that the Tallis Fantasia evokes the calm beauty of the verdant English countryside, as though seen from a cathedral tower. My own reaction is a bit different; the monumental power of the music makes me envision a stormy (but indifferent) Alpine mountain landscape.
I asked the producer of this recording, Morten Lindberg, his thoughts on the matter. Morten's reply shows that rather than the passages for massed strings, the passages for solo strings or the string quartet are what catch his attention:
Vaughan Williams' Fantasia on a Theme by Thomas Tallis is literally the centerpiece to the concept
of the album REFLECTIONS. It is amazing how small gestures in a gentle voice can create such
emotional impact. The second orchestra expands and contracts like a human heart, adding
sonic colorations to the main orchestra. Then it rises dynamically to a give
Vaughan Williams' reflection upon Tallis's work.
Fantasia on a Theme by Thomas Tallis has been well-represented on recordings. The earliest I can find is Boyd Neel's 1934 discing, which is still available on a CD reissue. Famous conductors who have recordings still in print on CD include Stokowski, Toscanini, Mitropoulos, and Bruno Walter; but pride of place has usually gone to Adrian Boult's 1975 remake with the London Philharmonic (Boult had recorded the piece in the 78rpm era). Boult/London 1975 was the recording that enraptured me in my student days. There are 36 different conductors represented on Arkivmusic.com, so there is no shortage of competition, at all levels of technological progress in recording.
Speaking of technological progress, you can't get more up-to-the-minute (or future-proof) than 2L's new recording of string-orchestra music of Britten, Vaughan Williams, and Stravinsky. Whew. Most of us will just put the second disc of the two-disc set into a CD player. Some few might have an SACD player, to get the DSD layer derived from the DXD (352.8kHz/24-bit PCM digital) master files. But there is also the option of getting 192kHz/24-bit PCM stereo from the "Pure Audio Blu-ray" disc.
The Unique Selling Propositions of Pure Audio are that (1) it is not SACD (sorry); and (2), that you can play high-resolution sound without needing to connect a computer or a video monitor to your stereo–all that is needed is a universal disc player such as Oppo's near-ubiquitous BDP-103. The way that works is via the color-coded buttons on the disc player's remote control.
Were that not enough, the data density of a Blu-ray disc allows it also to carry not only 5.1 channels via DTS HDMA; also present (if you have the playback capability) are 9.1 channels of Auro-3D, as well as Dolby Atmos (in its home-theater version). By the way, Auro-3D 10.1 has an added Top Ceiling channel, the so-called "Voice Of God."
Shades of the Ginsu Knife ("But wait, there's more!"): if your universal disc player is connected to your home network, you can upload high-resolution files from the Blu-ray disc to your network (including potentially those processed using Meridian Audio's "MQA" mastering and data-packing algorithms), and even MP3s to port over to your smartphone or portable audio player.
For this recording, 2L employed a differing physical arrangement of the instrumentalists for each composition, depending upon its orchestration. The most complicated is the Vaughan Williams, which, to create the sonic aura of a Renaissance cathedral, uses a larger (nearer) and a smaller (more distant) string orchestra antiphonally. In addition, there are passages for solo violin, solo viola, and string quartet (marked in this diagram with green dots). Part of what makes the Tallis Fantasia such a fascinating listening experience is the contrast of the instrumental groups in texture and spatial perspective. Here's a diagram of the seating arrangements: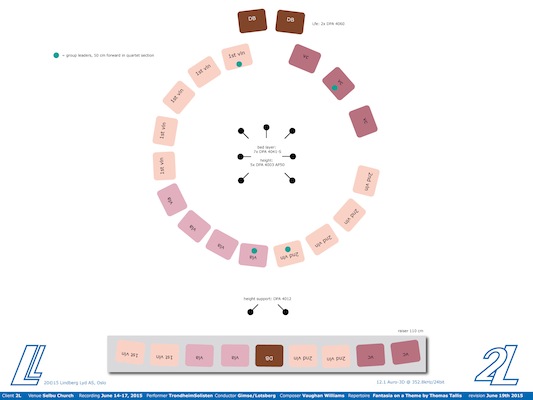 And now, how about some music?
Here are the first two minutes or so of the Tallis Fantasia. In view of my making this sound sample long enough so that you can get a feel for the interpretation, it will be, in the spirit of the doctrine of Fair Use, the only sample I upload. But that is not to disparage the other two works, both of which represent the artistic process of reflection upon previous works by others: Benjamin Britten's Variations on a Theme of Frank Bridge, and Stravinsky's Apollon Musagète.
Vaughan Williams, Fantasia on a Theme by Thomas Tallis (beginning)
While the 1975 Adrian Boult recording will always have a place in my heart, this new masterpiece of audio engineering and record production from 2L is decisively a more technically sophisticated recording, and the playing is cleaner and more articulated, but with no lack of emotional engagement.
I have always thought that what RVW had in the back of his mind was turning a chamber orchestra into a cathedral pipe organ, and I think this performance makes that almost come true.
And, as promised, here's an engrossing making-of video (25 minutes). NB, the video is rehearsal footage of the Britten Variations on a Theme of Frank Bridge:
The good news is that this recording exists, and that you can order it here. The iffy news is that the all-singing, all-dancing SACD/BRD package (with intelligent liner notes and all the technical background and session photos you could hope for) costs $35 in the US.
However, the CDQ download of the entire album, from 2L's download site, is only $14, and the 24/96 stereo download of the entire album is only $19. And, of course, the music is on the streaming sites listed here.
If you must have physical media at the lowest possible cost, used CDs of the 1975 Adrian Boult Fantasia and London Symphony start at one cent plus shipping on Amazon and eBay.
And if all you want to hear is the Tallis Fantasia, it is available from 2L's download site starting at $3.10 in CDQ.
Most highly recommended for you, or for you to give as a seasonal gift.
# # #