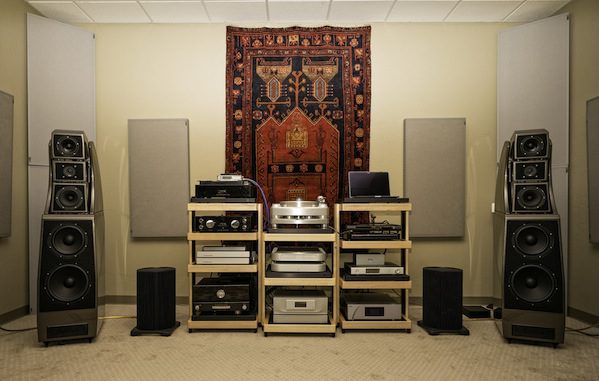 Photo by Peter McGrath, MFA
My colleague Mike Zisserson has already written up this event for Positive Feedback Online. Therefore, my coverage will be a bit broad-brush.
This open house took place Saturday afternoon December 3, at Fidelis Music Systems' Nashua NH store. While the featured brands were Wilson Audio Specialties and MSB Technology, I was tickled that Wilson Audio's Peter McGrath had brought along two of my Esperanto Audio digital cables, one for the S/PDIF signal, and the other for the Word Clock connection. More, and more photos, after the jump.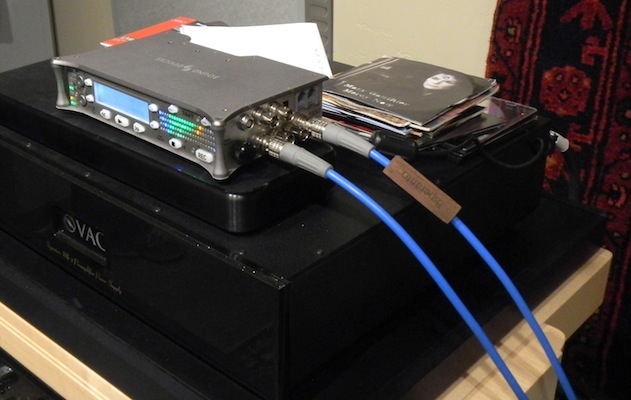 Peter McGrath's Sound Devices digital recorder, with Esperanto Audio "Blue" cables. Photo by John Marks
A feature of Peter McGrath's product demonstrations is his playing back live recordings of classical performances from the Miami area, via his Sound Devices 744T digital recorder. This time, he favored us with tracks that included a string-quartet tribute to Led Zeppelin, some exquisite solo-piano Chopin, and a Bach chorale. Peter is a fan of the digital signal and word clock cables I design and build under the "Esperanto Audio" brand name. So, it was great to see him taking them out on the road, for a public showing.
Peter was there to show off Wilson Audio's new-ish Alexx loudspeakers, at $110,000 the pair (shown above). It was a very impressive demonstration. Remarkable resolution plus stunning dynamics. (NB, the Ralston Listening Room I helped design for The University of the South in Sewanee TN has always used Wilson's largest loudspeakers. So far, at least… .)
However impressive the room with the Alexxes was, as impressive, in its own way, was another room, shown immediately below: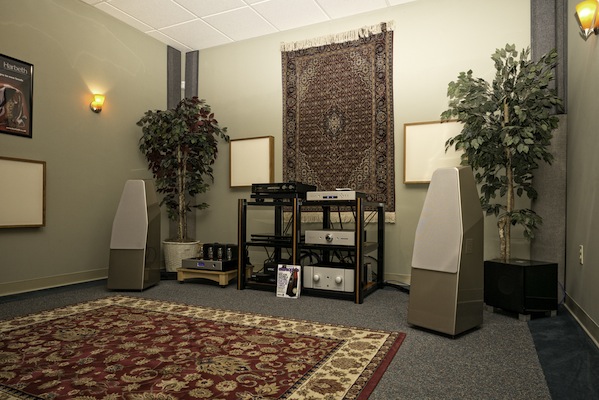 Wilson Audio Sabrinas; photo by Peter McGrath, MFA

The much smaller and substantially more affordable Wilson Audio Sabrinas (is there an Audrey Hepburn fan lurking somewhere?), at $15,900 the pair (shown with MSB's most-affordable DAC—called the Analog, in that it does have an analog input).
I must say that Fidelis' proprietor Walter Swanbon and his staff certainly know how to lay out and set up a very classy store, with an enveloping vibe of welcoming friendliness and of creature comfort, as well as great sound and music.
Vince Galbo and I have known each other since back in the day when he and his brother Larry took over the distribution of Plinius amplifiers, which are made in New Zealand. After that, Vince has been National Sales manager of MSB Technologies, one of the handful of top digital-audio companies in the world.
Here's Vince, looking pensive, as Peter McGrath points his Leica, and (off-camera) Walter Swanbon makes introductory remarks. (The large cylinders to the inside of both Alexx loudspeakers are MSB's 200Wpc Class A monophonic amplifiers. The design maxes out heat-sink area, for the obvious reason.)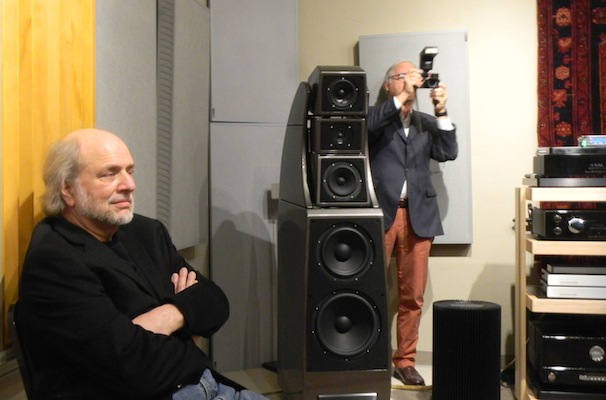 Photo by John Marks
Vince is a musician and music lover, and his demos are always full of quirky surprises, such as a Christian McBride sound check. Many in the audience seemed not to have previously heard Vince's favorite Harry Connick, Jr. track, which I commented upon here (and, he was kind enough to leave a comment; "he" being Vince rather than Harry).
And here is some of the crowd, seen from behind.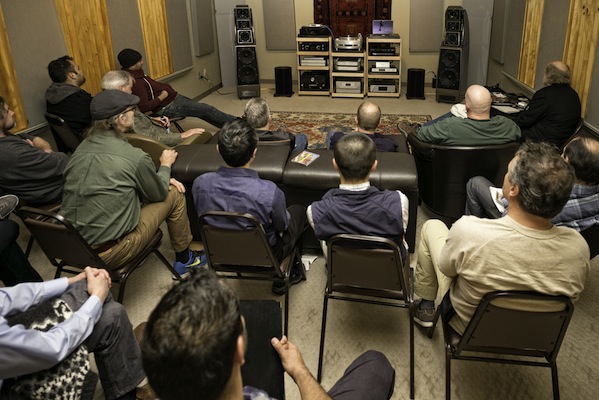 Photo by Peter McGrath, MFA

As they say in Southern church bulletins: a good time was had by all.
For those who stayed late, I persuaded Peter and Vince to let me put on Requiem for a Pink Moon, Joel Frederickson and Ensemble Phoenix Munich's Elizabethan tribute to 1970s British folkie Nick Drake. The resolution on playback was stunning. You could have heard a pin drop, and the emotional engagement on the part of the audience was very evident.
So, I guess I should get around to a Vault Treasure feature on this under-appreciated gem: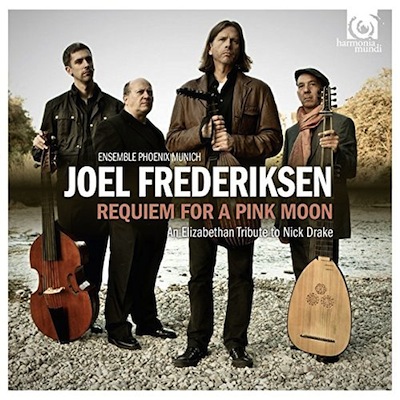 The Good Lord Willin' and the Creek Don't Rise, I will be presenting an afternoon of Deep Listening at Fidelis Music Systems (one of my Esperanto Audio dealers, after all) in late February or early March.
Details to follow.
# # #