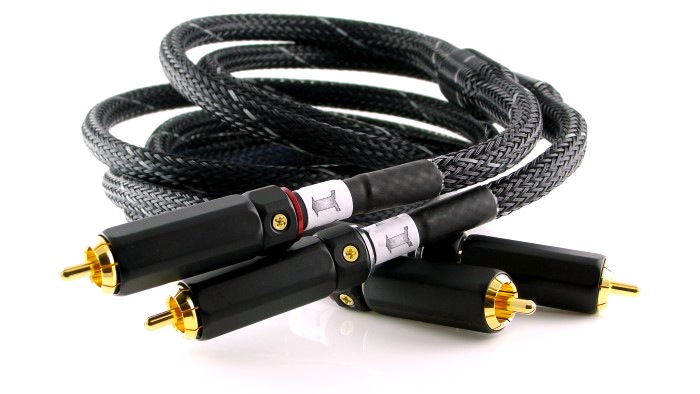 I wrote about Graham Slee's UK-made Revelation M phono stage with selectable treble-cut and bass-boost controls (which enable proper playback of non-RIAA as well as RIAA 33 rpm records—and also most electrically-cut 78 rpm discs) here.
Bruce Kohl, facilitator of Graham Slee's US in-home trial program, included a pair of Graham Slee's Lautus analog line-level signal cables (with locking RCA phono-plug terminations at both ends–other terminations optional) in the package with the phono stage.
When listening for reviewing I try to avoid (if at all possible) changing more than one variable at a time. So, I had to put Slee's interconnects aside; and, put-aside they stayed. I eventually did listen; but since you are reading this, you likely figured that out already. The story continues after the jump!
As I was packing up the phono stage to send it back, I realized that I had not listened to the interconnects. Oops. Intending to give them a brief listen—really just to be able to say that I had listened to them—I put them into the system in place of the usual Cardas Clear interconnects. Cardas Clear is a wonderful interconnect; it should be on anyone's short list if they are in the market for a premium-priced (circa $2000/1m pair) audiophile interconnect. I wrote about Cardas' Clear interconnects (as well as speaker cables) for Stereophile magazine here;  they remain on Stereophile's Recommended Components List.
In order to accelerate the break-in process, I played a CDR I had burned with Ella Fitzgerald's "Easy to Love" (from Vol. 2 of her Cole Porter Songbook) followed by the 5-minute version of the Cardas/Ayre Acoustics Irrational, But Efficacious system-enhancement CD's sine-wave sweep, followed by the same "Easy to Love" performance.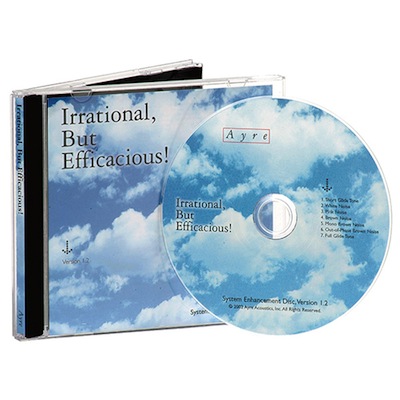 Even totally cold out of the box, the Graham Slee Lautus interconnect did not embarrass itself in comparison to the nine-times more expensive Cardas cable. For lack of a better term, there was a definite "family resemblance." The quick break-in with the Cardas/Ayre sine-wave sweep only made things better. The complete Cardas/Ayre CD is available here; it's the most effective $20 tweak I know of. Furthermore, there is no need for you to trust me; Music Direct sells the Cardas/Ayre CD with a money-back guarantee.
It took me only a few seconds to decide that I liked the basic sound of Slee's Lautus cable. I quickly characterized it to myself as a "First, do no harm" design. Perhaps (and I am speaking of my experiences in the past), there might have been a tendency on the part of some cable designers to make cables that thinned out the sound, in search of more detail and more upper-midrange presence. The difficult part is that in some cases, such cables were just the band-aid that a system needed. That would especially be the case if the speakers had midrange or woofer-mid drivers that suffered from what I came to refer to as the "milk-jug coloration." (Interestingly, one manufacturer whose speakers I loved despite a hint of that coloration not long ago renovated their line, dropping their polypropylene woofer-mids in favor of pulp-based drivers.) Therefore, in certain systems, a leaner-than-real cable might have been the least-bad option. But, as a general guiding principle, enlightened neutrality is preferable.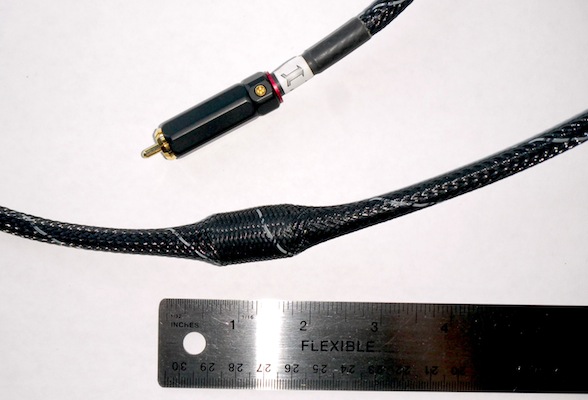 Photo by John Marks.
If you live in the US, Graham Slee's Lautus costs about $220 a pair including shipping from the UK (US customs duties, if any, are your responsibility). The standard length is 1.5 meters. That is because a design feature of the Lautus is a pair of ferrite chokes spaced at calculated distances from the signal's origin at the source component (photo above). The chokes are intended to null out very-high-frequency interference, with the nulls centered at 100mHz and 200mHz. I have written in the past (and I follow this line of thought in cable designs for my company Esperanto Audio) that a listener really has little way of knowing whether a cable sounds a certain way because of any particular design feature, or despite that particular design feature. That said, I do like the fact that the Lautus is a conventional coaxial design with a solid-copper center conductor with a 1mm diameter (which does limit the diameter of the minimum safe bend to 6 inches).
The good news is that the Lautus cable was not a jarring change in musical presentation from a cable from a legendary manufacturer that costs about nine times as much; the rest is just quibbling. To get a better grasp of what was going on, I listened to the track "Oblivion" from the CD of piano-trio arrangements of the music of Astor Piazzolla I went mildly bonkers over here; to the entirety of Barbara Bonney's Nordic-song recital Diamonds in the Snow (which I really must get around to writing about); and the entirety of Michael Franks' unjustly-neglected Sleeping Gypsy, which you can "glect" by clicking here.
I should note two things: first, I did not have a budget-priced Cardas interconnect handy for comparison. However, I have recommended Cardas' more-affordable offerings in the past to friends, who have been tickled by the results. Second, apples to apples, if the Graham Slee cable were to be sold through importers and then resellers, it would cost at least twice as much as it does factory-direct. About logistics: I paid shipping both ways on the loaner phono stage and the cables, as do all those who borrow the loaner items. (See the Revelation M review Comments section for details on the loaner program.)
My conclusions were that the Lautus had a slight upper-midrange and lower-treble (but not upper-treble) emphasis compared to the Cardas Clear, making the music slightly less coherent bottom-to-top, and that the Cardas Clear had greater resolving power. Both cables were about the same in noise (as in almost none) as far as I could hear. The Graham Slee website makes a big deal about the Lautus' bass response; but Cardas Audio's Clear line—across the board—excels at bass, so I really did not hear a difference there. (I did not look at the description on the Slee website until after I had come to my conclusions; but, had I looked before listening, I might have been concerned that the Lautus might have exaggerated the bass. I can assure you that that is not the case.)
My summing up is just about the same as my first impression: Graham Slee's Lautus interconnect cable is inherently musical; neutral but by no means boring; and, in large part owing to the company's business model, it represents exceptional value for money. Highly recommended.
# # #