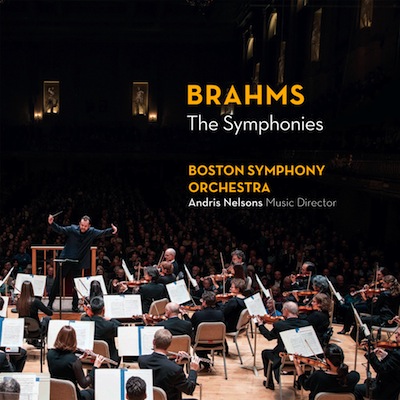 Brahms: The Four Symphonies
Boston Symphony Orchestra, Andris Nelsons
3-CD set and Downloads from BSO Classics
(Downloads are: 320 Kbs mp3; 24/96 AIFF; and 24/96 and 24/192 FLAC.)
Shawn Murphy, Producer and Engineer; Nick Squire, Recording Engineer; Robert Wolff, Editing Engineer; Tim Martyn, Editing Engineer and Mastering Engineer; Joel Watts and John Morin, Assistant Engineers; Brian Losch and Silas Brown, Production Assistants.
This review will be brief—but imperative. The official (so to speak) start of Andris Nelsons' tenure as Music Director of the Boston Symphony Orchestra was a performance of the Overture to Richard Wagner's Tannhäuser. The first CD I reviewed on this blog included that live recording, made the evening of September 27, 2014. (The other work on that CD is Sibelius' second symphony, recorded later in Nelsons' first season.) Furthermore, I named my blog after a Tannhäuser reference in the movie Blade Runner. So, all the breadcrumbs have been in plain sight; you should not be surprised that I am predisposed to be well-disposed to any and all new recordings from Andris Nelsons.
And it is not just this particular Humble Ink-Stained Wretch of the Fourth Estate who thinks the world of young Maestro Nelsons, either. Two CDs from Nelsons' and the BSO's ongoing Shostakovich series have won back-to-back Grammy awards in the category of Best Orchestral Performance. The BSO's new 3-CD Brahms set is of that caliber.
By all means, you should click on the jump link for more detail, sound bytes, and some measure of justification. But the bottom line is: If the symphonies of Brahms are important to you, you should buy these CDs (or downloads), immediately. Taking into account interpretation, playing, and recorded sound, this set shoots right up into the top tier of recommendations in this music.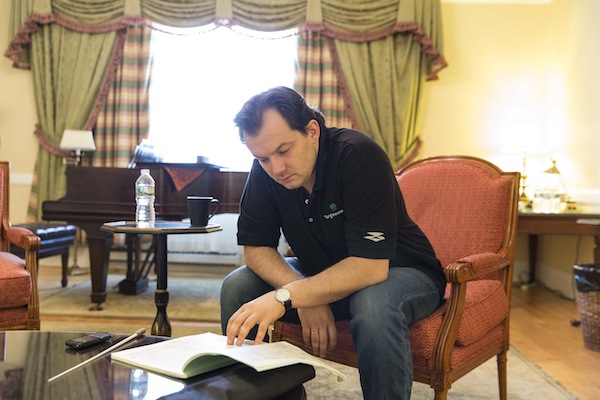 The Boston Symphony played music by Johannes Brahms during its first season (1881). That was a time when Brahms was still alive, and much of the work he is remembered by today was as-yet unwritten. So, reading Maestro Nelsons' personal note in the CD packaging, I was a bit surprised to learn that in its long history of making recordings, the BSO had made only two complete sets of the Brahms symphonies—one with Erich Leinsdorf, and one with Bernard Haitink. (Koussevitzky, Munch, and Ozawa all did record individual Brahms symphonies.) I am sure that there were practical and business-related reasons for that state of affairs, but it is still a bit curious.
I really think that the Boston Symphony has embarked upon a new Golden Age, releasing new recordings to rival the great RCA stereo LPs of the Charles Munch era. (Munch was Music Director 1949-1962; the first RCA stereo recordings were in 1956.) There is a new Music Director, as well as a new audio-production crew led by California-based Shawn Murphy. Murphy's 350 film-score engineering credits include Jurassic Park, Indiana Jones and the Last Crusade, and Star Wars: Episode I. (There is a huge conceptual overlap in film-score and symphonic recording, obviously.)
A small but significant detail is that some years ago (but not a hugely long time ago), the BSO replaced the stage flooring in Symphony Hall, using materials and methods approximating the original as closely as possible. The original flooring was more than 100 years old, and had become springy and therefore acoustically lossy. The new floor, which I noticed by ear before I read the program note about it at a live concert, has a firmer bass foundation, dynamics that are more dynamic, and a brighter top end.
These are live recordings, but I did not hear any intrusive audience noise. The orchestral sound is, to use one of my favorite descriptors, organic. The sound blend in the fourth movement of the first symphony sounds rather like a church organ. My private and untutored thought (or insight) is that Brahms had to endure a 15-year gestation period for his first symphony in part because he was wrestling with the problem of orchestral sound in and of itself, at the same time he was wrestling with the problems of symphonic structure in a post-Beethovian world, and with the sources of and use of thematic material. And so, the gorgeous recorded sound in and of itself goes a long way to justifying the purchase of this set. (Mandy Rice-Davies of course would say, "He would say that, wouldn't he?")
But there's something even more important. Listening to Nelsons' and the BSO's Brahms first symphony three times in a row, the word that kept coming to my mind was that it was a loving performance. Having grown up under Stalin's long shadow, Nelsons perhaps views Brahms through a different lens than conductors from Western Europe or the Americas. And/or perhaps, after dealing with all the angst of the Shostakovich cycle (and settling into his third year in his new job), perhaps it was a relief for Nelsons & Co. to be able to play Brahms and luxuriate in the melodies and the sonorities for their own beauty, and not have to wonder whether anything was a coded message from behind the Iron Curtain.
Or, I could be all wet. BTW, the truly excellent liner notes for this set were written by Brahms authority Jan Swafford, whose Brahms biography is my go-to work on the subject, and which is available here. The (Digipak) packaging and presentation are first-rate. I was very pleased to see that each of the three CDs' labels showed an image of Brahms at a different stage of his life. That's the kind of detail that shows that people lavished a lot of thought and care on a project.
All fine and good; but, as the Lord Chancellor of Great Britain once groused, "Thirsty folk want beer, not explanations."
So here are the sound samples, in semi-reverse order. That is, samples going from the last movement of the first symphony, to the first movement of the fourth symphony.
Brahms: Symphony No 1 in c, Op. 68; IV. Adagio-Più Andante-Allegro non troppo ma con brio-Più Allegro
Brahms: Symphony No. 2 in D, Op. 73; III. Allegretto grazioso (quasi andantino)
Brahms: Symphony No. 3 in F, Op. 90; II. Andante
Brahms: Symphony No. 4 in e, Op. 98; I. Allegro non troppo
Most highly recommended, indeed.
# # #