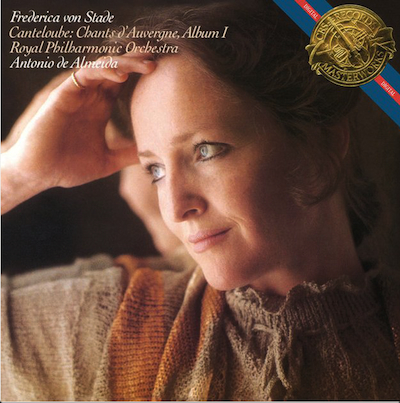 Frederica von Stade: Canteloube, Songs of the Auvergne, Album I (1982)
CD CBS MK 37299 (o.o.p.) and Sony Essential Classics CD 63063
(also o.o.p.; but available as just-in-time replicated from Arkivmusic)
Frederica von Stade, mezzo-soprano; the Royal Philharmonic Orchestra, Antonio de Almeida, conductor. David Mottley, producer; Peter Brown, engineer.
I treasure the wonderful folk-song orchestrations on this recording so much; I have, since it first came out on LP. However, its comparative obscurity today tempts me to think that my enthusiasm for a recording really is The Kiss of Death. This recording is Out of Print from Sony? Are you kidding me?
At least Clifford Brown With Strings and Sleeping Gypsy are still in print. Sigh.
Frederica von Stade signed up at New York's Mannes School of Music as a part-time student in order to learn how to read sheet music—but only for her own enjoyment. Some faculty members recognized her potential, and urged her to apply for full-time status. In less time than it takes to earn an undergraduate degree, she had learned enough about singing and the repertory to audition for the Metropolitan Opera. The Metropolitan Opera immediately offered her a three-year contract; the rest, as they say, is history (a history that includes more than 75 major-label recordings).
(Despite the above's having "the additional benefit of being the truth," I think that if somebody were to write that story into a movie script, people would say, "Yeah, right. Get serious!")
More info, and sound bytes, after the jump. This is a touchstone CD that is well worth the effort to find. Just find it and BUY IT!
Reading about Ms. von Stade, it's hard to avoid the conclusion that she is one of the nicest people ever, and so (perhaps) that made her stand out even more in the world of opera, from which she retired with customary grace. She told the New York Observer:
I don't feel sad. I feel emotional, but not sad. I've been so lucky, and I've had such a ball doing it. And there comes a point when you think, to want to go on even longer is just greedy if you've been given such a good time. I've had the most wonderful colleagues, and the most wonderful managers and agents and accompanists, and most wonderful orchestra partners. I've just had a great time. There's no blow there. The blow doesn't need to be softened.
The phrase "generous, modest, and kind" seems to sum her up, right down to her volunteer work with music programs for disadvantaged children in Oakland, California.
The conductor on these two discs (there is an Album II) is Antonio de Almeida, whose feeling for not only the details of Canteloube's orchestration but also its atmosphere, helps make these my favorite interpretations of this music. Furthermore, the recorded sound is truly  exceptional. Almeida was a musical prodigy, no doubt. He was a precocious "quick study" at the piano (although he himself disclaimed ever being a great pianist). He taught himself clarinet by listening to Benny Goodman's and Artie Shaw's 78-rpm discs.
Almeida later left MIT, where he had been studying what at the time was called Nuclear Chemistry (on a full scholarship), to study Music at Yale (BA, 1949). During his student days, he played first horn at Tufts College, first bassoon at Harvard, oboe with the Wellesley Orchestra, clarinet at MIT, and the cello at Yale. His music teachers included Paul Hindemith, Sergei Koussevitzky, Leonard Bernstein, and George Szell.
Marie-Joseph Canteloube de Malaret was a complicated character. He stated that "peasant songs often rise to the level of purest art in terms of feeling and expression, if not in form." Indeed, his folk-song orchestrations seem to be the only of his works in print on record—Canteloube's two operas bombed. But one can infer that Canteloube's folk-song fixation perhaps was not entirely the result of openhearted fellow feeling, but rather, to a degree, an expression of regional parochialism and/or nostalgia for the Ancien Régime. After the collapse of France in World War II, Canteloube made bad calls in joining the Vichy government, and in writing for the reactionary monarchist newspaper Action française. (Although Canteloube was not alone in such collaborations.)
I should mention that the original release was on vinyl, but from a digital master tape. (Given the recording date, I would expect that the backup medium was high-quality analog tape. However, seeing as how Sony has basically cut these recordings loose, we should not hold our breath waiting for a new digital version to be made from analog safety tapes—which was done for Glenn Gould's 1981 Goldberg Variations remake). There is also a CD reissue of both albums of the series as one 2-CD set. All releases appear regularly on eBay, and from third-party sellers on Amazon. Please be aware that the CD offered via Amazon Prime is not from Sony: "Note: This product is an authorized CD-R and is manufactured on demand."
Here are the sound bytes. For those who no longer care about physical media, both albums of Ms. von Stade's Canteloube songs can be heard on Tidal. Indeed, Tidal has in its catalog Frederica von Stade—The Complete Columbia Recital Albums, which clocks in at one day, four hours, and 42 minutes of listening.
Canteloube: Chants d'Auvergne, Vol. 1 – Baïlèro
Canteloube: Chants d'Auvergne, Vol. 1 – Oï, Ayaï
Canteloube: Chants d'Auvergne, Vol. 1 – La Delaïssádo
Allmusic.com states that these recordings are "a model of grace and simplicity." I think there is no better way to sum up why you should buy them, or at least listen to them.
# ##