James Agee (1909-1955) had a difficult and comparatively brief life. Born in Knoxville, Tennessee, his life was upended at age six when his father was killed in an automobile accident. Thereafter, Agee and his younger sister Emma were sent off to various boarding schools. Agee was a member of the class of 1932 at Harvard. Upon graduation, he went to work for Time, Inc.'s magazine Fortune. In 1934, he published his only volume of poetry, Permit Me Voyage.
In 1938 Agee wrote a brief prose piece, "Knoxville, Summer of 1915" that Samuel Barber later (1948) set for soprano and orchestra. In 1938, Barber had set another Agee text, "Sure On This Shining Night," a brief untitled poetic fragment from Permit Me Voyage. Barber's "Shining Night" setting is solidly in the core or standard repertory, both in its solo-voice and choral versions. More recently (2005), composer Morten Lauridsen's choral setting of "Sure On This Shining Night" has earned worldwide currency for its soulful treatment of Agee's enigmatic, pensive, yet I think ultimately hopeful lines.
Agee later participated in the writing of two of the most famous films of the era, The African Queen and Night of the Hunter. He was posthumously awarded the Pulitzer Prize in 1958 for his autobiographical novel A Death In the Family. Agee's reputation as a writer is usually thought to rest upon A Death In the Family and his Depression-era journal Let Us Now Praise Famous Men. But it cannot be doubted that Agee was one of the most important English-language art-music lyricists of the 20th century. That is, as long as one judges by quality, and not merely quantity.
Text, commentary, and a news flash, all after the jump.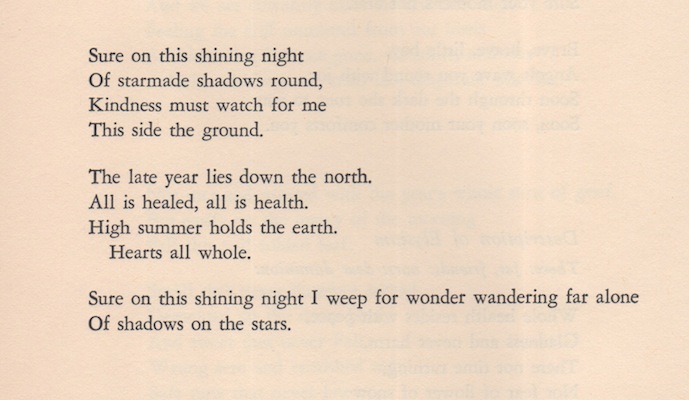 © 1934 by Yale University Press; scanned from the Collected Poems of 1968; reproduced under Fair Use.
I think the first thing to be aware of in Agee's concise, nearly telegraphic ten-line work is the colloquial or vernacular nature of the language. "Sure," I am sure, is a regionalism for "Surely." And I am equally sure that Agee expected his opening lines to evoke resonances of Psalm 23's "Surely goodness and mercy shall follow me all the days of my life." I think the same regional voice appears when Agee writes "This side the ground" rather than "This side of the ground." (I think the plain meaning of that is to note that the poet is alive, and not dead and buried.)
The poem is structured as one sentence over four lines, followed by four one-sentence lines, and concluding with one sentence over two lines. I think that the last sentence presents the crucial tension of the poem. And because almost all of Agee's writing was to some degree autobiographical, I think the last lines also point to the central tension in Agee's life. Agee is wandering far and wandering alone, but at least he is weeping from wonder, and not despair. The night is dark enough that the stars are casting shadows, but the stars themselves take note of what is on Earth, and Kindness must keep watch as well.
Agee's first boarding school was an Episcopalian school not far from the University of the South in Sewanee, Tennessee. I am sure that Agee had many occasions to recite Psalm 23 in Chapel, and I am also sure that Agee struggled with the problem of how a supposedly loving God could allow a six-year old boy's father to die. I think that this poem is an outgrowth of that struggle, and I think that Lauridsen's setting captures the tension between the woundedness and the hopefulness perfectly.
Anyway, enough supposing from John. The big news is that the above music video is a making-of for a forthcoming Deutsche Grammophon release by the Chamber Choir of Europe that will be a retrospective on Lauridsen's career (in honor of his upcoming 75th birthday), but which will also include some new music. Exciting! Morten Lauridsen participated in the recording sessions by giving support and advice, and also by lending his pianism, as shown above.
# # #