In memory of music lover and loudspeaker designer Richard "Dick" Shahinian, I offer a very impressive live performance of Mozart's Requiem, by the French vocal ensemble Arsys Bourgogne with the Camerata Salzburg. Aside from faith and family, Dick's major passion in life was large-scale orchestral music (or large-scale works for orchestra and chorus). The larger the scale, the better, it seemed. During one audio show, I asked Dick to play on his demo system a track I had brought with me, a live recording of Jessye Norman singing the Angel's Farewell from Elgar's The Dream of Gerontius. After the track had played, Dick allowed that it was all fine and good; but then he asked me why had I not played the Demons' Chorus, instead? That's Dick in a nutshell—unusually knowledgeable about even the most obscure musical works, and… very opinionated.
Dick's love affair with classical music began at age 14, with the birthday present of a 78-rpm phonograph and a recording of Gershwin's Rhapsody in Blue. About a year later (1946), at Carnegie Hall, Dick heard the New York Philharmonic play Richard Strauss' Metamorphosen and Bruckner's Eighth Symphony, conducted by Bruno Walter. Years later, Dick wrote, "I have never quite recovered from the shattering impact of that experience."
After serving honorably in the United States Marine Corps, from the late 1950s on (the blossoming of the Golden Age of Hi-Fi), Dick devoted his career to bringing the thrill of live orchestral music into peoples' homes (to the greatest extent possible, that is) by advancing the art of loudspeaker design. For more, please click on the jump link.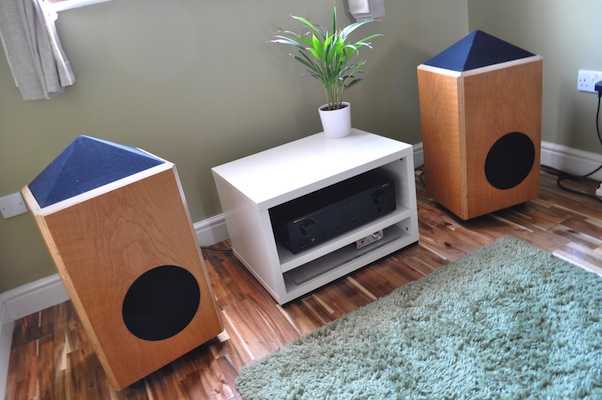 Shahinian Obelisk loudspeakers, from Robert Dubicki's Pinterest
I think Richard Shahinian should be remembered (professionally) for two accomplishments. First, he went back to first principles in sound reproduction, developing loudspeaker designs with polyradial (not omnidirectional, as I understand and use that word) dispersion patterns. In his opinion, polyradial dispersion could do a better job than conventional front-firing loudspeaker designs in reproducing the waveform-propagation patterns of a symphony orchestra playing in a concert hall. (Obviously, Dick was on a path parallel to, but radically different from, the one later taken by Amar Bose.)
Second, through his dozens of appearances at local and regional hi-fi shows and at the Consumer Electronics Show, Dick evangelized for great recordings of classical works both familiar and obscure. Dick had a definite fondness for many of the same British composers I love: Elgar, Vaughan Williams, Delius, Bliss, and Britten. On the Shahinian Acoustics website, in the left-margin index, click on "Music Recommendations." On that list of 26 recordings, there is nothing that I can see by Beethoven, and nothing by Brahms; and the only Bach work is found on an album of solo-violin works that also includes pieces by Telemann and Ysaÿe.
Here's the breadth of the composers, several of them very obscure, Dick thought that his friends should give a listen to:
Bach, Bax, Britten, Egk, Elgar, Fischer, Honegger, Korngold, Lloyd, Martin, Martinu, Mathias, Medtner, Norholm, Peck, Rautavaara, Roussel, Sallinen, Saygun, Shostakovitch, Sibelius, Stenhammer, Tanner, Telemann, Vaughan Williams, and Ysaye.
That is not to suggest that Dick's musical enthusiasms were limited to British composers, Scandinavians, and unknowns such as the Baroque composer Johann Caspar Ferdinand Fischer and the 20th-century German Stravinsky-wannabe Werner Egk. Dick had definite opinions on all of Mahler's major works, including the 10th symphony, which Mahler had left largely un-orchestrated. I think that Dick's favorite Mahler recording was the Ninth, with Barbirolli and the Berlin Philharmonic.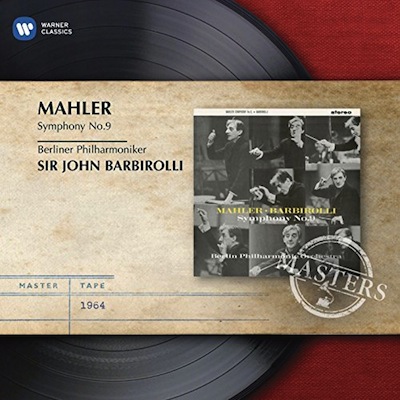 Dick's CES and audio-show demonstration rooms were gathering places for audio critics and music lovers from all over the world. At one such gathering, Dick was kind enough to play for me the cut "Eleven Large Lobsters Loose in the Lobby" from the Guy Klucevsek avant-garde solo accordion recording Transylvanian Softwear that I had produced the summer before. The piece is a brief polyrhythmic essay meant as an homage to Béla Bartók. Its unique feature is that it is a percussion piece, for solo accordion. The player is instructed to tap out rhythms on the accordion's keys and stop buttons, while moving the bellows as a quasi bass line, and opening the air valve for accents. There are also hand- and shoe-slaps.
Transylvanian Softwear was recorded by David Hancock in New York's Church of the Holy Trinity and mastered by Bob Ludwig, the same technical team as for the JMR remastering of Arturo Delmoni's Songs My Mother Taught Me; so the audio quality would be superlative in any case. But I had never heard before (or since) on that track the same trueness of timbre, unrestrained freedom in dynamics, and specificity of spatial images that I did on those top-of-the-line Diapasons.
I also must add that, contrary to the image of Dick's being a classical snob, my recording of Blue Skies with the Harry Allen Quartet was one of Dick's most beloved recordings. On a good stereo system, everything snaps into focus, and the music really rocks—a gentle, jazzy rocking. Recorded live with only two microphones and no overdubbing, and with only one edit within music in the entire album, Blue Skies is a magnificently organic creation, and a real favorite of Bob Ludwig's as well.
After having designed or co-designed loudspeakers for Rectilinear Research and Harmon/Kardon, Dick struck out on his own, founding Shahinian Acoustics in 1976. Food for thought: In addition to Richard Shahinian, Rectlinear Research alumni include Arnold Schwartz (later of Micro-Acoustics), James Bongiorno (later of Ampzilla), Marty Gersten (later of Ohm Acoustics), and Jon Dahlquist (co-founder [with Saul B. Marantz] of Dahlquist Phased Array).
Shahinian's "Unique Selling Proposition" for his début loudspeaker, 1976's the Obelisk (which I once characterized as a squat wooden replica of the Washington Monument) was the combination of polyradial dispersion with improved transmission-line bass loading. By polyradial dispersion, I mean as the frequencies being reproduced become higher and their wavelengths therefore shorter, the sizes of the drivers, the number of the drivers, and their aiming points change to adapt. The Obelisk is still in production, as the Obelisk 2.
Polyradial dispersion was why the Obelisk's large woofer-midrange faced front and its passive radiator faced rear; the two small upper-midrange domes faced front and rear, but at raked angles; and the four very small tweeters faced North-South-East-West, also raked at angles. The effect was a huge, wall-to-wall and ceiling-height stereo soundstage, with excellent timbral resolution.
The other technical innovation was that the Obelisk's bass enclosure was neither a sealed box, nor a ported (or vented) box. The Obelisk's woofer-midrange is backed by a folded transmission line with a stuffing of sheep's wool and polyfill. However, unlike conventional transmission lines, which terminate in free air, Shahinian's T-lines are terminated by a weighted 10″ passive radiator.
Back in the same general time frame as when I was writing my TAS column series "A Stereo for Mr. [Wallace] Stevens," I dragged the entire EAD/Plinus/Shahinian setup to a meeting of the Boston Audio Society, and I let 'er rip on the Telarc Atlanta/Shaw Brahms German Requiem. After the first movement was over, one of the old chaps in attendance mentioned how many years he had been attending BAS meetings (quite a few), and that what he had heard was the first time that he had heard such a room (I think I recall that the meeting was held in a meeting room or large classroom of some Federal office building) really filled with bass tones. (I think he meant to convey, musical tones, and not just undifferentiated booming.)
I think that that is very meaningful praise. I can also report that back when Mr. Stevens' Stereo was an ongoing project, the then Rector of the Church of S. Stephen in Providence dropped by and heard the Tallis Scholars' Heinrich Isaac CD, and he confessed to idly musing if he clunked me on the head, could he fit the loudspeakers into his car?
I will leave the last word to Stereophile's John Atkinson, from the 40th-Anniversary issue, in which the Obelisk was honored as one of the most important audio products of any sort of the 40 previous years, being named No. 71:
I first heard the quasi-omnidirectional Obelisk 25 years ago, and it sounded as different then from what else was around as it does now. Richard Shahinian has always gone his own way, guided by his overwhelming passion for classical orchestral music; his speakers fall into the category of "If you love their sound, they're the best speakers in the world for you." However, for Dick to survive and even to prosper through the years lends his efforts a credibility that cannot be acquired in any other way.
Rest In Peace, Dick.
# # #