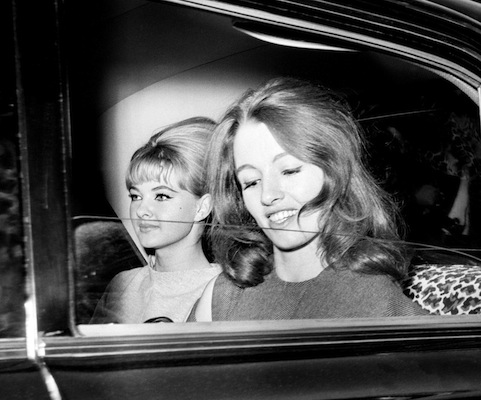 I am fascinated and at times a bit awed by… connections. My brief but meaningful interaction with film-score composer John Williams means that through him, I am one handshake away from Marilyn Monroe; that's because John Williams was the rehearsal pianist for the songs Marilyn Monroe sang for the soundtrack of Some Like It Hot. Through Stéphane Grappelli, I am one handshake away from… Django Rheinhardt. Through Yehudi Menuhin, I am one handshake away from: Elgar, Bartók, Ysaÿe, Enescu, Busch, and Bruno Walter. And countless others. Through engineer and Mahler expert Jerry Bruck, I am one handshake away from Alma Mahler (Gropius Werfel); and therefore, two handshakes away from Gustav Mahler.
The concept of connections, for me at least, dovetails with what I call the "Horseshoe-Nail Theory of History." That's the idea, enshrined in the proverb-poem "For Want of a Nail," that an overlooked small difference in initial conditions can lead to a specifically-unforeseen "failure cascade" that has immense consequences. I wrote about the Horseshoe-Nail theory of history for The Truth About Cars. That blog entry, "Horseshoe Nails, The Rhythm of History, and General Motors," argues that the late-1950s decision by General Motors not to spend five dollars per car to fix the dangerous handling of the first-generation Chevrolet Corvair ultimately led (in 2000) to the election of George W. Bush as the President of the United States.
After the jump link, I identify the two pretties in the photo above, and explain their impact on history, and their connection to me.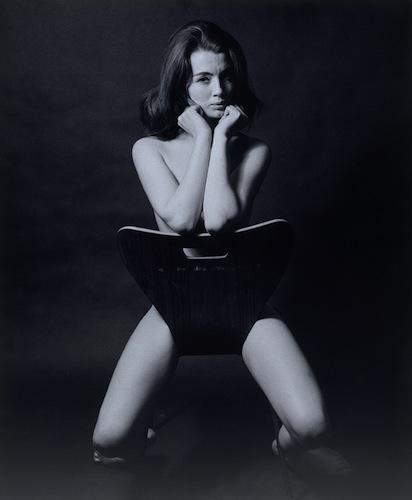 Christine Keeler, photographed by Lewis Morley; courtesy of the Victoria and Albert Museum.
Mandy Rice-Davies and Christine Keeler were hard-luck working-class topless dancers and party girls. (I think I just repeated myself.) Without intending to (or even having to try too hard), together with a high-society "Dr. Feelgood" type who had taken a fancy to Christine, starting in 1961 and peaking in 1963, they triggered a major international security crisis, and were the main cause of the collapse of the Tory government of Harold Macmillan.
Christine Keeler died in December 2017. But she had, circa age 19, achieved immortality of a kind via the iconic photograph of her straddling a cheap knock-off of an Arne Jacobsen Danish Modern molded-plywood chair.  (That specific chair itself is in a museum. Who knew?) Whereas Mandy Rice-Davies (who died in 2014) will live on in the reference books of famous quotations.
When it became public that one of Christine Keeler's erm, how shall I say this?, boyfriends was a married man who happened to be the defense minister, while another of her "boyfriends" was the Soviet Military Attaché, eyebrow gymnastics were the order of the day. As Secretary of State for War, Baron John Profumo had in his head all the things the Soviets wanted to know about present and future NATO nuclear capabilities, troop movements, plans for the worst-case-scenario defense of Berlin—things like that. That Profumo was sharing a mistress with a Soviet intelligence officer was a bit of an embarrassment, so of course Profumo lied about it. For that reason, the scandal goes by his name. Wiki's coverage of the Profumo Affair is very good; but there are books and even a movie version.
The collapse of the Macmillan government not only brought in the Labour government of Harold Wilson; it marked the end of the old, aristocratic Conservative party. When the Tories came to power again with Margaret Thatcher (the "Greengrocer's Daughter"), they put forward a new Toryism based on merit rather than on inherited social standing. Indeed, novelist Malcolm Muggeridge, at the time of the Profumo Affair, wrote in the Sunday Mirror that the Christine Keeler scandal was a sign of "The Slow, Sure Death of the Upper Classes."
John Profumo was caught in a lie; that his Prime Minister had believed his denials was viewed as naïveté, incompetence, or worse. They both had to go. Profumo apologized to his wife and begged forgiveness; they remained married until her death. Profumo went to a settlement house in East London that ministered to the poorest of the poor, and told those in charge that he wanted to work there. They asked him to be patient while they found him an office, a secretary, and a telephone. He demurred, and asked where they kept the cleaning supplies. He spent the rest of his life doing volunteer work for the poor.
Mandy Rice-Davies achieved her own brand of immortality with one of the most famous snappy courtroom come-backs in history. When told by the barrister who was cross-examining her that Lord Astor had denied even knowing her (let alone having had sex with her, was the implication), Mandy replied, "Well (giggle) he would, wouldn't he?"
Mandy will live on in the Oxford Dictionary of Quotations. (Mandy's come-back is often misquoted as "He would say that, wouldn't he?") Furthermore, it appears that there is a slang term "MRDA," which means "(The famous saying of) Mandy Rice-Davies Applies." Ironically enough, decades later, after Margaret Thatcher had left office, Thatcher developed a friendship with Mandy. Quoth Mandy: "My life has been one slow descent into respectability."
By now you must be wondering, what is my connection to all this, seeing as I was not long out of knee pants when it all happened?
Well, a dear friend of mine who is a Renaissance woman (dancer, painter, and psychotherapist) some time ago told me that when she and a college girlfriend were coming back to the US from Paris on a Cunard ocean liner, they were miffed that they were not the most talked-about pretty girls on the ship. Those girls were Christine and Mandy. A few weeks ago, when Christine died and her obituary ran in The Guardian, my friend emailed me this:
I was surprisingly saddened to read this. They were so young and happy and beautiful. I was in their stateroom
and they were packing. I had never seen such frilly, lacy, expensive-looking undergarments.
The 2015 book Near and Distant Neighbours: A New History of Soviet Intelligence, published by Oxford University Press, claims that the Profumo Affair was a major intelligence lapse that did substantial damage to UK security. But I will leave the last word to Thackeray, from The Luck of Barry Lyndon:
It was in the reign of George II that the above-named personages lived and quarrelled; good or bad,
handsome or ugly, rich or poor, they are all equal now… .
# # #