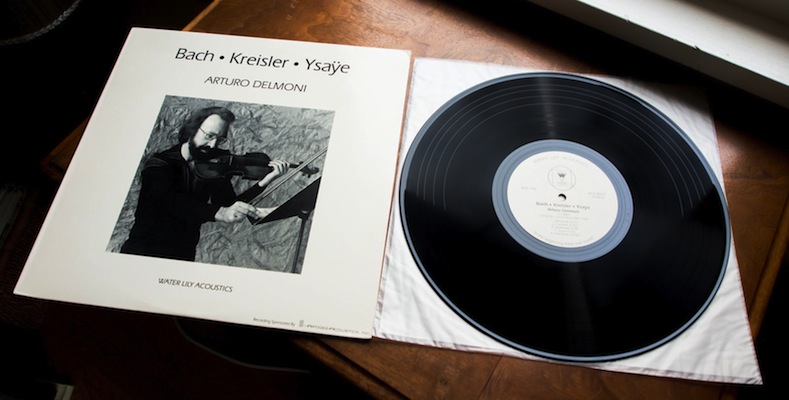 Photo credit: Geoff Zagarola of La Naranja eBay auctions.
I find it hard to believe that 2018 marks the 30th anniversary of the recording session for Arturo Delmoni's legendary 1988 Water Lily solo-violin recital.
Recorded at night in a monastery chapel, Delmoni's compelling performances combine thrilling technique with thought-provoking musical insights. This minimalist-audiophile, two channels from two microphones, analog-tape and tubed-electronics production remains a reference for the recorded sound of a violin.
The violin in question was made by J. B. Guadagnini in 1780. I am very certain, based on reliable oral-history testimony, that in 1949, Dr. Delmoni's Guadagnini was played on Charlie Parker with Strings by Max Hollander, the concertmaster of that string section. How about them apples?
The Delmoni-Water Lily project was my idea. I also helped bring it to fruition. And I now own the master tapes… . Therefore, I am not about to argue with eBay seller Bob La Naranja, who wrote of the (used) Delmoni Water Lily LP he recently sold (for more than $100):
Incredible solo-violin renditions of Bach, Kreisler, and Ysaÿe.
Perhaps one of the greatest solo-violin audiophile records—the recording is sublime.
(Except, I might have left out the word "perhaps"… .)
My current project is to arrange for a 11.2mHz/DSD256fs ("Quad DSD") transfer of the master tapes, selling the download files via an informal crowdfunding venture. How that works, and for more on what all the above means, please click on the jump link, where you will also find generous sound samples.
The Background
One might question why I would do such a thing as to hand "my" recording artist over to another label. I was running my own boutique audiophile label at the time, so at least in theory Water Lily's Kavi Alexander and I were in competition. But my attitude was, "Let a thousand flowers bloom." I believed that having Arturo appear on more than one label increased the chances that luck would prevail and lightning would strike. In the event, by the early to mid 1990s, LP sales of this title had slowed to a crawl for Water Lily (which indicated that re-pressing even a minimum quantity would be uneconomical). Whereas Dr. Delmoni and I wanted a CD version to remain available. Therefore, I purchased the master tapes for my label JMR.
The product of that December 1988 recording session was a smashing success, in musical terms and in audio-engineering terms. The Absolute Sound and Stereophile magazine were in complete agreement with each other on those points. The market for out-of-print Delmoni Water Lily LPs remains robust. Sealed copies have been sold for more than $200. (Perhaps that is in part because the Water Lily LP remains on The Absolute Sound's "Super LP List.") But there has never been a high-resolution digital transfer… just Plain Old CDs.
The Plain Old CDs were originally from Water Lily, and then later from JMR. The JMR CD offerings (aluminum and gold) were made from a Bob Ludwig digital transfer that was State of the Art… for 1995. Mr. Ludwig used a dB Technologies AD 122 22-bit analog-to-digital converter, and an Apogee Electronics Corporation UV 22 Super CD Encoder. But that was 23 years ago.
So, things are now long past due for a new State-of-the-Art digital transfer!
The backstory on how I stumbled into being a classical-music (and eventually, also jazz and avant-garde world music) producer can be found here. In the early years, I was constantly looking for synergistic ("win/win") solutions or alliances. One thing that worked out (for more than 25 years, in fact), was my organizing and presenting a chamber-music performing-arts series at Thomas More College in New Hampshire. The win/win aspect was that artists on their way up got paid something to play for very attentive audiences, while young people at an out-of-the-way, microbrewery-sized college got to hear music-making on a level at or above that of faculty recitals at A-List universities.
Let me digress a bit: One of the few Thomas More College perks worth mentioning was that back in the old days (before Regime Change), in the Faculty Lounge there was free wine (within limits) for the faculty. As a Visiting Lecturer, I got to pour myself a glass or two of what I ironically called The Faculty-Lounge Red (that's a witticism that might require explanation). That red was Jaboulet's "Parallèle 45" Rhône blend. A bargain then (especially if it's free), and still a bargain at about $17 a bottle today.
It was at Thomas More College that I first heard Arturo Delmoni play Bach's d-minor Partita, truly the violin equivalent of climbing Mount Everest without oxygen tanks. I resolved to connect the dots so that the widest possible audience could hear Delmoni's interpretation… and here we are, 30 years later, and people are still talking about it (and also spending serious money for the original LP).
I read ecstatic reviews in the audio press about recordings from Kavi Alexander, a young "New Old School" engineer and producer. Kavi's obsessive attention to first principles (and also to details) resonated with me. I suggested that he record Arturo in challenging solo-violin repertory. He agreed to take the project on. I handled the Artist and Repertory end of things and he handled all the local logistics and the engineering and manufacturing. Jason and Sara Bloom of Massachusetts-based loudspeaker manufacturer Apogee Acoustics, Inc. stepped up with corporate funding for the arts, and it all came together.
The last thing Arturo did before he flew from Boston to Los Angeles for the recording session was that he played through the entire program for the faculty and students at Thomas More College (in a converted old barn, no less); it was electrifying. (Trivia bit: the original plan had been to record Ysaÿe's Third as well as his Second solo-violin sonata; but in the event, Ysaÿe's Third sonata was put aside. I think that was a good call, in that the recording's "center of gravity" is Bach's Chaconne, and an additional Ysaÿe sonata would have shifted the center of gravity, and also made the program taxingly long for all but the most dedicated solo-violin fans. Note, "Ysaÿe" is how the Biblical name "Isaiah" is rendered in the Walloon language.)
Arturo learned the Ysaÿe solo-violin sonatas from Josef Gingold, the famous Indiana University teacher in whose memory the Indianapolis International Violin Competition (which Prof. Gingold was the founding artistic director of) continues. Delmoni's teacher Prof. Gingold himself had been a student of Ysaÿe's in Paris in the 1920s; so this recording is, in that respect, an important historical document. Furthermore, Delmoni's performance of Fritz Kreisler's only work for solo violin makes a perfect transition between the Ysaÿe and Bach pieces.
Crowdfunding
How this informal (non-Kickstarter) crowdfunding will work: These analog master tapes have not been rewound and played back since 1995—that's 23 years. So, specialist care in getting them ready for transfer is necessary.
Also, I think I have a realistic assessment of the (narrow) breadth of the market for this title–Norah Jones' Come Away With Me, this is not. Therefore, handing 20% of the gross over to Kickstarter for the privilege of putting a little blurb about this project in front of an audience made up overwhelmingly of people who don't care all that much about ultimate sound quality and also don't care much about the serious, challenging side of classical music does not work for me. If I can get 200 people informally signed up one by one, I will be happy.
However, if I can get only 20 people signed up, I cannot go forward with the project. That is why I ask your early commitment. But I will not send you a PayPal invoice until I have enough commitments in hand.
Given the crowdfunding, technical, and logistical challenges, delivery of the downloads might be 30 days (or more) out. That's why I am offering a 25% discount to people who sign up early and pay in advance (after I invoice them). To repeat: Please do not send any money until all the pieces are in place and I am ready to go forward. I'd rather send a brief email stating that there were not enough commitments, than have to refund money.
The Quad DSD (DSD256fs) download will be priced at $36, with an Early-Bird price of $27, payable by PayPal.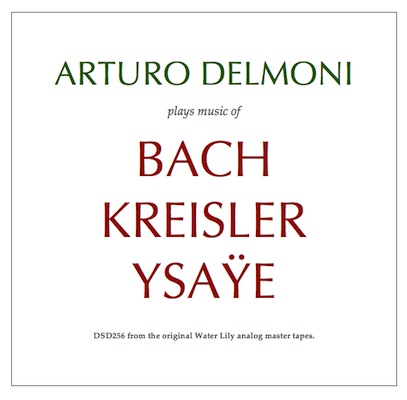 New cover art for the DSD256 project.
The Early Bird discount will continue until I send out the invoices, but it is subject to discontinuation without any advance notice. In other words, the Early Bird discount will have expired some weeks before the delivery of the downloads. If you want the Early Bird price, please get in touch right away.
There will be four dollars off ($32) the DSD256fs price for DSD128fs, and four more dollars off ($28) for DSD64fs. (For Early Bird buyers, 25% off those prices also.) If there are enough requests, high-resolution PCM downloads will be priced similarly. So, if you want PCM, please let me know specifically what sampling rate it is that you want.
TO ORDER: Please send me an email at the address "johnnywehardly" at gmail … com. Let me know what format you want, and once I have enough commitments in hand I will invoice you via PayPal Goods and Services.
Summing it up
I am quite excited about the possibilities! The LP has always been the Gold Standard for consumer playback of this title, but LP cutting requires a huge bass cut and a huge treble boost; therefore, home playback requires the reverse. A Procrustean Bed, indeed! Add to that, all the well-known problems of LP playback (such as tangency and VTA and constant angular velocity…).
I have high hopes that a Quad DSD digital transfer will be something very special.
The Music (excerpts starting from the beginning of each movement, m4a encoding):
1. Eugène Ysaÿe, Sonata for Solo Violin Op. 27 No. 2 "Obsession" mvmt 1: Obsession
2. Eugène Ysaÿe, Sonata for Solo Violin Op. 27 No. 2 "Obsession" mvmt 2: Malinconia
3. Eugène Ysaÿe, Sonata for Solo Violin Op. 27 No. 2 "Obsession" mvmt 3: Danse des Ombres
4. Eugène Ysaÿe, Sonata for Solo Violin Op. 27 No. 2 "Obsession" mvmt 4: Les Furies
5. Fritz Kreisler, Recitativo and Scherzo Op. 6 mvmt 1: Recitativo
6. Fritz Kreisler, Recitativo and Scherzo Op. 6 mvmt 2: Scherzo
7. J.S. Bach, Partita No. 2 in D minor, BWV 1004 mvmt 1: Allemande
8. J.S. Bach, Partita No. 2 in D minor, BWV 1004 mvmt 2: Courante
9. J.S. Bach, Partita No. 2 in D minor, BWV 1004 mvmt 3: Sarabande
10. J.S. Bach, Partita No. 2 in D minor, BWV 1004 mvmt 4: Gigue
11. J.S. Bach, Partita No. 2 in D minor, BWV 1004 mvmt 5: Chaconne
Thanks to all; especially to: Arturo, Kavi, Jason and Sara Bloom, Robert E. Greene, Alan Heatherington, Robert Hesson, and John Atkinson.
# # #