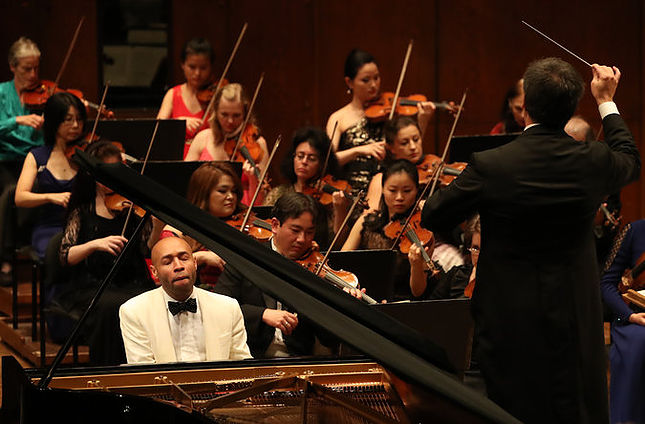 Aaron Diehl with the New York Philharmonic.
Re: Aaron Diehl, Concert with the Rhode Island Philharmonic, October 20, 2018
I am aghast and outraged by Channing Gray's ignorant, small-minded, and perhaps even racist review in the Providence Journal.
This insanity has to stop. (If people are more comfortable with the word "dysfunctionality," that is OK by me. But nobody should be comfortable with the current state of affairs.)
As far as I know, Channing is a failed keyboard performer who (based on a mountain of evidence), has never gotten over it. Furthermore, I surmise that Channing's specialty was early keyboard music (he played the organ at the wedding of an acquaintance of mine–that's called gigging). In his review of Aaron Diehl's performance, he wore his classist ignorance of jazz on his sleeve.
Aaron Diehl's performance was the most magnificent piano performance I have ever heard from a soloist with the RIPO. From the first notes it was obvious that Mr. Diehl had not only enviable technique, but also something that is increasingly rare these days, that being: Excellent musical taste.
Perhaps Mr. Gray is unaware of the fact that when Alan Gilbert was planning the New York Philharmonic's Opening-Night Gala for his last season as Music Director, Maestro Gilbert's choice as soloist was Mr. Diehl–playing Gershwin. About which Anthony Tommasini, of the New York Times, wrote:
Making his Philharmonic debut the day before his 31st birthday, Mr. Diehl played magnificently. He had brilliance when called for during jazz-tinged passages of Lisztian runs and octaves. The roomy freedom of Mr. Diehl's playing in bluesy episodes was especially affecting. He also folded short improvised sections into the score, and it's hard to imagine that Gershwin would not have been impressed. The audience was: It gave Mr. Diehl an enthusiastic ovation. He must be invited back.
(Emphasis added.)
IRONY ALERT: I guess that in Providence, some of us have higher standards than the New York Philharmonic or the New York Times. Or, is there something else going on here?
Diehl's performance showed that he is a musician of rare intelligence who has spent a huge amount of time pondering the artistic challenge of how to make the Rhapsody come alive again for audiences for whom it is not only a warhorse, but a warhorse associated with a television commercial. On a deeper level, Diehl came to grips stunningly with how to make a personal but entirely artistically valid statement as a classically-trained African-American jazz player.
Diehl stretched the Rhapsody out with thoughtful improvisations that left room for the audience to assimilate the points he was making. (That is, the audience members who did not show up with more issues than National Geographic and an attention span of two minutes.) I definitely heard a Chopin homage interwoven into one solo break.
Instead of taking the usual path of emulating the sound-world of big band, Diehl imaginatively and daringly ventured to reconsider the Rhapsody in stride-piano style. It's too bad that the "critic" the Journal assigned to this important concert lacked the specialist knowledge to appreciate that (coupled with an inadequate attention span for anything but the charming first encore).
I assure you, that some of us were waiting for Mr. Diehl's next solo passage with bated breath and a rare and precious sense of discovery. But at least one of us obviously wished that it would just hurry up and get over with, like it does on a treasured piece of vinyl from one's childhood.
I am appalled. I am embarrassed to be a Rhode Islander.
I grew up very familiar with New England Irish anti-Semitism. Because of my looks and my last name, people often assumed I was Jewish. Upon finding out I was Catholic, time and again people asked, "Who was the convert?"
That is the personal subtext of my: Memo to the ProJo:
When the soloist is an African-American with a German last name,
the word "mongrel" is a very unfortunate one to use in a review.
(Note, I have archived the review text, lest anyone tweak it ex post facto.)
As Aristotle said, ananke stenai—there must be an end of things. This should be the last time Mr. Gray gets to work out his issues in public by trashing a real artist in a "word salad" filed a very short time after the concert, and apparently with no editorial supervision.
I am willing to start a GoFundMe to pay Mr. Gray for staying away from Philharmonic concerts–especially when the soloist is someone who actually makes a living by playing the piano.
Ciao,
John
PS: BTW, my life partner Laura is a pianist and musicologist with a doctorate from the music school of Indiana University. She thought that Diehl's performance was "amazing." She also heard the Chopin reference I did.
PPS: For at least 35 years I have from time to time filed reviews as a stringer/substitute music critic for the Journal. Within recent memory, I reviewed three RIPO concerts. Somehow, I manage to keep the undeniable fact that I am a failed performer on the violin from coloring my evaluations of violinists. And in view of the great likelihood of knee-jerk accusations of special pleading, I am perfectly willing to forgo any future engagements from the Journal.
# # #