This YouTube music video has been viewed more than 5 million times (and there have been more than 3,500 comments posted), both of which indicate that people find that this music engages their emotions to a remarkable extent. Of course, I am speaking in the context of a genre (sacred classical music) that is a subset of a genre (classical music) that is, at best, a minority enthusiasm. What is classical music's market share today? One source pegs classical's share of "total music album consumption" (whatever that is) for the year 2018 at (drum roll, please): 1%.
In stark contrast, US rock band One Republic's official YouTube music video for their single "Counting Stars" has had 2.8 BILLION views. Sigh.
I refuse to take heart from the fact that there is a genre that is even less popular than classical music, in part because that poor tattered remnant is what is left of New Age. Point five of one percent (0.5%)! But I am sure that the music on the above video would warm many a New Age heart. I have previously written and said, many times, that Renaissance Polyphony was the original "New Age" music. (I know—the above is not from the Renaissance, and also it doesn't really contain much in the way of polyphony—what's going on is more like slow-moving harmonies; but the spirit is the same.)
I think that there are many well-known composers (but of course there are also many exceptions to this little rule of mine) whose best-known work or works are not representative of the majority of their output. Furthermore, I believe that the better-known the most famous work is, the more likely is the case that the famous work doesn't provide a ghost of a clue to the greatness of that composer's best works. The poster child for this syndrome (of course) is poor Maurice Ravel, whose Bolero is… what it is… . That said, listening to Bolero, you would never guess that the same guy could write all of Le tombeau de Couperin; Miroirs; Daphnis et Chloé Suite no. 2; and Ravel's String Quartet.
The same goes for Edward Elgar. "Land of Hope and Glory" is the soundtrack to a kindergarten "graduation" from a Peanuts animated special, which I think is a sly allusion to the number of "real" graduations where it can be heard. But nowhere in evidence in "Land of Hope and Glory" is the greatness of Elgar's cello concerto, or his violin concerto, or his two symphonies. To say nothing of The Dream of Gerontius.
By now you might have guessed where I have been going with this. Tchaikovsky's Overture "1812"—and The Nutcracker—almost everyone has to agree, don't sound like they came from the pen of the chap who wrote the music in the video above. In Tchaikovsky's "Hymn of the Cherubim" there is no bombast and no sugary cuteness. The entire Liturgy is worth your hearing it. After the jump, I will tell you what I have been able to learn about the recording on this video, and offer buying (or streaming suggestions).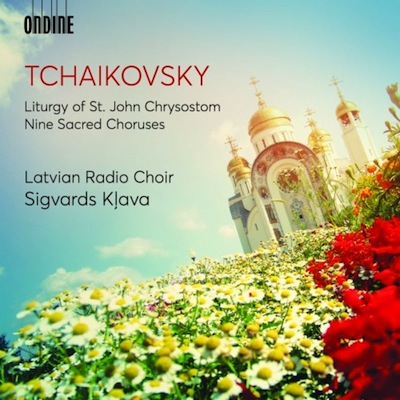 This is a different recording than the YouTube, but it is my recommendation.
Tchaikovsky wrote his Liturgy of St. John Chrysostom in 1878, when he was 38 years old. In a letter to his patroness Nadezhda von Meck, he stated:
For me [the church] still possesses much poetical charm. I very often attend the services. I consider the liturgy of St. John Chrysostom one of the greatest productions of art. If we follow the service very carefully, and enter into the meaning of every ceremony, it is impossible not to be profoundly moved by the liturgy of our own Orthodox Church… to be startled from one's trance by a burst from the choir; to be carried away by the poetry of this music; to be thrilled when… the words ring out, 'Praise the name of the Lord!' – all this is infinitely precious to me! One of my deepest joys!
The official Church, however, and at least at first, did not quite reciprocate Tchaikovsky's feelings. In the Russia of the Czars, that which was not expressly permitted was (one way or another) forbidden. In theory, Tchaikovsky could have sketched out a setting of the Liturgy and shared it with his friends and admirers. But publication was forbidden, because the Imperial Chapel had the monopoly on the composition and performance of sacred music.
By sending his work to his publisher, Tchaikovsky intentionally or inadvertently triggered a jurisdictional dispute between the Moscow Office of Sacred Censorship (which had not objected to Tchaikovsky's musical innovations) and the director of the Imperial Chapel (to whom the work had not been submitted). The printing plates were confiscated and locked up for more than a year, but in due course the Synod decided that the Moscow Office of Sacred Censorship could approve sacred music on its own.
This result, which must have been something of a surprise (in that the veto power of the Chapel's director had been established by Czar Alexander I), opened up the field of sacred music to composers such as Alexander Gretchaninov and Sergei Rachmaninoff. Or, to put it more precisely, the Synod's ruling enabled composers such as Gretchaninov and Rachmaninoff to publish sacred music in Russia without bureaucratic interference (which might have been motivated by nothing more than professional jealousy). Tchaikovsky's setting of the Liturgy was the first stylistically unified setting, even though most of the work is based on old Slavonic chants. The "Hymn of the Cherubim" and five other sections are entirely new music by Tchaikovsky.
The performance in this YouTube is credited to the USSR Ministry of Culture Chamber Choir, conducted by Valery Polyansky, from the album Sacred Treasures: Choral Masterworks from Russia (Hearts of Space, 1998). That CD is a compilation (track listing at link), and it is out of print (there is one copy up on eBay–how long will it last?). Allmusic seems to indicate that the original complete recording was made in 1986. That 1986 Polyansky recording, as is often the case, has been reissued by various other labels. Tidal offers streaming of an out-of-print 2006 Polyansky CD reissue on the Classical Masters label. Arkivmusic.com offers a budget-ish CD reissue on Alto (as far as I can tell, a pressed CD and not a just-in-time replicated CDR). If you poke around there's even an LP version or two to be found, as well as other CD reissues.
In all this, I assume that we have only one Valery Polyansky/USSR Ministry of Culture Chamber Choir set of master tapes to talk about. In theory Polyansky could have re-recorded the work, but, I really doubt it. In any event, having surveyed the field, as fine as that performance is, my recommendation is the very recent (2019) Ondine CD by the Latvian Radio Choir, directed by Sigvards Klava. I have three reasons for this preference; and after I set them out, feel free to reject them and buy some iteration of the 1986 Polyansky USSR Ministry of Culture Chamber Choir recording, if you wish.
First, the recording venue (St. John's Church, Riga, Latvia) and the engineering are really first rate. Second, the Latvian Radio Choir is a chamber choir of 24 members, and there is an argument to be made that that is more like the forces Tchaikovsky had in mind. Thirdly, they sing a "concert version" of ten sections, rather than the liturgical version of 15 sections. I prefer the more concise version, but if you want the long version, be my guest.
The Ondine Latvian 2019 recording is available via Tidal streaming, and from iTunes as a "Apple Digital Master," which I assume is data-compressed 24-bit/44.1kHz sound. It sounds great to me. (There is some evidence from unbiased listening tests that data-compressed 24-bit/16kHz sound can be perceived to be of higher quality than uncompressed Red Book 16-bit/44.1kHz sound; which, if you think about it, should not be all that surprising. The data-compressed 24-bit sound still has more data density.)
Highly recommended!