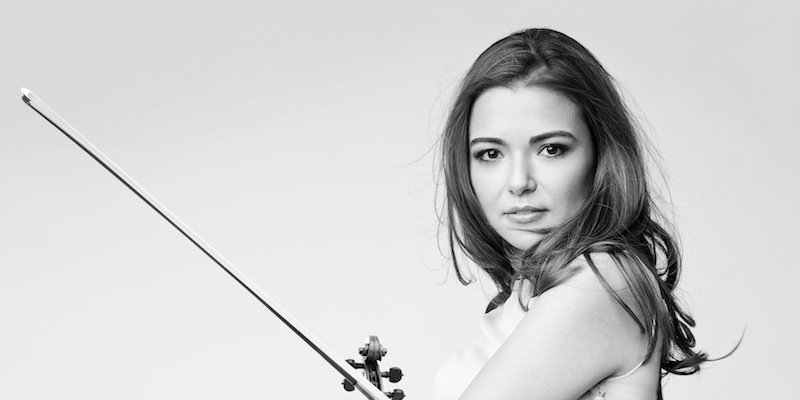 Karen Gomyo was born in Tokyo, but grew up in Montréal. That is, up to the point when, at age 10, she moved to New York City, in order to study at the Juilliard School, at the invitation of Dorothy DeLay. Miss DeLay taught, among many others, my friends Arturo Delmoni and David Kim. Indeed, it's the rare household-name violinist of the last 50 years whom Miss DeLay did not teach.
Miss Gomyo continued her studies at the Indiana University Jacobs School of Music (yay!) and the New England Conservatory. Apart from Miss DeLay, her teachers included Mauricio Fuks, Donald Weilerstein, and cellist Heinrich Schiff.
In addition to the standard concert repertoire, Miss Gomyo has a great affinity for the music of Astor Piazzolla, and has performed with the late Piazzolla's former colleagues Pablo Ziegler (whose solo recording on the Steinway & Sons label can be heard here), Hector del Curto (bandoneon), Claudio Ragazzi (electric guitar), and Pedro Giraudo (double bass).
Miss Gomyo has followed up her recording of the Bo Linde violin concerto with an SACD of music for the wonderful combination of violin and classical guitar, which I reviewed last post. Questions and answers after the jump.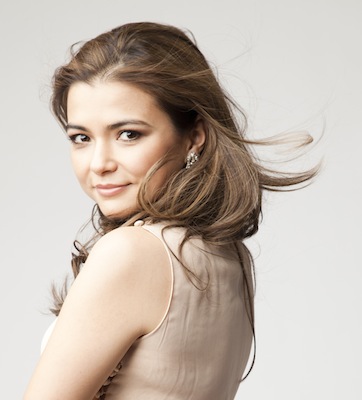 Questions and Answers
Karen, thanks so much for being willing to answer a few questions in advance of your appearance with the Rhode Island Philharmonic, January 25, details here.
Q1. What made you fall in love with the violin? I use that phrase because it seems to me that in order to devote the time, intellect, and emotional energy necessary to become a concert soloist, one would have to love the violin.
A1. When I was 5 years old, my mother took me to violinist Midori's debut concert in Montréal. She was 14 at the time. She played Mendelssohn's Violin Concerto, and I absolutely fell in love with her, the music, and the violin.
Q2. When I was living in Nashville (and impersonating a person who was getting a law degree at Vanderbilt), I would sometimes play hooky and catch lectures and master classes at the Blair School of Music at Peabody College. One of the most memorable of which was given by Miss Delay; and it really was a master class not so much for future professional violinists, as for future violin teachers. What a way she had with young people! Once you got to Juilliard, did you have much contact with her?
A2. I met Miss DeLay when I was 9 years old. Similar to the masterclass you attended, she was to give a masterclass for the Suzuki Teachers' Conference in Chicago when I was 9. There was a continent-wide search for 10 kids to play for her on this occasion, and my Suzuki teacher in Montréal had, unbeknownst to me, submitted a video of me playing. One of my best friends Rémi Pelletier (now a violist in the New York Philharmonic) and I were chosen as 2 of those 10 kids! After the masterclass, Miss DeLay invited me to come study with her at Juilliard, and took me under her wing. She organized a full scholarship for me, which is the only way I could have ever afforded this move and opportunity. I stayed with her until her death 7 years later. She was an immense influence and inspiration for me. She was an incredibly wise and strong woman, an open-minded forward-thinker who was well beyond simply being a violin teacher. If she were still around, I would have a million questions for her!
Q3. You are coming to Rhode Island to play Mozart's third violin concerto with the Rhode Island Philharmonic. Opera impresario Boris Goldovsky (who was something of a mentor to me), used to say that Mozart is "too easy for amateurs, but too hard for professionals" (although I believe that the first to say that was Mr. Goldovsky's piano teacher Artur Schnabel).
Do you think that there is some truth in that statement?
A3. I suppose the "too easy" perhaps refers to when it's just about managing the notes. And if one is an amateur violinist, for example, who has not yet mastered all the positions on the fingerboard, or the fancy bow techniques you find in Paganini or Wieniawski, Mozart might seem "easy".
On paper, his music looks much easier and simpler, compared to works of most composers that came after him (Brahms, Tchaikovsky, Sibelius, etc). However, with Mozart it is about HOW you make the beauty and emotional complexity come to life from such deceiving simplicity. For the musician, there is nowhere to hide. It exposes exactly who you are musically and what you are capable of instrumentally.
For example, on a technical level, it reveals your sound aesthetic and ability to produce a beautiful sound: your palette of bow arm, as well as left hand, technique. On a musical level, it reveals your taste, stylistic understanding, and emotional depth. This is why in any audition, whether a competition or orchestra audition, they will always ask for Mozart. I've been on audition panels where a candidate might impress with an amazing Paganini Caprice or Tchaikovsky concerto. But the moment they start playing Mozart is when you truly know what kind of musician they are.
Q4. Among the recorded greats of the past, do you have any favorite interpreters for Mozart's violin concerti?
A4. Arthur Grumiaux, for me is the epitome of the ideal Mozart player. His playing of Mozart is so natural and elegant. It just flows out of him with the kind of organic ease with which it is known that music flowed out of Mozart. There is a clear architecture to his phrasings, but you never "hear" his ideas. He has that combination of heart-pounding joyfulness with underlying poignancy, which for me is that special magic characteristic of Mozart's music. I also love Yehudi Menuhin and David Oistrakh's interpretations, both of them incredibly humble, soulful violinists.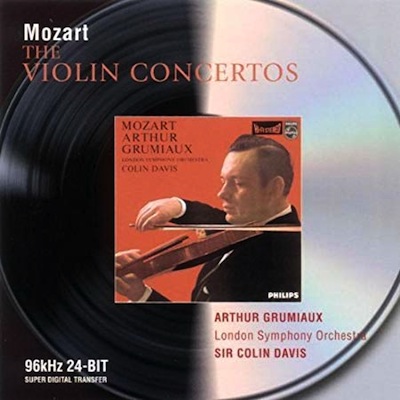 Q5. What was it like for you to record in the Troy Music Hall?
A5. Troy Music Hall is just gorgeous. It has such a special, beautiful acoustic. I could feel my violin sing and soar in there. It was designated a National Historic Landmark in 1989 for its architecture as one of the finest surviving 19th-century auditoriums. So, that sense of patina, and ambiance, was truly special.
But, it also meant it wasn't air-conditioned. There was a crazy heat wave that week, so it was a bit of a challenge to play through the heat like that for hours. We had fans running at night, but it was still really hot and sticky! In the end I think we captured a wonderful sound that all involved are happy with.
Q6. In 1942, the British Broadcasting Corporation began airing an interview feature called "Desert Island Discs." And we will get to that question.
But first: in 1965, Dmitri Shostakovich asked a variation on the "Desert-Island Disc Question" when he asked what musical score—what printed sheet music—fellow composer Rodion Shchedrin would bring to a Desert Island.
Shchedrin's answer was prompt: J.S. Bach's Die Kunst der Fuge. When Shchedrin then turned the question on him, Shostakovich answered, "Das Lied von der Erde, by Mahler." Two years before Shostakovich died, the two composers had the same conversation again; but neither had changed his mind.
Q6(a) What do you think of those two choices, and of the fact that neither composer chose something by Mozart or Beethoven?
Q6(b) Do you have any musical scores (of any variety) you would want to bring to that Desert Island?
A6(a + b) It's indeed very interesting to know what revered musicians and composers would bring along as their one desert island score! I don't expect that every musician would necessarily choose Mozart or Beethoven. I'm not sure that I would either, if I had to choose just one. There is an incredible amount of music in existence that touches us deeply, and Bach and Mahler are without a doubt composers without whom the music world as we know it would be completely different.
For me, it would depend on whether I'm going to the island alone or with other musicians, and if I'm allowed to bring my violin or not. If alone, with my violin, it would probably be Bach's six solo Sonatas and Partitas. They are the violinist's Bible; a treasure trove of endless discoveries. They should keep me busy and fulfilled, until I leave the island.
If with other musicians, I'd say Beethoven's String Quartets.
If I were not allowed to take my violin, I would take the score of Schubert's Winterreise.
Q7. About your own Desert-Island picks for recordings, rather than scores: Please tell us about some of the records that most influenced you as you were growing up, and then please list six to a dozen Desert Island recordings.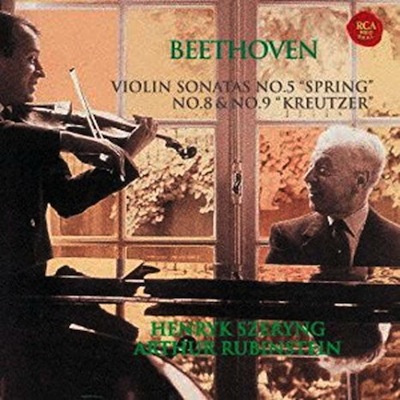 A7. My very first cassette tape was of Szeryng and Rubinstein playing Beethoven's Spring Sonata. I'd play it at night to fall asleep with—it was like my lullaby. My mother also bought me recordings of Heifetz, Perlman, Mutter, Bell, Tokyo String Quartet… eventually though, I started going backwards in time: I got all David Oistrakh recordings I could get my hands on. He became my favorite violinist for a long time. I also immediately fell for Nathan Milstein, Arthur Grumiaux, Mischa Elman, Yehudi Menuhin, Zino Francescatti…
I also always loved the voice, and had many opera recordings of Maria Callas and Placido Domingo, the latter whom I heard at the Met Opera for the first time when I was 12, and totally fell in love with.
I listened to a LOT of recordings and watched many opera videos. Here are some that were my top 10 favorites during my young student years:
Audio recordings:
David Oistrakh: Shostakovich and Prokofiev first concertos on Monitor Records
David Oistrakh Edition box set on Melodiya
The Art of Nathan Milstein box set on EMI
Arthur Grumiaux: 4 Mozart Sonatas with Clara Haskil on Decca
Jacqueline Du Pré Elgar Concerto with John Barbirolli on EMI
Astor Piazzolla: Hora Zero (US edition: Tango Zero Hour on Nonesuch)
Shostakovich Symphony no. 11 "1905" with the Leningrad Philharmonic and Yevgeny Mravinsky conducting—I listened to this obsessively.
Opera films:
Otello with Placido Domingo, Kiri Te Kanawa, Sergei Leiferkus, and George Solti at Covent Garden (1986)
A wonderful video of Pagliacci with Pavarotti, and Il Tabarro with Domingo at the Metropolitan Opera (1994)
Tosca with Maria Callas and Tito Gobbi from Covent Garden (1964)
For my desert island recordings, I would say:
Schubert Winterreise with Fischer-Dieskau
Sibelius Complete Symphonies with the Berlin Philharmonic and Herbert von Karajan
Beethoven String Quartets with the Guarneri Quartet
Bach Cello Suites with Heinrich Schiff
Astor Piazzolla Hora Zero
Mahler Kindertotenlieder, Rückert Lieder, etc., with Janet Baker and Sir John Barbirolli
Q8. I was charmed to learn that Piazzolla's music means so much to you. I have been a fan of Piazzolla's since a long time ago, when he was not as well-known as he is today. If you have not heard his remarkable live recording Tristezas de un Doble A, I recommend that you do. That was my introduction to him, back in the 1980s. But my favorite Piazzolla work is "Oblivion." Do you have a favorite?
A8. My favorite is Mumuki from the recording Hora Zero. Mumuki was the nickname he gave his wife. My introduction to playing tango was with Pablo Ziegler, Piazzolla's long-time pianist whom you can hear on their group's iconic recordings like Hora Zero and La Camorra. We've done a few concerts together, which has been such a joy.
Next year I have some exciting projects with Hector Del Curto (bandoneon), Claudio Ragazzi (electric guitar), Pedro Giraudo (double bass and amazing composer), and Pablo Estigarribia (piano). Do check out their Grammy-winning albums Jazz Tango (Pablo Ziegler and Hector Del Curto) and Vigor Tanguero (Pedro Giraudo).
Q9. I was also charmed to learn that the day after your Rhode Island Philharmonic concert, you will be giving a masterclass on the campus of Brown University. Do you do that often? Is it fun?
A9. Working and interacting with young musicians is hugely inspiring for me. I love giving masterclasses as well as working/performing with youth orchestras. The gift of sharing music, in whatever capacity, but especially with the next generation, is what excites me most.
JM: Thank you so much!
# # #