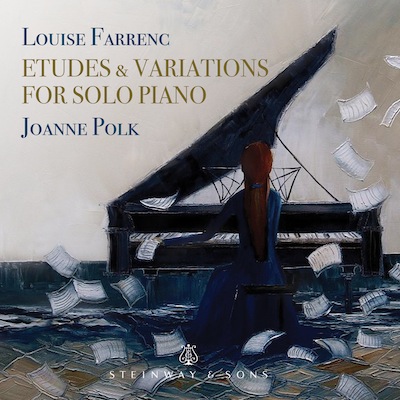 Joanne Polk: Louise Farrenc: Etudes & Variations for Solo Piano
Steinway & Sons CD (STNS 30133) and MP3 downloads available from Amazon
Hi-Res downloads (24-bit/96kHz stereo AIFF, ALAC, FLAC, and WAV) available from HDTracks
Streaming available from Tidal (and others)
Release date: February 7, 2020
Recorded May 15-17, 2019, at State University of New York Purchase College Performing Arts Center Recital Hall. Producer and recording engineer: Steven Epstein. Total time 70 min. 05 sec.
Here's another winner of a recording from Steinway and Sons. As we have learned to expect, the recorded sound is superb.
Louise Farrenc (1804-1875), especially for someone who today merits not even the proverbial asterisk in most music guidebooks, had an amazing career. Judging from this release, Farrenc's music is firmly in the mid-19th-century Romantic virtuoso-piano tradition of Liszt and Chopin, even to the extent of including crowd-pleasing paraphrases of (or, variations upon) opera themes or arias by Bellini (Norma) and Meyerbeer (Les Huguenots).
All of which pianist Joanne Polk presents with facility, fluidity, dispatch, and élan. To get a French word in there. (And also, with joie de vivre.) The Les Huguenots piece is a corker: Imagine if Franz Liszt had gone to town on Martin Luther's "A Mighty Fortress Is Our God." (Oops; perhaps Liszt actually did that. Dunno. Long ago, I decided that FL was, for the most part, not my cup of tea; so I might have a bit of a blind spot there.)
Ferranc studied theory and composition with Anton Reicha, one of Berlioz' teachers. She became the first female professor of piano the Paris Conservatory in 1842. Her Thirty Etudes were adopted as required repertory for piano students there in 1845. Her published compositional output included chamber music as well as three symphonies, all of which were performed.
Therefore, one might feel the need to ask why her music has spent so much time languishing in obscurity.
Musings, ponderings, and sound samples, after the jump.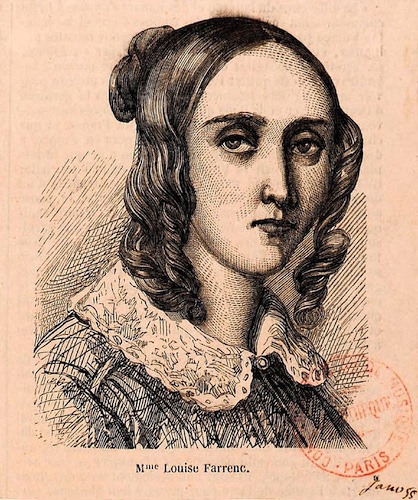 Bibliothèque nationale de France
The liner notes to this fine release offer the explanation that Ferranc's obscurity, over the past century-plus, "shows more about the societal biases of her time than it does [about] the quality of her music." I am sure that there is some of that going on; but I am also very certain that there is more than that going on.
In that particular regard, Ferranc's is a life parallel to that of Amy Beach.
Until the mid-1970s, when, in recognition of the Bicentennial of the American Revolution, a large quantity of neglected American music was brought back into the light, Amy Beach's music had been generally absent from concert stages and recordings.
But in the cases of Amy Beach and Louise Ferranc, in their days they both were recognized; even fêted. Their music was published and performed. (I think that it's a very bizarre form of discrimination that makes you the toast of the town, and/or a professor at a prestigious academic institution. Fully understanding that the less-privileged have to work harder than the more-privileged. But so do the less-talented.)
That said, the reasons why the works of Beach and Ferranc failed to remain popular after their composers' deaths, I am sure, included, to some degree, a reluctance on the part of some people to investigate the works of an unknown or forgotten composer who was not only unknown, but who was also a woman. I get that.
But I also think that there was something else more important going on; something I call "The Tyranny of the New."
Once Stravinsky's Rite of Spring had seized the high ground, the days were numbered for the reputations of non-household-name composers who included little quasi-academic fugues in their works (as Amy Beach did in her violin sonata's final movement, a fine recording of which by Arturo Delmoni and Yuri Funihashi, on my label, can be heard here).
I believe Amy Beach lapsed into obscurity primarily because she had written music that was tonal and melodic and formal. In short, Beach's music was not "Progressive." (That her music had few champions in the academy also did not aid her cause.) Furthermore, Beach's influences were Germanic; but elite tastes, especially in Boston, were shifting decisively to modern French composers such as Debussy. I think that it is fair to say that even while Amy Beach was still alive, the Boston Symphony underwent a sea change from having a German orientation to a French one (counting Serge Koussevitzky as an Honorary French Person).
The days were numbered even for the reputation of a non-household-name composer who wrote music so immediately engaging that one easily might believe it could have been written by Chopin himself (which is my assessment of Farrenc's achingly lovely Op. 26, No. 10).
After 1913, the tastemakers did not want the next Chopin; they wanted the next Stravinsky.
Once the musical radicals got their hands on the levers of power in the conservatories and in the grants-making institutions, they were reluctant to let go. I think that that tide only began turning in the late 1960s and early-to-mid 1970s. Arvo Pärt's Cantus in Memoriam Benjamin Britten (1977), is, in my estimation, the first unquestionable masterpiece that owed nothing to the academic fashions that had dominated the middle of the 20th century, both in the US and in Europe.
In addition to closed-minded, scornful-of-the-past academic thinking, I think another factor that kept at least Louise Farrenc, if perhaps not Amy Beach, obscure from circa 1880 to now, was a combination of careerism, musical nationalism, and the impact of geopolitical events. (Even though New England was the epicenter of US anti-German hysteria during WWI.)
After the Franco-Prussian War (1870-1871), and especially after the first World War, exactly how likely was it that the music schools of Germany would all rise up as one and exclaim, "We recognize our cultural impoverishment; Germany has yet to produce a composer of merit. PLEASE send us German-language editions of all of Mme. Farrenc's works!"
You now have my permission to stop laughing. My point being that European musical nationalism or chauvinism (or merely rooting for the home team) may been as powerful a factor as the likelihood that 20th-century French composers were more interested and motivated in promoting their own works (and careers) than they were in promoting the works of a composer from their grandparents' generation.
Mutatis mutandis, query whether Monsieur Farrenc (who happened to be his wife's music publisher) took the American sheet-music market seriously.
At this point, I am ready to say, as Luciano Pavarotti reportedly said, "Enough about me! What do you think about me?"
But, actually, no; really: On to the music!
The first three tracks are variations; the first upon a Russian song; the second upon the famous aria from Bellini's Norma; and the third from Meyerbeer's fantastically successful opera Les Huguenots (the first opera ever to have been presented 1,000 times at the Paris Opéra). What follows the variation pieces on the CD is a selection from Farrenc's two volumes encompassing 30 études.
1. Track 1: Air russe varié, Op. 17.
2. Track 2: from Les italiennes, Op. 14, No. 1: Cavatine de Bellini's Norma.
3. Track 3: Souvenir des Huguenots, Op. 19.
4. Track 4: from Thirty Etudes, Op. 26: No. 3 in A Minor (Allegro non troppo).
5. Track 7: from Thirty Etudes, Op. 26: No. 10 in F-Sharp Minor (Adagio).
Most highly recommended, especially for piano mavens or for piano students. And, because of Steinway's remarkably generous try-before-you-buy streaming service, you can listen to the entire album at no charge, here!
# # #