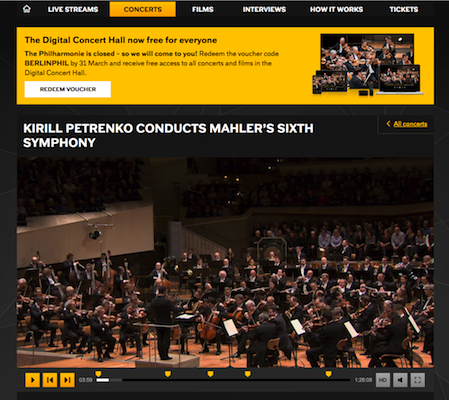 The Berlin Philharmonic has just made a really classy move: in view of the coronavirus pandemic, they have removed the paywall on their archived content. To put it another way, you can now binge-watch exceptional classical music performances for free.
While hunkering down under the electric blanket and waiting for the wine-store delivery person to arrive, one could do far worse in terms of internet browsing than to dive deeply into Gustav Mahler's "Tragic" Sixth symphony. The orchestral playing is fabulous, and the sound quality is very very good. I was very pleased to see that Kirill Petrenko had opted for the authentic order of the inner movements; slow movement second, scherzo third. That performance was recorded January 25, 2020. More recommendations after the jump, as well as at least one comment.
If you sign in now, as I understand it, you can view at no cost until March 31, 2020. I highly recommend scanning the indexes by composer as well as by conductor and soloists. I was thrilled to be able to watch a 2017 Elgar violin concerto with Pinchas Zukerman and Zubin Mehta—talk about elegiac!
There's also (believe it or not) a video from 1992 of Sergiu Celibidache at the ripe old age of 80, conducting Bruckner's Seventh symphony—from memory! (That concert did not take place at the Philharmonie; it was held in Berlin's Schauspielhaus.)
So: praise, honors, and thanks to the BPO!
(And, of course, prayers for those afflicted, and their families and friends.)
# # #