Courtesy of Renaissance Man (and credentialed amateur opera singer) Jack Baruth (who was pointed to this by the estimable Sajeev Mehta), we have a "mix tape" of Japanese Jazz/Fusion music. Which I decided to let my readers know about because… times are tough, and we all need a little undemanding escapism. Rilly.
(Yeah, the YT title and header image include a lame pun: "track" as in auto-race track vs. track as in recorded music track. OK, I get it.
Not to over-share, but the most memorably difficult St. Valentine's Day date ever, at least in my personal history, was when I asked a lovely young lady to accompany me to the symphony, myself having only glanced at the program.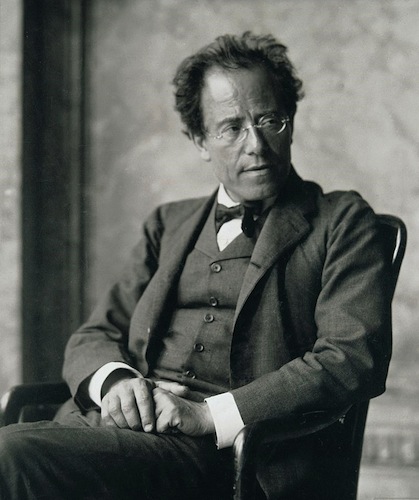 Photo of Gustav Mahler by Moritz Nähr
AND WHO THE HELL IS THE GENIUS WHO DECIDED TO PROGRAM
KINDERTOTENLIEDER FOR VALENTINE'S DAY???
If that needs explaining: Kindertotenlieder is Gustav Mahler's orchestral song cycle on the (plural) deaths of children. Which is understandable, given both the age he lived in—he died in 1911—and the fact that of the 12 children (three daughters) born to his parents, only six survived infancy.
I assure you, there is none of that here!
Here's the track list:
00:00 01 – Jojo – Chikara Ueda & the Power Station
05:35 02 – African Reggae – Space Circus
11:39 03 – Daydream – Prism
16:56 04 – Jinks High – Toshiyuki Daitoku
20:47 05 – Dancing Moon – Prism
28:50 06 – In the Sky – Shunzo Ohno
33:06 07 – Toward the North Wind – Kazuo Takeda
37:38 08 – Toyland – Naoya Matsuoka & Hidefumi Toki
42:57 09 – Vento Vigoroso – Toshiyuki Honda
46:41 10 – Looking Up – Casiopea
51:09 11 – 34 West 10th Street – Jun Miyake
56:09 12 – Manifestation – Masayoshi Takanaka
1:02:20 13 – Don't Stop the Funk – Chikara Ueda With New Herd
1:07:37 14 – Breezin' & Dreamin' – Native Son
If, in your impressionable years, you heard your fair share of Chuck Mangione, the Brecker Brothers, Tom Scott, and the rest, this should sound more than a little familiar.
And if strikes you as a total nothingburger, no hard feelings.
# # #