Courtesy of frequent Audio Asylum classical bulletin-board poster Todd Krieger, here's an outstanding Brahms violin concerto from a violinist I had been unaware of, Sergey Khachatryan. I should not have been unaware, in that Sergey Khachatryan was awarded first prize at Belgium's Queen Elizabeth Competition in 2005.
This performance is full of depth, nuance, subtlety, and grace! And the conductor and the orchestra are completely on board with all that. In particular, the dynamic shadings of the interplay between soloist and orchestra are such a revelation. Phrasing is also blessed with such innigkeit. And Khachatryan has amazing technical resources. But exactly which kind of demands this concerto makes upon technical (and musical) resources, I offer an opinion on, after the jump.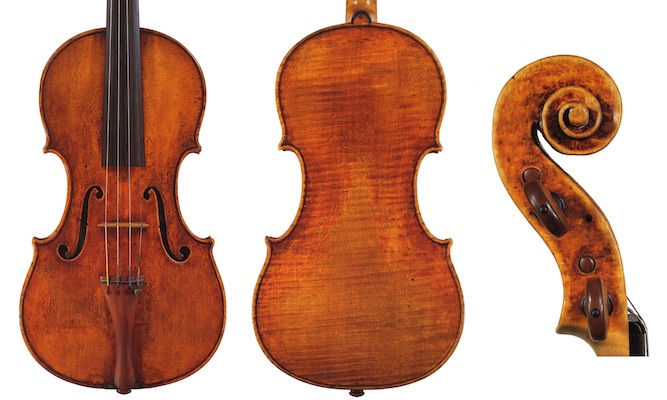 Photo: Tarisio
I think that a very fruitful way to think about the Brahms violin concerto is that Brahms, who, unlike, as examples, Mozart, Sibelius, and Elgar (to say nothing of Paganini and Wieniawski), had no experience as a string player, sat down at his piano, and wrote a violin concerto.
Which is why there are lots of chords. Perhaps violinists should be grateful that none of the chords contain five notes—after all, Brahms had ten fingers and 88 keys, did he not?
I am not being facetious. I have read that, strangely enough, the correspondence between Brahms and his dedicatee Joseph Joachim indicates that when Joachim offered a purely musical suggestion, Brahms often took the advice. But when Joachim made suggestions about playability, from a violinist's standpoint, Brahms pretty much ignored him.
Pablo de Sarasate was not the only virtuoso violinist who might have been a little bit cool to Brahms' violin concerto. Sarasate supposedly said that he did not want to stand on stage with his violin under his arm, while the first oboe player played the only real melody in the piece (the opening of the second movement).
Another great violinist (I can't remember at the moment who it was) stated that the Brahms violin concerto starts with a magnificent (musical) "pedestal" (as though the violin were a statue being displayed on a pedestal). "But after that," that violinist continued, "there is another pedestal. And another."
Indeed, there are five different themes in the introductory material of the Brahms violin concerto's first movement. Yes, they all reappear and get a thorough working-out. But this sets up a tension between symphonic structure and unadorned songfulness. In contrast to the Brahms concerto, Mendelssohn's violin concerto has one and a half measures (about three seconds) of an introductory gesture before the solo violin breaks into song.
So, in my view, the Brahms concerto erects challenges both technical and musical that are different in character from those presented by works that are more "violinistic" and dare I say it, less "pianistic." And if you are sputtering as you read this, perhaps you are unaware that an intrepid young pianist has created a performing version of Brahms' violin concerto… wait for it… for piano and orchestra. And it sure sounds like a piano concerto. (Not a unique circumstance; Beethoven, at the request of Clementi, wrote an alternate version of his violin concerto for piano.) And it goes without saying that I think that everyone involved in this performance really "got it" in the sense that, this is not music that plays itself; it needs careful handling, lest its rhetoric gets in its own way. And handle it carefully (and skillfully) they do! Spending time in the softest reaches of the dynamic range pays off in spades.
The performance captured on this YouTube was from early on in the coronavirus pandemic. One commenter states that Sergey Khachatryan had stepped in to replace Joshua Bell.
Assuming that is the case, the Frankfurt Radio Symphony Orchestra really won the Lottery that day!
Not be to the ultimate violin nerd, but I cannot wrap this up without pointing out the greatness of Khachatryan's first-movement cadenza. I usually prefer the Kreisler cadenza to the default Joachim cadenza (and how I would love to hear Khachatryan play the Kreisler cadenza). That said, this performance made the Joachim cadenza an edge-of-the-seat affair. The passagework from about 22:20 on is amazing. His pedal notes on "A" are so solid and unwavering… while his fingers fly around with, as far as I can tell, perfect pitch security. Here's the sheet music, with the first of those "A"s marked.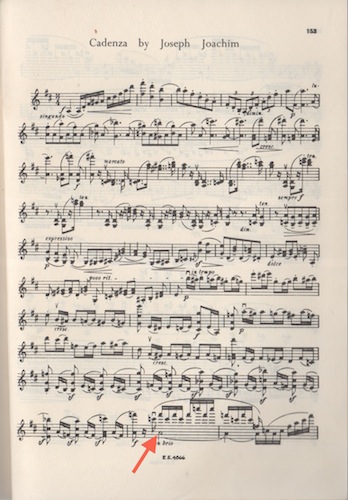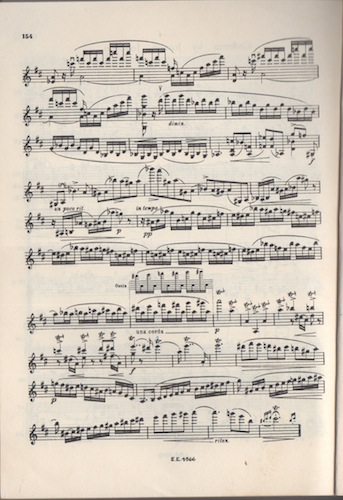 By the way, I am always diffident about mentioning a violist's violin, because the truth of the matter is that someone who plays at this level can make a sub-$15,000 violin sound heavenly. It will be a more effortful affair, and the sound will not project as well as the case with a great Cremonese violin. But, as you can tell by listening, this is one fabulous violin, a del Gesù from 1740, formerly in the possession of Eugène Ysaÿe. Nice.