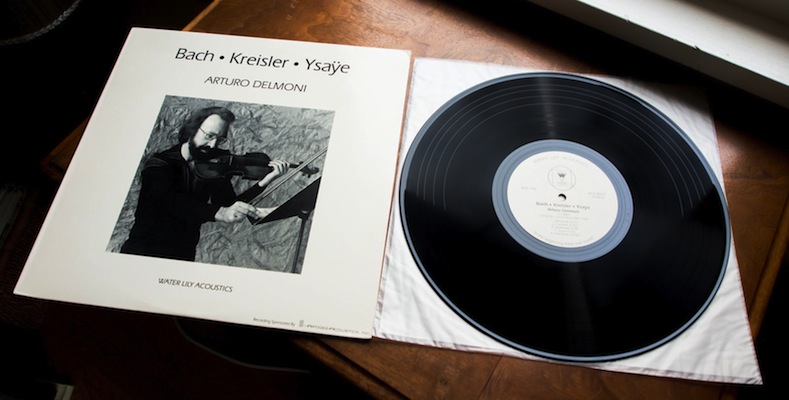 Photo credit: Geoff Zagarola of La Naranja eBay auctions.
I find it hard to believe that 2018 marks the 30th anniversary of the recording session for Arturo Delmoni's legendary 1988 Water Lily solo-violin recital.
Recorded at night in a monastery chapel, Delmoni's compelling performances combine thrilling technique with thought-provoking musical insights. This minimalist-audiophile, two channels from two microphones, analog-tape and tubed-electronics production remains a reference for the recorded sound of a violin.
The violin in question was made by J. B. Guadagnini in 1780. I am very certain, based on reliable oral-history testimony, that in 1949, Dr. Delmoni's Guadagnini was played on Charlie Parker with Strings by Max Hollander, the concertmaster of that string section. How about them apples?
The Delmoni-Water Lily project was my idea. I also helped bring it to fruition. And I now own the master tapes… . Therefore, I am not about to argue with eBay seller Bob La Naranja, who wrote of the (used) Delmoni Water Lily LP he recently sold (for more than $100):
Incredible solo-violin renditions of Bach, Kreisler, and Ysaÿe.
Perhaps one of the greatest solo-violin audiophile records—the recording is sublime.
(Except, I might have left out the word "perhaps"… .)
My current project is to arrange for a 11.2mHz/DSD256fs ("Quad DSD") transfer of the master tapes, selling the download files via an informal crowdfunding venture. How that works, and for more on what all the above means, please click on the jump link, where you will also find generous sound samples. Continue Reading →