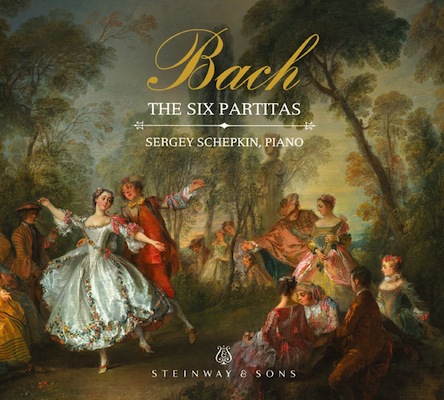 Sergey Schepkin: J. S. Bach: The Six Partitas, BWV 825-830
2-CD set Steinway & Sons 30069
(No high-resolution download available at present)
Recorded September 2014 and September 2015, Jordan Hall, New England Conservatory, Boston, Massachusetts; Sergey Schepkin, producer; Patrick Keating, engineer.
Even if your only exposure to Bach's great keyboard works played on the modern piano is one or another of Glenn Gould's recordings of the Goldberg Variations (there are three, you know), you really should consider buying this new set of the Partitas on Steinway & Sons' CD label. Don't be scared off by the technical term "Partita." All that means is that these are multi-movement works made up of parts; specifically, sections that usually were named after dances. Bach's contemporaries would have understood the dance names such as "Sarabande" as giving an idea as to the tempo and feeling of each segment. The liner notes make the important point that this is not music to dance to; it is music for its own sake, about the idea or the ideal of dancing.
Sergey Schepkin's playing is technically as good as anyone else's out there, and his interpretations are a moveable feast—by turns fleet, witty, and playful; or, delicate, subtle, and pensive (or even serious or solemn). This music can mind its own business in the background at Campari time, but it is also worth your undivided attention late at night.
Backstory, details, and elaboration after the jump; and with generous sound samples, of course. Continue Reading →