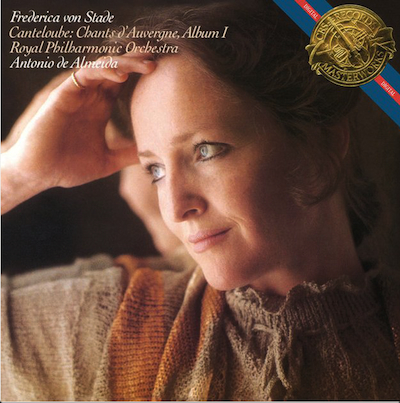 Frederica von Stade: Canteloube, Songs of the Auvergne, Album I (1982)
CD CBS MK 37299 (o.o.p.) and Sony Essential Classics CD 63063
(also o.o.p.; but available as just-in-time replicated from Arkivmusic)
Frederica von Stade, mezzo-soprano; the Royal Philharmonic Orchestra, Antonio de Almeida, conductor. David Mottley, producer; Peter Brown, engineer.
I treasure the wonderful folk-song orchestrations on this recording so much; I have, since it first came out on LP. However, its comparative obscurity today tempts me to think that my enthusiasm for a recording really is The Kiss of Death. This recording is Out of Print from Sony? Are you kidding me?
At least Clifford Brown With Strings and Sleeping Gypsy are still in print. Sigh.
Frederica von Stade signed up at New York's Mannes School of Music as a part-time student in order to learn how to read sheet music—but only for her own enjoyment. Some faculty members recognized her potential, and urged her to apply for full-time status. In less time than it takes to earn an undergraduate degree, she had learned enough about singing and the repertory to audition for the Metropolitan Opera. The Metropolitan Opera immediately offered her a three-year contract; the rest, as they say, is history (a history that includes more than 75 major-label recordings).
(Despite the above's having "the additional benefit of being the truth," I think that if somebody were to write that story into a movie script, people would say, "Yeah, right. Get serious!")
More info, and sound bytes, after the jump. This is a touchstone CD that is well worth the effort to find. Just find it and BUY IT! Continue Reading →