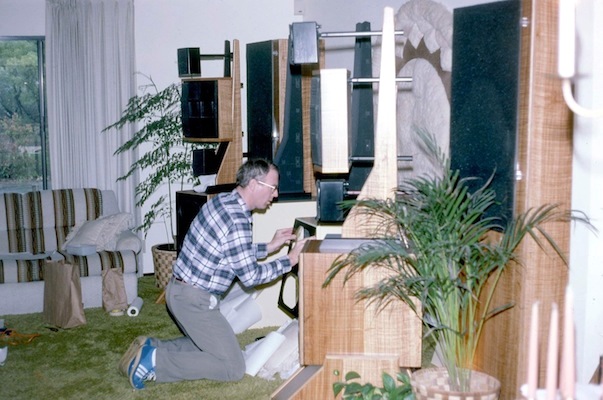 David Wilson, assembling a WAMM loudspeaker, 1986. Courtesy of Wilson Audio.
In Chicago in 1972, Peter McGrath was holding down a part-time job in a stereo store, while he pursued his graduate studies in fine art.
For those who were not alive and aware at the time, the early 1970s witnessed the dawning of the second Golden Age of Hi-Fi. The first Golden Age encompassed the late 1940s through early 1960s. Pioneering companies included Fisher, McIntosh Laboratory, and Marantz (electronics); Klipsch (horn loudspeakers); QUAD (electrostatic loudspeakers, and electronics); and Acoustic Research (acoustic-suspension loudspeakers, and turntables). The great hi-fi companies of the 1950s established the component stereo system (consisting of a turntable and sometimes a tuner or reel-to-reel tape deck, vacuum-tube amplification, and loudspeakers) as a vital part of what was understood to be "the good life."
I think it is tremendously important to point out that although hi-fi started out as a hands-on hobby for technically-inclined males, by the late 1950s, high-quality music playback in the home via stereo components was almost universally regarded as something to aspire to—even if in many cases, people had to settle for suitcase stereos or the massive pieces of furniture called console stereos. Going back and reading general-circulation magazines of the 1950s (as well as male-oriented magazines such as Esquire and Playboy), one is struck by the prevalence of advertisements for hi-fi components and loudspeakers, as well as for "culturally improving" book and record clubs.
More context, backstory, and appreciations of David A. Wilson, after the jump link. Continue Reading →