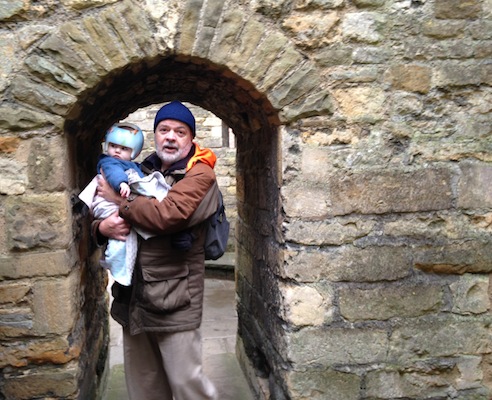 To quote Oscar Wilde: I can resist everything except temptation.
As I emerged from the narrow passageway below the tower on the ramparts of Lincoln Castle, I could not resist; I just had to sing out, in full voice:
In a castle dark, or a fortress strong,
With chains upon my feet;
You know that ghost is me.
And I will never be set free,
As long as I'm a ghost that you can't see.
Which of course is from Gordon Lightfoot's 1970 song "If You Could Read My Mind." You may also note that my daughter is doing her level best to pretend that she does not know me. And we will leave aside for the moment the question exactly how does one confine a ghost by chaining its feet? But Gordon Lightfoot, God Bless him, was never going to let common sense get in the way of an evocative, Sir-Walter-Scott-like lyric.
After the jump you will find embedded a wonderful live performance of Lightfoot's masterpiece; some musings on Lightfoot's place in the Pantheon of modern popular music; and more photos of our recent trip to the UK. Continue Reading →