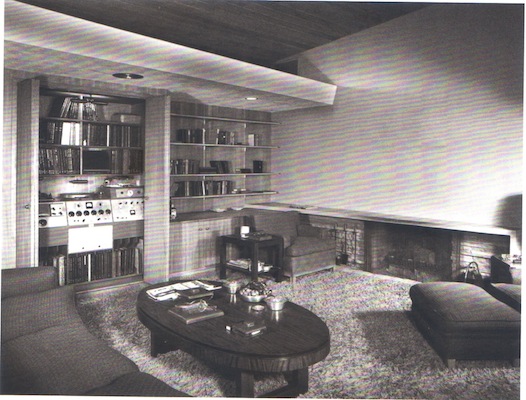 Photographed in 1949 by Julius Shulman.
Julius Shulman: Modernism Rediscovered (3 vols.)
Directed and Produced by Benedikt Taschen
Taschen, Cologne, 2016
Vol. 1: 336 pp.; 15.5 x 10.5 x 1.5 inches; 19 pounds total weight for set.
Frank Sinatra signed with Colombia Records in 1943. However, wartime rationing meant that only the so-called "V-Discs" ("Victory Discs") that were recorded as morale boosters for service personnel overseas could be manufactured. Regular commercial recording resumed only after the end of the war. The Voice of Frank Sinatra, Sinatra's first "album" of four 78rpm records, was released in March 1946, having been recorded in two sessions on July 30 (Hollywood) and December 7 (New York) 1945. The Voice of Frank Sinatra went to the top of the Billboard chart, and stayed at No. 1 for seven weeks.
Ironically enough, though, it was Sinatra's contract with movie studio MGM that provided him his first million dollars, enabling him in 1947 to hire architect E. Stewart Williams. At first, Sinatra had wanted a Georgian mansion, complete with brick façade and white columns. But Williams was able to convince Sinatra that the Palm Springs location called for a different style. As you can see above, when originally built, the Sinatra House housed a state-of-the-art 78rpm hi-fi system. Continue Reading →