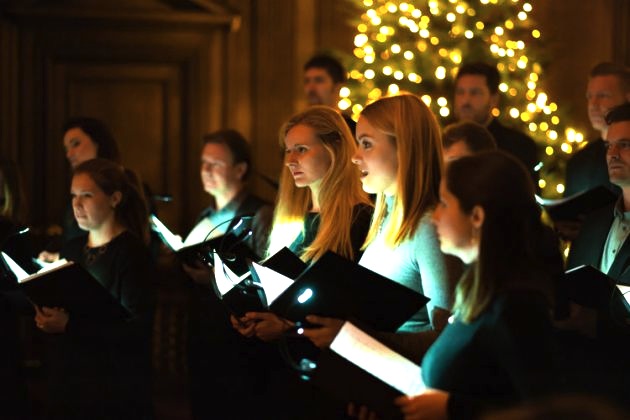 ORA Singers: The Mystery of Christmas
Music of Allain, Anonymous, Byrd, Hall, Hyde, Lauridsen, Macmillan,
McDowall, Peacock, Rowarth, Rutter, Samitz, Sixten, Tallis, Williams, and Weir.
CD Harmonia Mundi HMM 905303
Downloads (24-bit/96kHz stereo AIFF, ALAC, FLAC, and WAV) available from HDTracks.
Streaming available from Tidal.
Recorded at St. Augustine's Church, Kilburn, London, January 23-28 and August 7-12, 2017. Nicholas Parker (all tracks except track 5) and Tim Handley (track 5 only), producers; Mike Hatch, engineer. Support for the arts from the Pureland Foundation. Total time 76'37.
My previous Christmas-music recommendations can be found here: Part 1; Part 2; and Part 3.
Here's a fantastic new recording from a group new to me, Suzi Digby's ORA Singers. They are as good as any handpicked professional choral ensemble out there. (I have heard most of the top ones live.) This collection showcases ORA's "Unique Selling Proposition," which is to prove that today, we are in a Golden Age not only of choral singing, but also of composing works for vocal ensembles. (Funny; I have long said the exact same thing about the art of the string quartet. We live in a golden age of the string quartet—both for playing and for new works.)
Therefore, ORA's (for lack of a better phrase) business plan is to commission 100 new works for chorus over the course of ten years. (They are well on their way to achieving that goal, having commissioned 40 works in three years.) To make it even more interesting, Ms. Digby's approach is to ask today's composers to create works that are personal reflections upon the choral glories of the past, especially the masterworks of the Renaissance. Ambitious, yes. But several of the new works on this disc should find their ways into the standard repertory fairly quickly.
As a producer of classical recordings, one of my favorite Shibboleths (or, rubrics or axioms) long has been that, once your CD has started playing in the CD player of the reviewer, radio programmer, or record-store buyer, you have only ten seconds to make the sale. Furthermore, I believe that you make the sale only by giving the listener that "You are in good hands with Allstate" feeling. If the listener gets the feeling that your performance is for you a nerve-racking tightrope walk, no sale. (Obviously, there are exceptions to my little rule. Not much at all happens in the first ten seconds of Mahler's Symphony 1; at least, not much by which you can distinguish a great performance from one that is merely unobjectionable.) In the case of the ORA Singers' The Mystery of Christmas, convincing me took only the first four to eight seconds of the first track.
More information, a  performance video, and sound bytes from The Mystery of Christmas after the jump. Continue Reading →