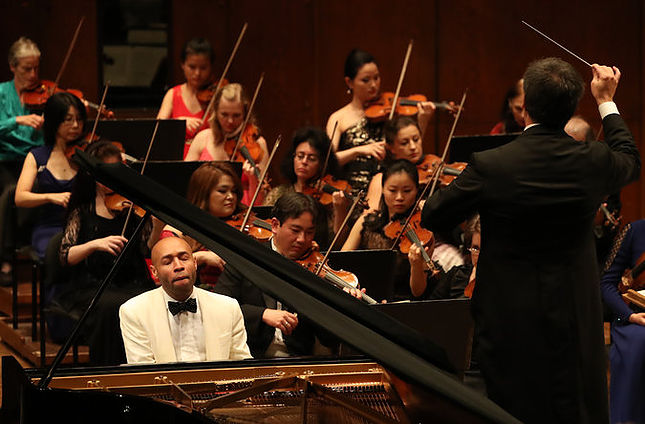 Aaron Diehl with the New York Philharmonic.
Re: Aaron Diehl, Concert with the Rhode Island Philharmonic, October 20, 2018
I am aghast and outraged by Channing Gray's ignorant, small-minded, and perhaps even racist review in the Providence Journal.
This insanity has to stop. (If people are more comfortable with the word "dysfunctionality," that is OK by me. But nobody should be comfortable with the current state of affairs.)
As far as I know, Channing is a failed keyboard performer who (based on a mountain of evidence), has never gotten over it. Furthermore, I surmise that Channing's specialty was early keyboard music (he played the organ at the wedding of an acquaintance of mine–that's called gigging). In his review of Aaron Diehl's performance, he wore his classist ignorance of jazz on his sleeve.
Aaron Diehl's performance was the most magnificent piano performance I have ever heard from a soloist with the RIPO. From the first notes it was obvious that Mr. Diehl had not only enviable technique, but also something that is increasingly rare these days, that being: Excellent musical taste. Continue Reading →