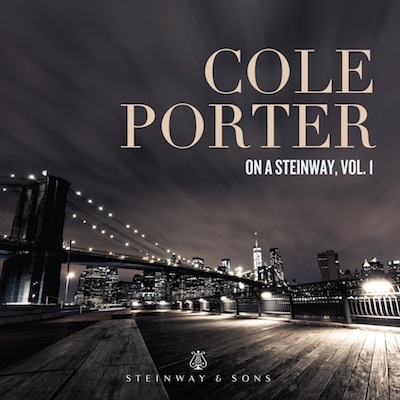 Various: Cole Porter on a Steinway, vol. 1
Solo-piano transcriptions of show tunes by Cole Porter
Steinway & Sons catalog number 30116
Release date: December 6, 2019
Recorded at Steinway Hall, New York City, July 2014-April 2019.
Well, here's a real winner!
Steinway & Sons' piano recordings—especially the ones that they themselves produce and engineer at the new Steinway Hall performance and recording facility in New York City—are of reliably superb audio quality. That said, I hasten to point out that Steinway's releases that were not recorded in Steinway Hall are often (but not always) just as good in terms of sound quality; they are merely "different."
I think that the Steinway recordings made at the Shalin Liu performance hall in Rockport, Massachusetts are objectively as "good" as the Steinway Hall ones. Subjectively, I have a (slight) personal preference for the slightly more distant and bloom-y sound of Shalin Liu. If anyone prefers the slightly more in-focus Steinway Hall sound, I will not lose any sleep.
I also must point out that the sonic differences I am noting (and such is the case with many audio differences) are minor; they might not reveal themselves to casual listeners who only give a casual listen.
By this point, Steinway has released well over 100 CDs. Not all of them have totally won me over to their artistic standpoints (of course, such are matters of taste, and you are free to disagree). But… when the stars and planets line up as they do here… Wow!
This collection of solo-piano treatments of famous Cole Porter show tunes (by three different pianists, Adam Birnbaum, Jed Distler, and Simon Mulligan) presents, in spot-on high-resolution (24/96) sound, standout Cole Porter interpretations that range from the wistful and pensive to the liltingly bouncy. All delivered via sloshingly-full buckets of piano technique and always with a refined musical taste that might have made Cole Porter smile.
You can hear the entire album right now, at no charge via Steinway Streaming.
Cole Porter on a Steinway, Vol. 1 goes on sale December 6, 2019 (downloads only; mp3 on Amazon; 24/96 FLAC on HDTracks).
More pensations, and sound samples, after the jump. Continue Reading →