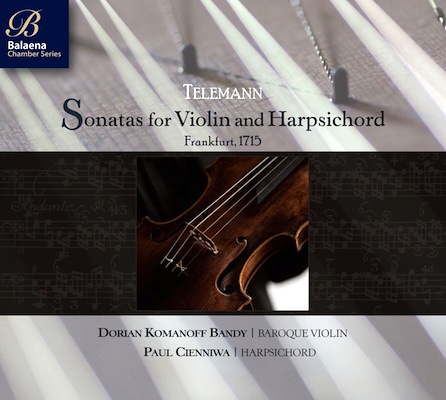 Dorian Komanoff Bandy and Paul Cienniwa:
G.P. Telemann: Frankfurt (1715) Sonatas for Violin and Harpsichord
CD Whaling City Sound Balaena Chamber Series wcs 108
Downloads (24-bit/96kHz stereo AIFF, ALAC, FLAC, and WAV) available from HDTracks.
Streaming available from Tidal. Total time 80:04.
Recorded at WGBH Studios, Boston, Massachusetts, June 16-17 2017. Malachai Bandy, producer; Antonio Oliart, engineer.
Georg Philipp Telemann (1681-1767) was a friend of J.S. Bach's, and Godfather to Bach's son C.P.E.; Telemann also knew Handel. In his own time, Telemann was frequently compared to both composers. That is all the more impressive, given that Telemann, unlike Bach, did not come from a family of musicians. Telemann was another one of those law students or lawyers who gave that career up to write music (that list includes Schumann, Sibelius, Stravinsky, and Tchaikovsky), and therefore, he was largely self-taught.
Telemann was extremely well respected in his own time. His prodigious productivity resulted in a list of works longer than Bach's or Vivaldi's. The 20th-c. music humorist Peter Schickele (stage name "P.D.Q. Bach") made fun of Telemann's great body of work by making the top prize for an (imaginary) classical-radio-station phone-in giveaway "The Complete Works of Telemann, on Convenient 45-rpm Records." I found that to be rather funny, back when I was in college.
For information on this delightful recording and some sound samples, please click on the jump link: Continue Reading →